Sustainability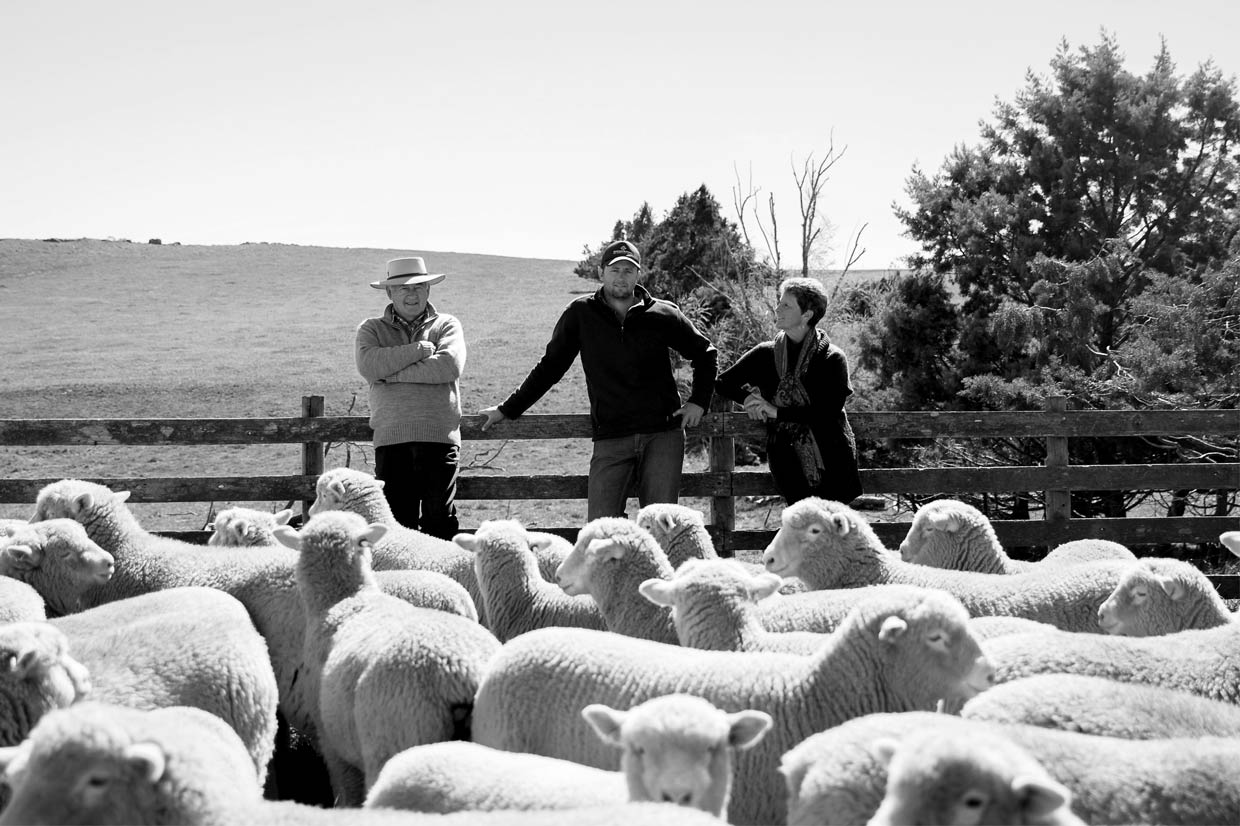 ARE SHEEP THE ANSWER TO A MORE SUSTAINABLE FUTURE?
Graeme Kerr is the epitome of an entrepreneur. A character trait he probably developed while growing up in Caringbah with a father who "instilled a great work ethic". Whenever Graeme wanted extra cash to splash around on whatever young teenage boys like to spend their money on, it was never a simple handout. He always had to work for it in the family business. Graeme's dad owned a service station and garage, and that's where a young Mr. Kerr was often put to work for his pocket money.
So, it was at a pretty early age that Graeme unlocked one of life's harsh realities that most of us like to ignore… money buys things and things (no, things don't make us happy), buy time, and freedom. When we have the money to take time off and enjoy it with loved-ones, that DOES make us happy. So in a slightly obscure way, money can buy happiness and this is what drove Graeme to build his own business. In his own words, he "could see the lifestyle he wanted" and a pursuit for financial stability "gave him the route to get there".
Now a globally recognised brand, Woolstar makes pillows, quilts, blankets and accessories all from Australian produced wool. Their vision is to educate the world on the sustainability of this unique fibre and deliver a high-end, locally produced version of it, be accountable to their promise and continue to support Australian agriculture. And, they're nailing it. But before we get into that, let's take a trip down memory lane with Graeme and get to know their story…


ONE MAN'S TRASH IS ANOTHER MAN'S TREASURE
With a background in accounting, having worked at major firms for 15+ years — Australian agriculture seemed an unlikely leap for Graeme. Though it was that entrepreneurial attitude, always seeking opportunity and thinking outside the box that paved the way for what would eventually become a globally recognised brand.
Graeme got wind of a factory in Sydney with a huge surplus of wool. The timing seemed to align perfectly with a desire to branch out on his own, and without a second thought, he seized the opportunity (and the wool) and got to work. With very little funding, the wool really had no home other than Graeme's home — a unit in Ingleburn. It was here that Woolstar was born. As with most family businesses, to get it off the ground, Graeme did pretty much everything himself. After making a few samples, he sourced some offsiders to help and was soon sewing, packing and shipping his very own product. A business and a purpose were both born within that Ingleburn home, one that Graeme has lovingly grown with care and consideration for the past 25 years.
BEYOND THE BORDERS
Swooping in and relieving this factory of it's excess (would have been discarded) wool, may have seemed like a hasty decision, but Graeme had a plan. He knew that the Asian market was enchanted by Australian product, and this was a huge catalyst for his whole vision for the Woolstar brand.
Graeme wanted to communicate to the world that Woolstar wool is ALWAYS Australian sourced and produced. Australia is already known for its rich agriculture, so it would be an easy sell from there. After battling with spools of wool for floorspace in his apartment, and with this idea of exportation in mind, Woolstar invested in their very own home and bought a warehouse. 600 square metres of the world now belonged to this brand and they haven't stopped growing since!
With a huge emphasis on exporting product overseas, Graeme wanted to ensure their point of difference in a competitive space. So he developed the Farm2Shelf concept, specifically to appeal to the Asian market. Clients of Woolstar can now trace the wool they find in their pillow, quilt or blanket all the way back to the farm they came from. This is because according to Graeme "with Australian retailers, a lot of the time it's about price. Whereas in Asia it's often about quality and traceability. Our Asian clients will come and visit us; they want to see the factory, meet the farmers. They become more involved." It's a sentiment that seems to be felt across the globe, with Woolstar now promoting their Farm2Shelf concept in the US, UK and Russia. And it works both ways, "when a farmer knows what their wool is being used for", it helps them to feel really involved in the process and they 'get super excited". They're not just suppliers anymore — they're part of the story.
It's a concept that brings a real human touch to the goods Woolstar produces. Allowing both sides of the coin (the producers and the purchasers) to feel that what they've created together is special. When we know the work that went into something, we care for it more. And when we care for something more, it's more highly valued and we understand the importance of a sustainable approach — because we know what went into creating it.


A SUSTAINA-WOOL FUTURE
Graeme's in this for the long-game. The Farm2Shelf concept connects people to the product, their interest is piqued and their passion invested. It's then that he plays the education card. Explaining to retailers and buyers that not only do we know that pillow was made from Daisy's winter coat (one of his farmers literally has names for all 300 sheep…) but also that Daisy's wool is one of the world's most sustainable fibres. Aside from the warmth our Ugg boots provide during colder months and the heavenly 'head to pillow' moment we feel at the end of a long day — we weren't really aware of the actual make-up of wool as a fibre. Graeme informs us, with a compassionate love for his product that "It returns to the earth in six months. But there's more to do such as other elements of the product, packaging, recycling, and transport."
Here again, is where that entrepreneurial spirit comes in. It's simply not enough for Graeme to have an incredibly successful business. Endorsed by faithful clients all over the world. His sights don't stop there. Graeme is obsessed with using his product to do good in the world. From the traceability aspect ensuring everything is ethically produced, to seeking new ways to use the product in other industries to decrease a collective carbon footprint. Woolstar are currently exploring innovative ways to work with the fibres as filtration systems in commercial industries. And of course, the product itself will always be ethically sourced and produced, organic and biodynamic — and we know that's the case because Woolstar is transparent about where the produce comes from.


THERE'S NO PLACE LIKE HOME
While Woolstar will continue to bring its high-quality goods across the globe, the past year has opened a domestic door for them too. Graeme sees this to be the silver-lining of COVID. With export markets being cut off, Australian buyers were forced to shop locally and consider elements other than pricing for their product. This Graeme hopes to be a relationship that will continue on even as export markets return to business as usual.
So as Graeme just casually continues to take over the world and Australia with his incredible power to spread love for this amazingly sustainable product, we will look forward to following the journey.
Learn more about Woolstar.