Just Between Us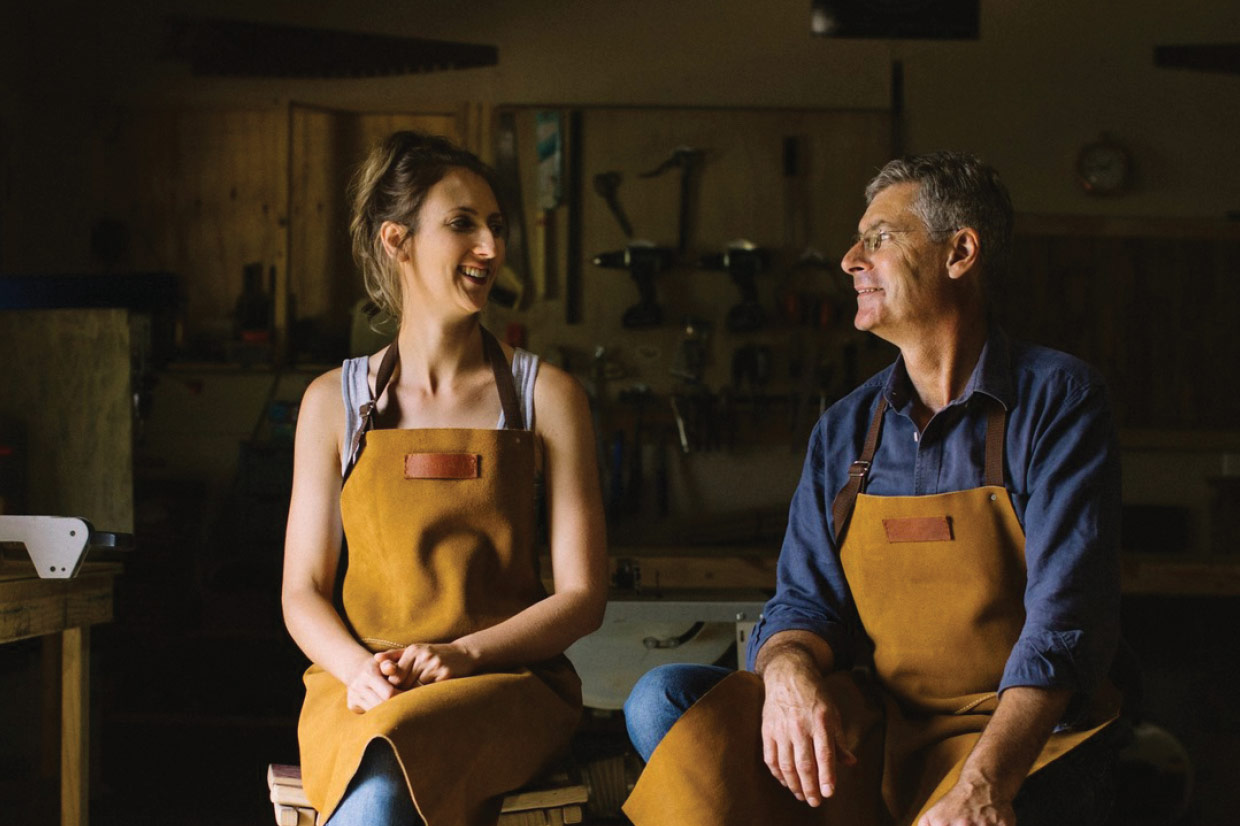 FROM RECYCLED WINE BARRELS TO HANDCRAFTED PICNIC ACCESSORIES – THE DUO BEHIND WINESTAINS
If you are a lover of wine – or even if not – you most likely know that the Barossa Valley, SA is home to some of the finest vineyards in Australia, if not the world.But today, we aren't here to talk about the wine itself….
Peter Ruchs has worked in the wine industry since the age of 15, and his daughter, Kristal, grew up amongst the vines. After gaining valuable insights at local vineyards over the years, they saw the amount of waste in the production process and wanted to make a change. For them "it seemed like a crime to have beautiful old wine barrels thrown out or used as firewood". Peter picked up his tools and headed to the workshop to start creating.
After seeing some of her dad's pieces, Kristal realised that this was a product they could market and sell, as "luxury designs with a conscience". What started as a hobby became the brand Winestains, and in 2011 the family business was born. Today, their range stocks grazing boards and picnic accessories (including picnic wine glass holders…very fitting for the Barossa setting), all made from locally sourced, recycled barrels.
We hear how Kristal learned practical skills from her Dad – the "Master Craftsman" – and how Peter entrusts the marketing and sales to his passionate, driven daughter. What a team!


KRISTAL SPENCER
Winestains handcrafts grazing boards, picnic products and wine accessories for the eco conscious, from recycled wine barrels sourced from local wineries. We are a father and daughter team who started this as a hobby in 2011 which soon turned into so much more. Living and working in the Barossa Valley wine region meant that we saw a lot of wastage within the wine industry – particularly with old wine barrels. Dad is a very skilled, self-taught craftsman who is always in the shed creating something, and started making the most beautiful designs from these old wine barrels. I saw what he was creating and felt there would be people out there who would appreciate his craft. Today we stock our designs Australia wide as well as sell online.
Dad and I have always had a pretty good relationship with each other. We are completely different personalities, but probably a lot of the same values and traits which I feel lets us get along as well as we do. It also helps that we focus on completely different sides of the business and not in each other's pockets 24/7. We also learnt we could work well together. When I was given a job at the winery he worked at in my gap year before attending University, he was my boss, but I was also living under his roof at home so we learnt very quickly how to create boundaries and separate home and work-life.
Dad lives and breathes the workshop and is responsible for all things product creation, making and working with the local contractors to assist with our designs. I, on the other hand, handle everything else there is when it comes to running a business. We come together to talk about what products we're wanting to create and the development of those designs. In the early days I would assist with the sanding, branding and oiling of our designs but as we've grown as a business (and myself having my own little family) I find I'm not in the workshop as much; as my time is taken up with the day-to-day running of what we do.
I love and appreciate how hard working Dad is and the effort he puts into making what we do work. We both have a pretty dedicated work ethic but he also supports every decision I have in regards to what we should be doing for the business moving forward.
The hardest thing is probably separating family time from work time. Mum isn't a fan of us bringing work talk to family time which I totally get and understand, but it's sometimes very hard to separate because it's so easy just to ask or bring up a topic because you're both there in the same room.
I feel the business is something we've been building towards for a very long time and what we've created has developed really naturally.
And what's next for Winestains? That's the million dollar question! I have a few thoughts which I'm actually nutting out with my business coach next week because I have a lot of big and CRAZY ideas that I'd love to get started on. I gave birth to baby #2 in December, so i'm going to spend some time letting the baby fog clear and then hit the ground running with these ideas I have in mind.
My advice to fellow family businesses would be that communication is key. Never stop talking about any issues you're having or things you want to see change or not sitting well with you. We made sure we had an agreement which outlined all possible outcomes before we really delved in – just in case anything went wrong it wouldn't interfere with our personal relationship.
PETER RUCHS
Winestains are a small family business handcrafting grazing boards from recycled wine barrels which are a by-product of wine production. We are based in the Barossa valley so have plenty of unused resources right on our doorstep! We are a father and daughter duo who started the business in 2011 purely as a hobby.
I am responsible for production, sourcing barrels, quality control, oiling, branding and packing. Basically, you can find me in the workshop crafting our products for the most part, while Kristal handles the general running of the business. We work well together as we have different skill sets that complement each other and come together to form the business.
I think we are both pretty good at our respective roles. Kristal thrives on new challenges – you could say she is the big thinker and dreamer between us – and putting them into action and I love being in the shed creating.
Family business is not without its challenges, and for us that means keeping up with the growing business and managing the work-life balance. I seem to want to constantly work (because I love what I do). Finding that work-life balance is something I need to work on.
When people ask what our 'a-ha' moment would be, for me it's quite literally the day we decided to try and make my woodwork hobby into a business model. Kristal came into the shed one day after work, saw what I was creating with the old wine barrels and said "I think people would really love these and I think we should try selling them…"
Starting small, we decided to see what people thought of them by taking them to a local market and once we sold a few and saw the reaction people were having to the designs, I knew this could work. From there, we've grown and grown and the response has been fantastic!
In the near future I'd like to focus on steadily growing the business, while continuing to research new products we can create from the recycled wine barrels. There is so much waste in the production of wine and with the recent focus on climate change and eco-products, it's something our customers are really responsive to! I'd also like to add in there a bit more of the work-life balance is probably a priority too.
My advice comes down to working collaboratively, which is something me and Kristal are lucky to achieve. Have clearly defined roles, use each other as a sounding board and be encouraging of each other.

Learn more about Winestains.