The Inside Story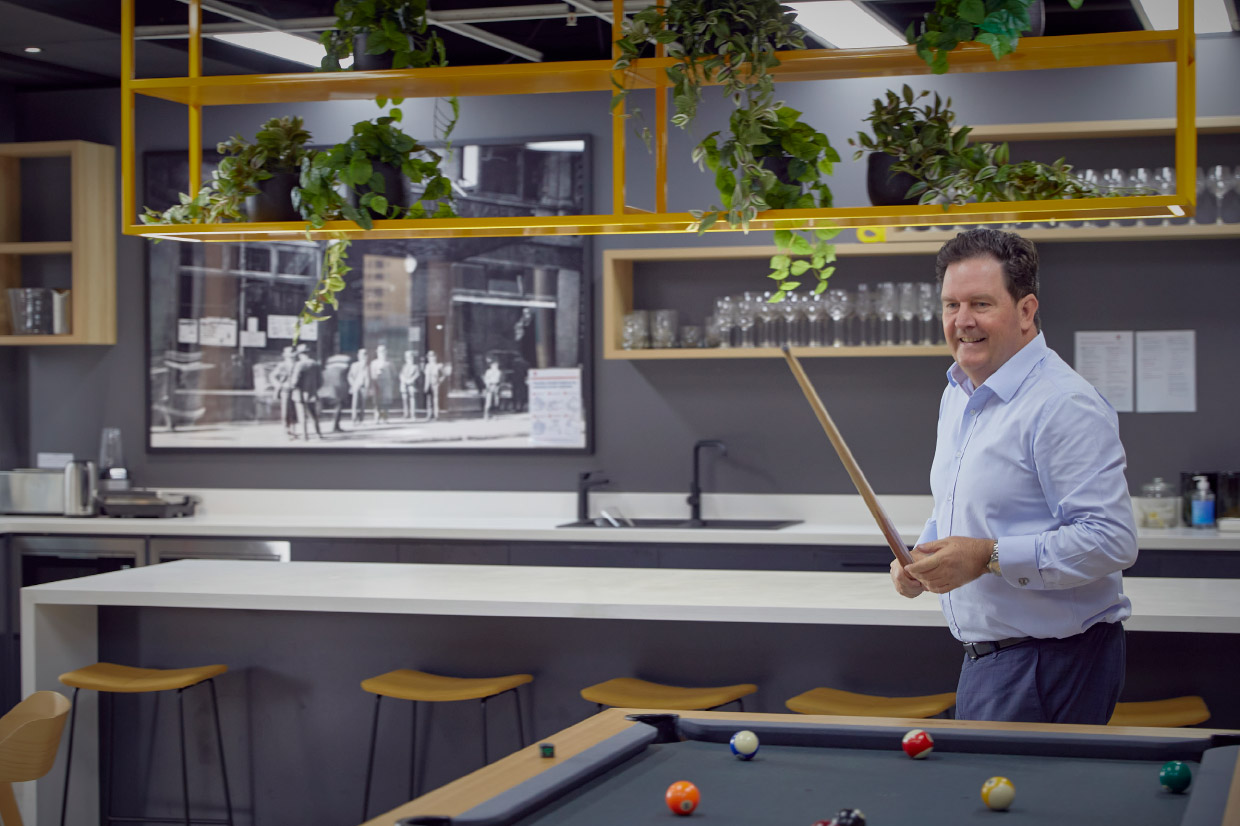 ANGUS RAINE LEADS RAINE & HORNE INTO THE FUTURE WITH TECH
"A lot of people get caught up in how many zeros are in the transaction. Whether there are many zeros or few, it's still the same transaction"
Angus Raine is the Executive Chairman of Raine & Horne, one of the oldest and most successful real estate franchises in Australia – a fourth generation family business operating now for 137 years. The Raine & Horne yellow logo with the distinguishing ampersand is a symbol recognised across the country. A symbol associated with 'home' and of course with building wealth.
When I sat down to interview Angus – this highly accomplished FCPA and business leader – I expected a serious, suffer no fools character with enormous responsibility in leading the A$6.2 billion in sales a year business. A company that is now increasing its profile internationally.
But instead I met a man who is self deprecating, humble and quite frankly down right funny.
Real estate has been the backbone of many a highly successful investor in this country, and even the average punter like myself is fascinated by prospects in buying right.
Angus is always accosted with these questions – 'What's the hottest new place to buy in? Any real estate tips for me?'
Angus' response is 'I have moved many times, and of course I encourage you to move many times too,' he says laughing.
In all seriousness, Angus is no longer involved in selling property. He is highly involved in managing and training his 330 franchisees across the country, and leading the business into the future.
FROM THE BEGINNING
Angus is very aware that he has had a charmed life, growing up in Sydney's Eastern Suburbs in a loving and highly successful family. Many successful people come from the other side of the tracks and it is this struggle and grit that they've had to develop that has been integral to their success.
"It's what you do with your privilege later on in life. That's the test. Lots and lots of people come from privileged backgrounds and later on they do nothing with it. I think I'm doing something," shares Angus.
Not only is Angus leading the way in educating and inspiring many real estate agents in the country, he has also pioneered technology within his company, and thrown himself into philanthropy with the launch of the Raine & Horne Foundation. The foundation is a strategic CSR program with some exciting initiatives underway, including the protection of The Great Barrier Reef – the largest green turtle rookery in the world – where green turtles from around the world come to breed and lay their eggs.
Growing up in the family business things were a lot simpler. No social media, technology, internet or even email. It was all about relationship building and face to face negotiations.
Angus' father, Max Raine, was the first to introduce franchising to the company. That was the mid 70s. The company went from two offices, one in the city and one in the Double Bay, to what felt like an explosion. Today they have offices across Australia and internationally too – Fiji, Dubai, India and Malaysia.
Angus didn't leave school and join the family business as an office boy. He went to Sydney University and went out into the world to earn his stripes. He started his career working on commercial deals for DTZ and has worked for large firms such as Knight Frank and Savills. He later underwent the President Management Program at Harvard Business School. Angus believes that education is the foundation of any successful career.
It wasn't until age 35 that he joined the family firm. He had built his personal brand and expertise, and joined Raine & Horne as a director.
"I believe that the reason many family businesses fail is because of nepotism. You need the right person for the job, and if that happens to be a family member, well great."
When Angus was out there in the workforce he didn't tell people that his family was the Raine & Horne family. Most people didn't know.
"People couldn't believe it if they finally found out. They would say to me 'You're really Raine & Horne? I didn't put two and two together,'" shares Angus.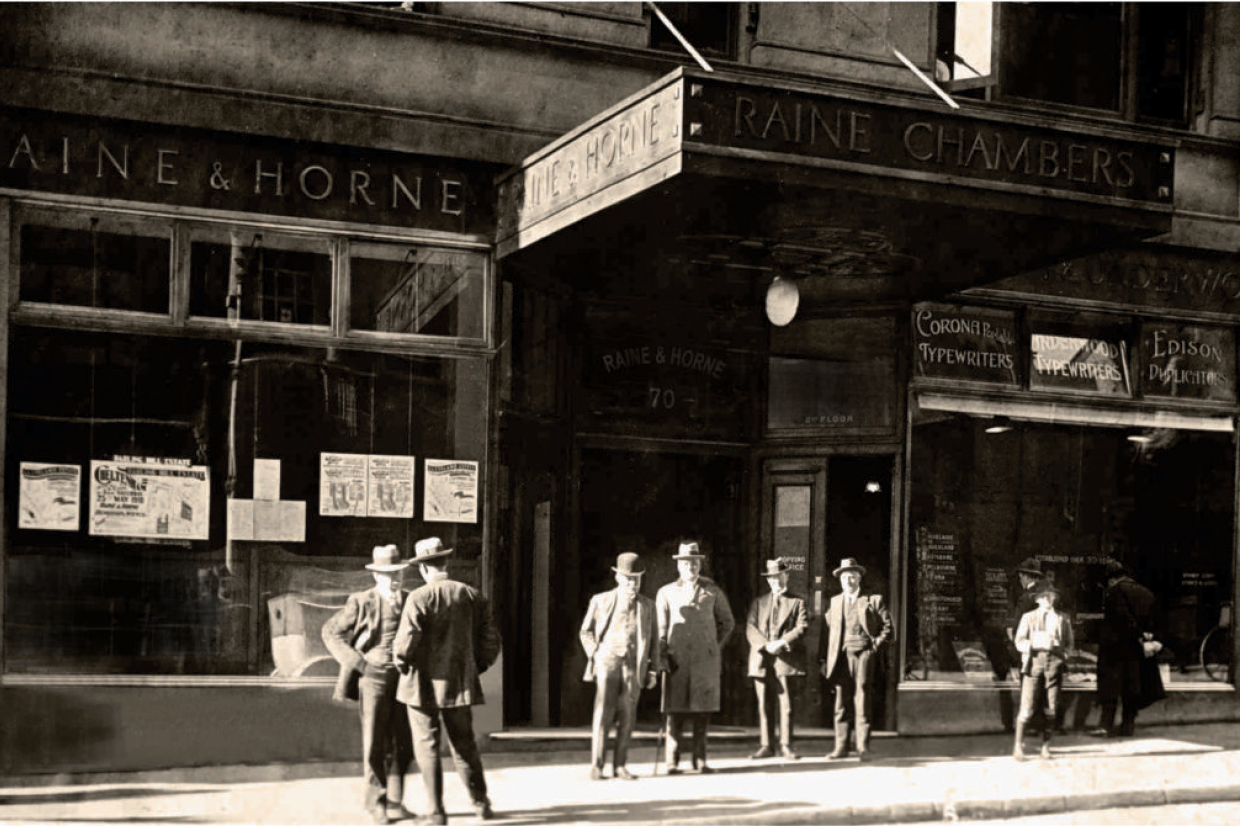 THE TECH ERA
Angus has been instrumental in integrating innovative technology into Raine & Horne to create efficiencies and to even improve culture. He and his team have built a fantastic CRM system, database management system and they've recently launched Process Plus, which is an end-to-end process for all agents to use which takes them from prospecting through to the sale. It's all about creating the Raine & Horne minimum standards of service.
They were the first network to embrace artificial intelligence. They have implemented a social media marketing AI platform called Amplify. It was a huge $6 million investment but worth every cent. Raine & Horne has done nearly 20,000 listings through it. The statistics are incredible. The algorithm scrapes Google and Facebook and knows the consumer's behaviour. They identify people who they believe are in the property market based on their online behaviour. The more you feed the algorithm the smarter it gets. And it pushes curated property selections to these people based on what they know. Genius.
"What I love about the system is that it puts the property under the consumer's nose and all of a sudden they'll say to their partner, 'Darling, have you seen this one?' – an investment property or a property they've always wanted to move to around the corner. Probably 30-40% of people don't even realise they're in the market. In the old days they've driven past and seen the sign. Now it pops up on their social media. Our click through rate is 15%. The industry average is under 1%," smiles Angus.
By leveraging technology the Raine & Horne Group have created a real advantage. The cost of business is much cheaper and the rate of acquisition significantly higher.
Someone coming into the market would take years and years to build that profile, plus they would need huge amounts of investment.


WHY THIS FAMILY BUSINESS WORKS
"As a family business we look at things 40 to 50 years at a time and it's this long term view that creates success. Most businesses look two or three years in advance and that's why they fail. Lack of education, lack of know how. They don't have the strategic plan. They're too busy to look up and see what's happening in their industry, what trends are coming through, what threats are on the horizon. Are there any disruptors coming? These are the questions they need to be asking," explains Angus.
Angus believes that one of the greatest points of difference for Raine & Horne is that the company has a small board. They can make decisions very, very quickly. They are not perfect, no-one is perfect, but they can then unmake them just as quickly. They can do deals all within the space of one boardroom meeting, even within an hour. Sign on the dotted line then and there. This is important in a market that moves quickly.
"Everything's moving so fast, particularly technology. You have to be agile, that's our biggest point of difference," shares Angus.
To Max Raine's credit he spent 30 to 40 years buying back shares from family members. It's this strategic play that has created the nimble business we see today.
THE FUTURE GENERATIONS
Angus has five children. Four have finished school and are forging their own careers in the world.
"My biggest inspiration was paying school fees," Angus laughs.
His eldest child is in real estate working for an American multi-national consulting firm and she speaks fluent Mandarin, and a couple of his children are in law. Angus is confident that out of five, at least one or possibly many will join the family business. There is opportunity in different divisions, for example as a lawyer they could get into the finance area and run the mortgage business. However Angus is adamant that they need to take their own path first and only by merit can they come into the business.


ADVICE TO YOUNG SALES PEOPLE OUT THERE
According to Angus, the number one defining factor to what makes a good sales person is work ethic. You've got to have a tough hide. You get knocked down, you've got to bounce back up. And have great emotional intelligence to read people; know when to act, when to react and just know what makes people tick.
"I always say to young sales people, 'Be real.' I mean there's a lot of puffery in our industry, so just be real. If you've had a really good year, it doesn't mean you're a super salesperson. Get back to me after three and five years. It's about keeping that momentum. It's a tough business, six, seven days a week. It can be highly rewarding but also hard work. So I say keep it real. You're not that special. You're there to sell a property on someone's behalf."
"A lot of people get caught up in how many zeros are in the transaction. Whether there are many zeros or few, it's still the same transaction," shares Angus.
A philosophy that defines the character of the Executive Director of the Raine & Horne Group – care and authenticity.
Look after every sale as if it is your own.
(PS If you are wondering what happened to the 'Horne' in Raine & Horne, well Mr Horne retired a long time ago.)

PART OF FAMILY BUSINESS AUSTRALIA

Angus has been part of Family Business Australia for many years. He has been on the NSW committee for 13 years, and in a forum group for nearly 20 years. He is passionate about being heavily involved in the family business space.

"It is good to know that you are part of a legacy and being able to share your stories, knowledge and issues with other family businesses has been invaluable over the years."

"We had this family business session by a well renowned family business expert. I couldn't believe everyone in the room had the same family issues -– everyone had their hand up, just different accents. A German accent, a Mexican accent, an Argentinian accent, a Brazilian accent, Italian accent – it was quite a moment for me. No matter where you are around the world, if you have a family business we can all learn from each other," Angus smiles.

Find out more about Family Business Australia.