Just Between Us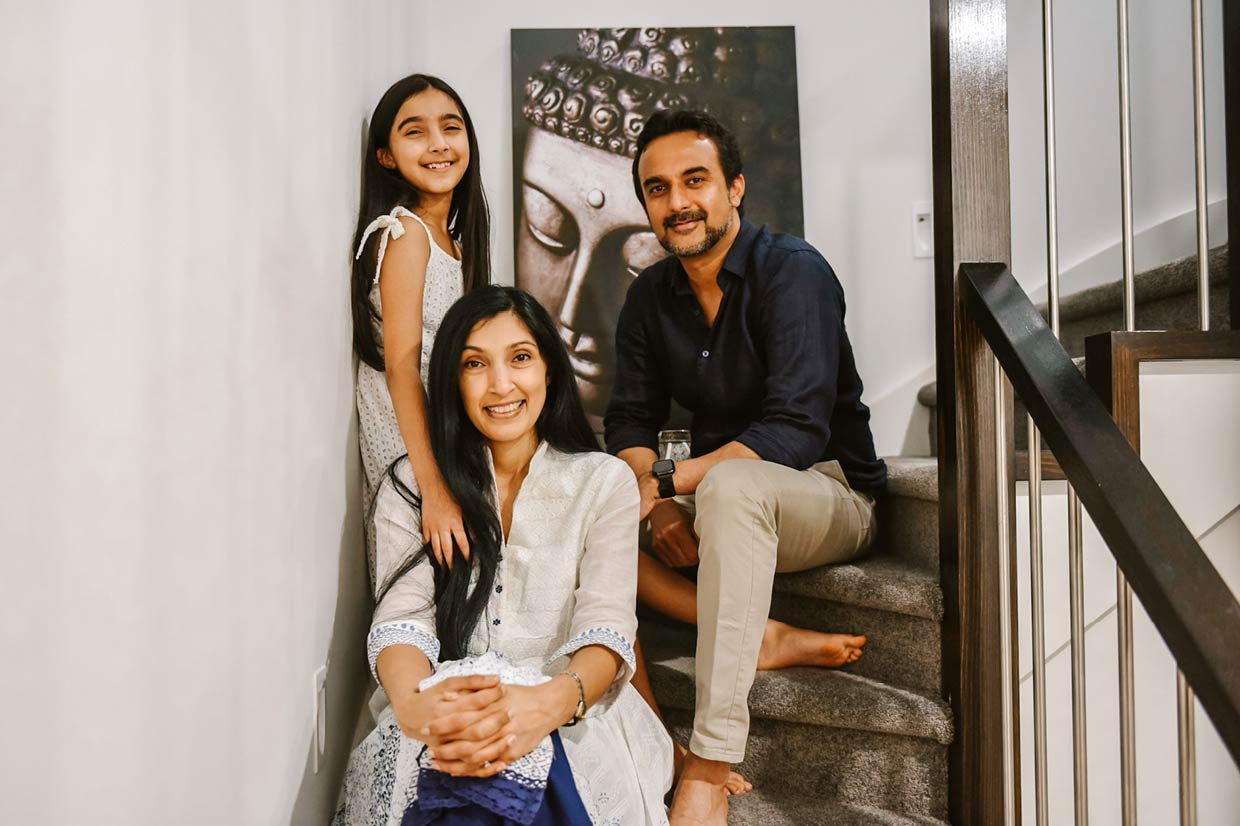 BHUMI(NG) IN TO A MORE SUSTAINABLE FUTURE WITH SLOW FASHION
An abundant travel itinerary, combined with a consciousness around our sustainable existence on this planet are some of the main driving forces behind Bhumi. The transparently ethical textile company founded by Vinita and Dushyant. The two met in New York over a decade ago and are now husband and wife, as well as business partners…
While Dushyant has a penchant for finance and figures, Vinita is "the heart and soul of the business" bringing her creativity and design eye to the brand. Though they work in vastly different capacities for Bhumi, the combination of skills is brought together by a shared passion for a better tomorrow. And they're proof that "profitability, sustainability and luxury can coexist by making the right choices."
We're inspired by their simple eloquence when talking about their vision for the brand, and encouraged to be more conscious ourselves in the clothing, bedding and bathwear that we choose to bring into our home. Bhumi is a brand built on absolute consideration not only of the planet, but also of the production line. Vinita is bold with education about the realities of the textile industry, which we've learnt is rife with unregulated child labour, toxins within cotton farming and chemicals used in the making of fabrics.
It's not all doom and gloom though! Lucky for us (and now you) we've discovered Bhumi. Every single Bhumi piece is made with love, care and is free from cruelty of any kind. Once you take a minute to learn a little more about the clothes on your back or the sheets in your bed, we guarantee you'll choose brands like Bhumi moving into the future.


VINITA BARAVKAR
Bhumi is a celebration of the Earth and how we can change practices and transparency in the textile industry in a positive way, with powerful tangible impacts both environmentally and socially.
I work in the business with my husband, Dushyant, and we've been married for 10 years. We met in New York where we were both working and living at the time. I bring the creative, design and content to the business and Dushyant manages the commercial aspects so we hum and flow together. We bring very different things to the table which is a winning working combination. I love Dushyant's keen eye for detail in every aspect of the business and he gives really honest feedback.
The challenges we face are mostly around work/life boundaries. There is no set time for work, it's around the clock and now we are both working from home, balance is out the window. Sometimes it's hard to remember to create time regularly for downtime and family time.
Our biggest moment of realisation came when we both agreed on the financial structure of our business… particularly not having any external investors (to protect the core ethos of the brand). Being on the same page strengthened the path forward and the vision blossomed. It felt like all the tyres finally had air and we were moving full steam ahead.
And, speaking of the future. I am always excited about expanding the products we offer to cater for all seasons as we have such an incredible variety of organic cotton to work with and I am also very excited about extending products into other age groups. With a very passionate little 9 year old earth warrior, animal and plastic-free advocate of my own, her age group fascinates me and I can see how boldly passionate they are about the planet. We are working on ideas for this age group.
If I could share some wisdom with those looking to start, or just beginning their journey with family business, it would be to be diligent in creating the space and time for downtime. Otherwise it gets away from you. You have to remind each other and make the effort to have time out of the business.

DUSHYANT BARAVKAR
Bhumi is about empowering consumers to make positive choices — we offer sustainable earth-inspired organic bedding and clothing that has a positive impact on the people and the planet. Our business is a living example that profitability, sustainability and luxury can coexist by making the right choices.
I met Vinita when we were both working in New York, and since then we have been life as well as business partners. Vinita is the heart and soul of the business — her personality echoes what Bhumi is and what it stands for. I am the engine of the business, which keeps the heart pumping. Vinita oversees the brand and creative direction while I manage the product, marketing and financial aspects of the business. We are completely the yin yang when it comes to solving business problems. Vinita tackles it from the heart and I look at it from a numbers (bankers) perspective. So, both our perspectives are equally important and essential for the growth of the business. Attaining work life balance has always been a challenge throughout the journey. When you are so passionate about the purpose and the everyday impact, it is hard to draw the boundaries between work and life, but it is extremely important to do so. Add to it the blurred lines of home and workspace due to COVID, it is something we need to always be mindful.
We have always been conscious consumers particularly since the time we lived in New York. We purchased most of our products from eco-friendly brands that we did a lot of due diligence on, which were mostly available in North America and Europe. When we moved to Australia we wanted similar products to support our lifestyle and couldn't find much choice, particularly in the textiles space. For example, the organic food and skin care cosmetics market in Australia were well served but there was a huge gap in organic textiles. That's when we both decided to change our individual career paths and embark on the Bhumi journey.
The future is extremely busy and exciting for Bhumi — we've got new products being rolled out from now until the middle of next year. They include a range of new fabrics across Bedding to cater for all seasons, plus new collections across Sleepwear, Bath and Basics. We also have a couple of big name celebrities who live and endorse a sustainable lifestyle and will become the ambassadors for the brand in 2021, stay tuned!
My one advice for family businesses is simple — try to 'keep it in the family' for as long as possible. There is an inherent charm in building a family owned brand where the business carries the values of the family from one generation to the other. Coming from a financial services and investment portfolio background, too often have I seen beautiful family owned businesses sold out to external and/or public entities destroying the brand and eventually the business.