City Guides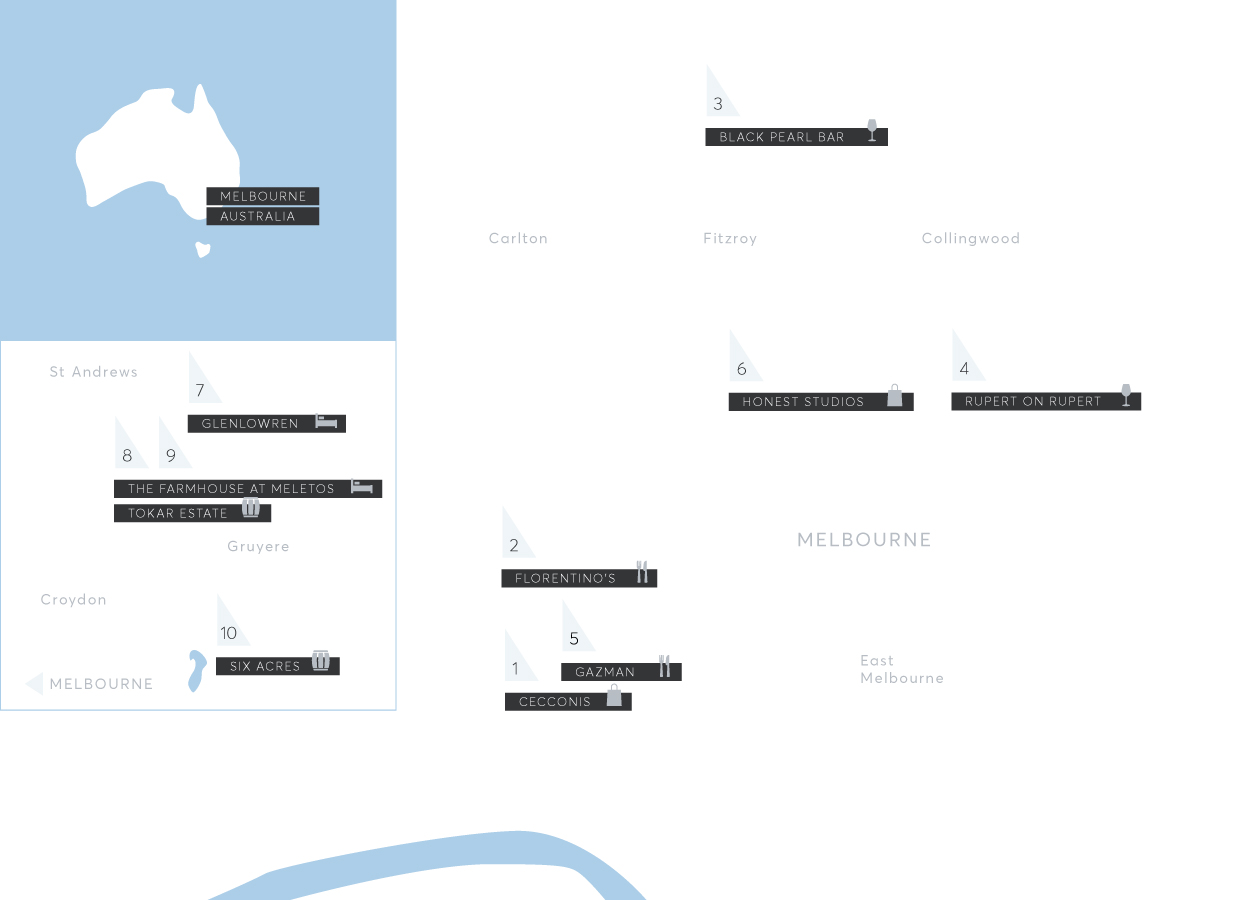 MELBOURNE, AUSTRALIA CITY GUIDE – FAMILY BUSINESS STYLE
For this month's family business city guide we head to Melbourne, Australia where we discover delicious family wines, home-cooked Italian goodness, and family-owned fashion boutiques for men and women alike.
DINE
Cecconi's
cecconis.com
61 Flinders Ln, Melbourne VIC 3000
Another Italian eatery, Cecconi's has been at the forefront of the Melbourne dining scene since 1998, when it opened its doors at the Crown Casino. Fast forward 21 years and Cecconi's has now cemented itself within the Melbourne laneways. Owned and operated by a trio of strong Italian women – The Bortolotto Family; Cecconi's prides itself on modern Italian cuisine, delivering a memorable dining occasion each and every time you visit.
Florentino
florentino.com.au
80 Bourke St, Melbourne VIC 3000
Florentino is one of Melbourne's most iconic dining venues, beginning in 1928. In 1999 it became Grossi Florentino after the Grossi family took over the reigns. Grossi Florentino houses three areas, Cellar Bar, Grill and Florentino. Each venue is unique in style with a separate kitchen and menu but coherent in the values of Italian cooking and genuine hospitality.
SIP
Black Pearl Bar
blackpearlbar.com.au
304 Brunswick St, Fitzroy VIC 3065
If you want a late night drink and a good dose of old fashioned fun, this family-owned bar is for you. Open until 3am every night, Black Pearl Bar has become an icon of cocktail innovation in Australia. In the 15 years since it opened it has become a breeding ground for the country's best bartenders. Expect a weekly changing cocktail menu, food served until late, and full table service.
Rupert on Rupert
rupertonrupert.com.au
73 Rupert St, Collingwood VIC 3066
This backstreet beauty was established in early 2015 by husband and wife team Ric and Mali Corinaldi. A lovingly converted warehouse restaurant, Ric's dream was to create a space that could exist in any city in the world, with an aesthetic that would entice both community gatherings and romantic dates alike; a sanctuary that guests would long to return to again and again. And let's just say, his vision has been more than realised.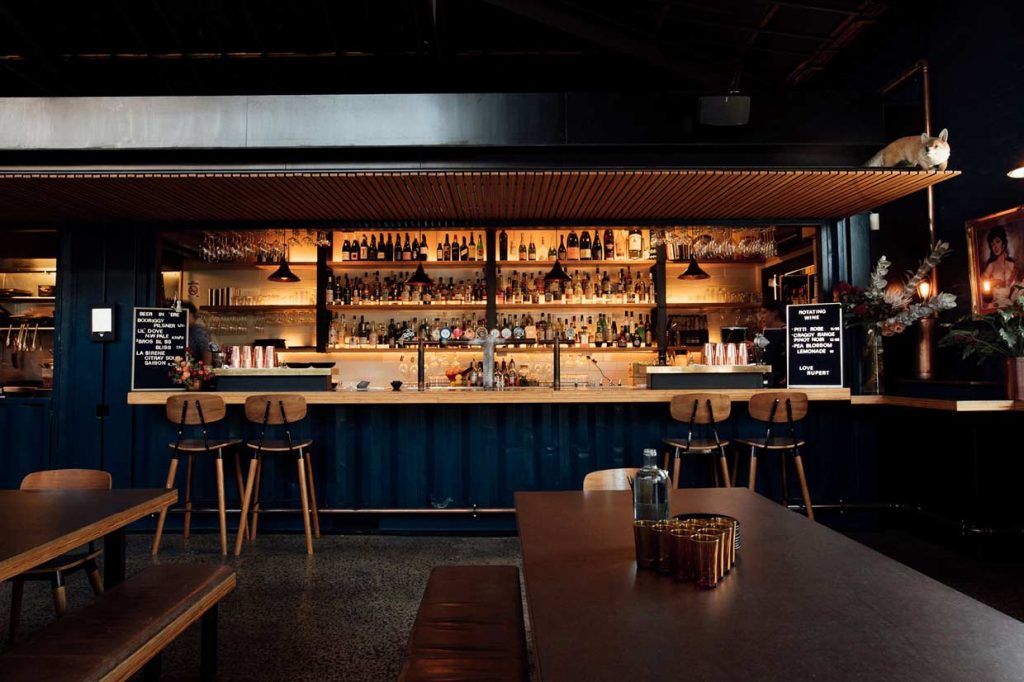 SHOP
Gazman
gazman.com.au
260 Collins St, Melbourne, 3000
Gazman was founded in 1974 and today remains a proudly Australian owned and family operated company. The brand believes in exceptional customer service; value for money and an outstanding quality product. Their ethos is a "Brand for All Generations", providing contemporary casual and business wear, allowing men to dress with confident style, comfort and value.
Honest Studios
honeststudios.com.au
201 Gertrude Street, Fitzroy
Honest Studios is a mother and daughter duo selling handmade clothing made from surplus natural fibres. Their vision includes taking an honest approach to an industry overwhelmed by mass production. Visit them at their studio in Fitzroy or head to Rose Street Market on the weekend.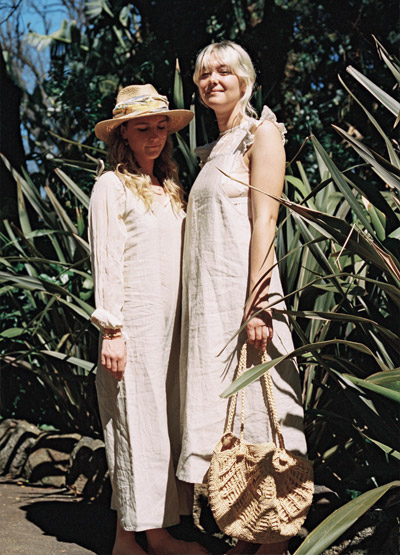 STAY
Glenlowren
glenlowren.com.au
281 Bottings Ln, Dixons Creek VIC 3775
Also in the Yarra Valley, Glenlowren has three self-contained B&B retreats, that each sit well apart from one another in an uninterrupted and restful setting, just 55 minutes from Melbourne's CBD and one hour from the Airport. Since 2001, the tranquil location has been owned by the Looringh van Beeck Family, but the venue's history as a family business goes as far back as 1854.
The Farmhouse at Meletos
meletos.com
12 St Huberts Rd, Coldstream VIC 3770
A stunning place to stay and an onsite micro brewery? Sounds perfect to us. About an hour north-east of Melbourne lies a region known as The Yarra Valley, a tranquil oasis away from the bustling hub of the city. With its walled gardens, rows of crabapple trees and raised vegetable beds, family-owned Farmhouse at Meletos has taken an abandoned collection of century-old farm buildings and created something truly extraordinary. They share their delightful premises with Detour Beer Co., a family-owned microbrewery producing beautiful hand-crafted ales.
EXPERIENCE
Tokar Estate
tokarestate.com.au
6 Maddens Ln, Coldstream VIC 3770, Australia
The Tokar Estate is a family owned and operated winery, restaurant and cellar door in the heart of the Yarra Valley. The business has been family-owned since 1995 and includes a wine label and an on-site restaurant. All of the wines are single vineyard, estate grown, and nurtured from vineyard to bottle by winemaker Martin Siebert and the Tokar family.
Six Acres Wine
sixacreswines.com.au
20 Ferndale Rd, Silvan VIC 3795
Nestled in the southern hills of the Yarra Valley, Six Acres boutique winery and vineyard is owned and worked by the Zuccaro Family. The small size of the property means that the whole family is involved in the winemaking process and a visit to Six Acres will almost certainly involve being greeted by a Zuccaro family member as they emerge from the rows of vines or from the barrel shed.