Just Between Us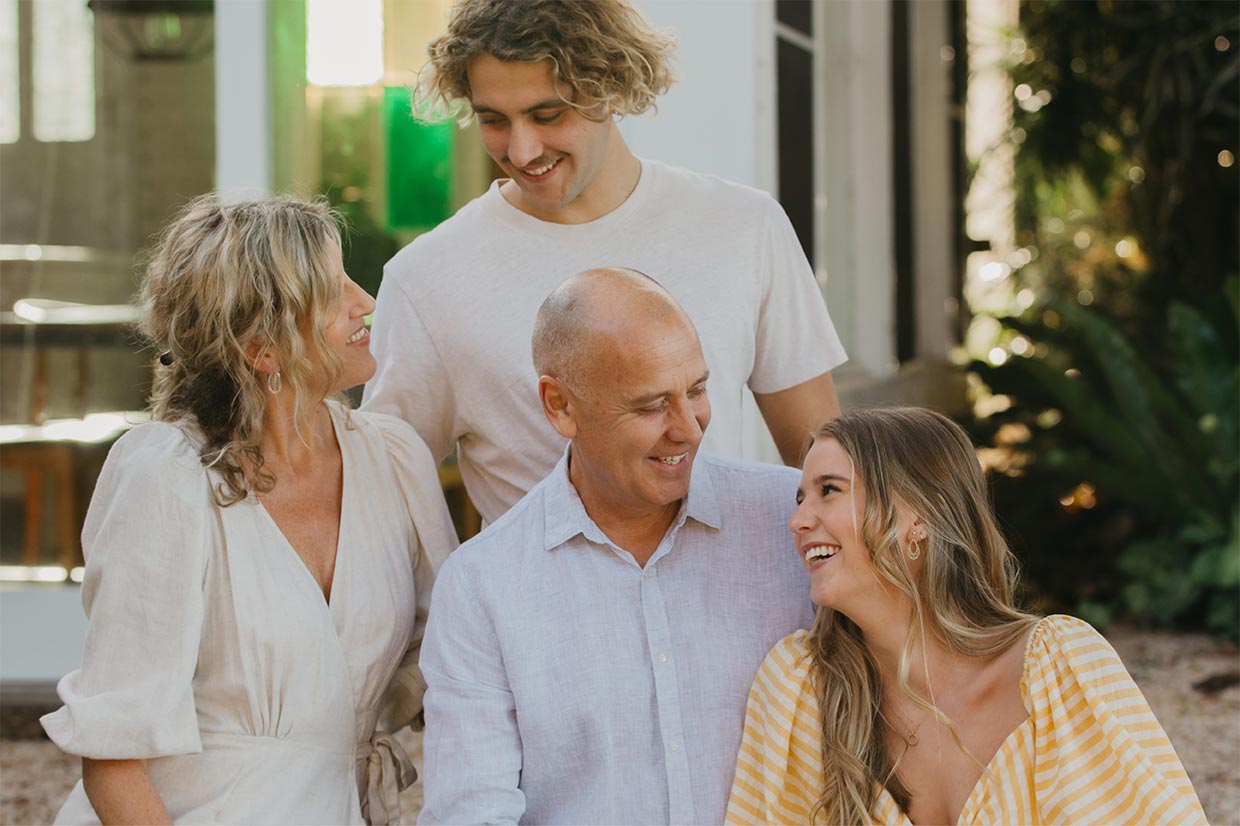 BYRON BAY BY CANDLELIGHT—THE LOVING FAMILY BEHIND BYRON BAY CANDLES
Infusing love and a sense of relaxation through the flicker of a candle-light, that's what the family behind Byron Bay Candles have been doing since 2001. As eco-conscious vegetarians, their philosophy guides the business strategy and they focus on ways to minimise their ecological footprint. Each candle is hand-poured in their Byron Bay based warehouse and they encourage customers to buy their candle refills — that way jars are used more than once and waste is reduced. It's also economically beneficial for the customer. Win, win. For this month's version of 'Just Between Us', we chat to husband-and-wife team Annemarie and Christopher about how they got into the candle business, the importance of defining roles and responsibilities and their unique blend of 100% natural ingredients.
ANNEMARIE
I started out as a raving fan of Byron Bay Candles and came across an ad that the business was for sale. A wave of excitement came over me—it's exactly what we'd been looking for. Christopher (my husband) and I had previously spent 2016 travelling Australia with our children Patrick and Ebony (16 and 12yrs at the time), so we were on the hunt for a new business opportunity in the Byron Bay location. My cousin is also an aromatherapist who has been hand-making candles for the past 10 years, so it was one of those 'meant to be moments' where we knew this was the business for us. We made an offer with lightning speed and took over the business on the 1st July 2018.
We strongly believe in the calming influence inhaling a beautiful aroma provides, along with the ritual of lighting a candle. It's a fantastic trigger for slowing down and relaxing, which is what being in Byron Bay is all about.

Being eco-friendly vegetarians, we wanted to run a business that could have a small environmental footprint but a big emotional connection. Our candles are made with pure soy wax and pure cotton wicks which are non-toxic and the scents trigger our sense of smell as a way to uplift our emotions. Many customers come to us because they have allergies and sensitivities to aroma. We want to support health, so it's really important our product range is as pure and natural as possible.
Minimising our environmental footprint is essential and one of our criteria was being able to reuse the jars that hold our candles. This brought about our desire to create candle refills so there is no need for customers to throw out their empty jars and lids. This prevents additional land fill and saves our customers' money in the process by simply thinking green.
Christopher and I both work full-time in the business. From Monday to Friday we also have a wonderful bunch of women who fill roles in customer service, picking and packing customer orders as well as pouring and packaging the range. Patrick (our son) is now 21 and an apprentice electrician but also works in the factory for a few hours every weekend, boxing up the candles left to set on Fridays and preparing the jars and wax pots for Monday pouring. Ebony (our daughter) is heading into year 12 in 2022 so in between her studies and social life she manages Byron Bay Candles Instagram and Facebook pages.
Christopher has the ability to see humour in most circumstances so even if times get stressful, he can lighten the mood with a joke or two. We both like to make decisions and have the final say! This has led to us becoming great negotiators at putting our case forward. I love computers and people and Christopher loves hands-on activities, and people. We went through all the roles that we are required to fill in this business and discussed who was going to be responsible for what. Then it was easy.
Growth, growth and more growth, is what we see for the future of this business. We love what we do and want to share it with the world. Of course, we are beginning here in Australia and with each day we hope to reach a wider audience and introduce more and more people to the Byron Bay Candles brand. However, family relationships come first, so we endeavour to leave work conversations at the workplace when we go home each day.
Learn more about Byron Bay Candles.
CHRISTOPHER
There are actually many facets to our business, one being the manufacturing component, this is something I really enjoy. The physicality of creating the candles knowing that someone will experience pure delight from the fruits of our labour is very pleasing. Another is working with our team to always improve our systems, to streamline procedures in all areas of the manufacturing process. Another aspect that continually excites me is keeping in front of anticipated and unanticipated growth for inventory control, I seem to always have just enough remaining stock before my next supply arrives.
Annemarie and I have worked together for around 25 years and gone through the rigours of sorting out who does what and expectations of when and how it's done. Once you understand each other's strengths you make a great team, it also helps when you both have the same love for business. In today's business world, thank goodness Annemarie thrives on I.T. While we discuss all areas of the business continually before any decisions are made, Annemarie would primarily look after the sales and marketing, packaging design, website and other I.T. processes and many other areas. I manage the manufacturing, inventory, staff, Annemarie's lunch and also purchasing. We both enjoy talking to people and customers which is also a great asset. We both really love our business meetings, which always take place during our car trip home or beach walks. This has been an extremely valuable component to our success in whatever venture we embarked on.
Long walks together in peaceful surroundings has always helped us communicate our goals, dreams for business, improvements, concerns and also kept us as close mates. One challenge that pops up for me is that we are both strong minded (sometimes stubborn) which can lead to heated debates, although at the end of the day it always sorts itself out with a favourable decision to the problem.
Ah ha moment? Online sales…Annemarie's thirst for knowledge has been a catalyst for our success in the online world.
With our steady business growth the future is looking very exciting. We have enjoyed many different employment options available to us, this helps with specific tasks required within the business which alleviates our workload and essentially contributes to the business' success.
I would like to expand into a larger premises with floor space to implement more efficient workflows and capacity for production. Ideally a workplace where everybody gets to enjoy different roles within the business, no matter what role that may be, so that every person is an important part of the whole picture.
One piece of advice is difficult to nail, however—I would suggest communication between the family and enjoying the journey. Well that's two 🙂