60 Seconds With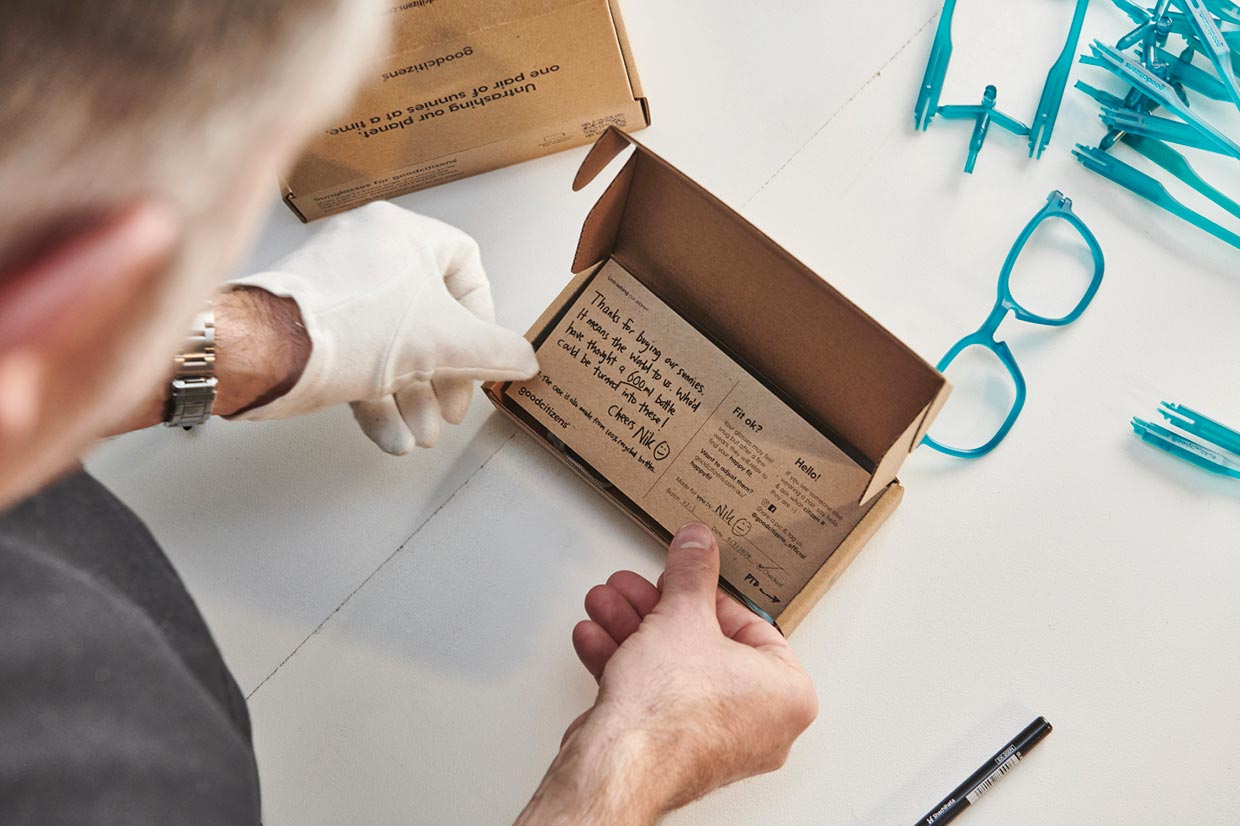 TURNING SINGLE-USE PLASTIC INTO SUPER COOL SHADES — 60 SECONDS WITH NIK ROBINSON OF GOOD CITIZENS
Born from a dinner time conversation, as many family businesses are — Good Citizens are all about their purpose. Inspired by his two young sons and their mature observations about the issues surrounding non-recyclable waste, Nik came up with what would become their mantra… to "untrash our planet". And with every pair of cool shades produced, they're doing just that.
Slightly ahead of their time, Good Citizens was a brand built with a purpose before a product. They had four main principles to guide them, and their product was created based around these. As a super cool and trendy family, it's no real surprise that the product they landed on was the ultimate in 'cool accessory' — sunnies. Each pair is crafted from one 600ml discarded single-use plastic bottle (often with the help of Nik's sons, Harry and Archie). The 'would be waste' goes toward making the frame, arms and hinges. No screws, no metal.
They're an incredible example of just how important your purpose is, as Nik says "it's your North Star. It will be the only thing that keeps you going when money is tight and you are facing a mountain of challenges."
WHAT DO YOU BELIEVE IS THE FAMILY BUSINESS ADVANTAGE?

I suppose it's a trust thing. We're in it together and we want the same things. We also have to own our mistakes; there's no finger pointing or quibbling.
WHAT HAS BEEN THE MOST CHALLENGING TIME WORKING IN A FAMILY BUSINESS?

We never switch off. We're terribly guilty of taking our work home with us. It's our whole life at the moment so we're dealing with customer questions at all hours, checking Instagram and responding when we get tagged, even our family dinners each night involve some chat about the good things that have happened during the day. It's our chance to update the kids. We have to be careful not to go on about some of the hiccups along the way too as they worry unnecessarily.
WHAT HAS BEEN THE MOST REWARDING?

We've had a few big moments – like winning awards and getting into the Selfridges window – but the joy you get from watching the boys experience those highs is what stays with you. As children, they really express their excitement. When the kids see someone in the street wearing our frames, it's funny watching them run up and tell that person they made them.
WHAT'S THE LEGACY YOU WANT TO LEAVE BEHIND?

Geez that's a big question. I guess that we helped to change consumer behaviour towards waste and that we showed waste materials can be turned into good. That businesses can be profitable and not at the expense of people or the planet.
IF YOU COULD GIVE ONE PIECE OF ADVICE FOR BUILDING A BRAND, WHAT WOULD IT BE?

Have a very clear purpose. It's your North Star. It will be the only thing that keeps you going when money is tight and you are facing a mountain of challenges. A good purpose will attract quality people and customers to your brand.
Discover more about Good Citizens on their Instagram.