The Inside Story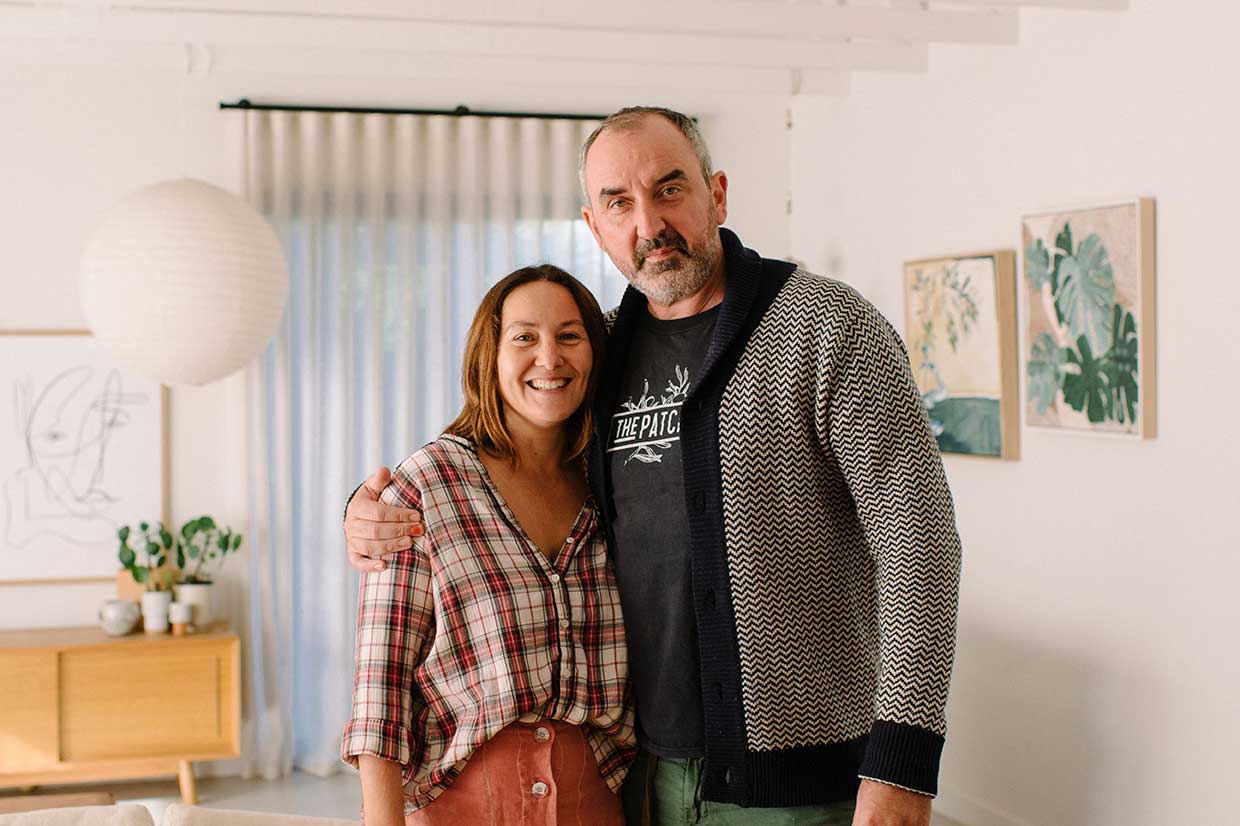 BEYOND THE BREAKFAST BOWL — THE FARMER JO JOURNEY
Pair your "typical Aussie girl" with a chatty Scotsman… and what do you get? Muesli with personality and flavour like you've never experienced before. No, it's not something anyone would have guessed, so we'll take you back to their humble beginnings and share the story behind our favourite breakfast bowl, courtesy of Farmer Jo.
A WANNABE ACTOR MEETS A BROKE BACKPACKER AT A BAR
Scott Tulloch grew up in the sleepy town of Drumchapel, Glasgow. And though he looks back upon his childhood fondly, when you meet Scott you understand how the slow-paced nature of his upbringing was exactly what fuelled him to seek adventure beyond what his hometown could offer. Scott is (as they say) 'larger than life'. After a mere 30 seconds of conversation, you feel like you're best mates. He's charismatic, funny, outgoing (but not in an overbearing way) and just a great bloke really. So with all these inherent character traits, it's no surprise that Scott left the humble region of Drumchapel for London, to pursue a career in acting. Or in Scott's own words, to basically carve out a career doing "anything other than normal".
It was here that during his 'night time job' as security bouncer at a busy bar, he met Sally. The warm and sunny Australian traveler. His future wife, co-creator of human(s) and business partner. Sally was there to replenish her funds after they took a sizable hit during her travels through Italy. A few jokes, drinks and appropriately flattering comments later — the two were a couple. Sally returned home to Australia to begin her own career in interior design, and Scott followed…


A NICHE OF THEIR OWN
After relocating back to Australia, a few journeys were still ahead of Sally and Scott before Farmer Jo could come to fruition. While Sally worked with some top interior designers, Scott discovered his 'gift of the gab' through the work he did with artisanal and boutique coffee roasters — namely Toby's Estate. It was with the birth of their first daughter Olivia, that the burning desire to over-step the norm and create their own lifestyle became overwhelming. Together as a united front, Sally and Scott knew they didn't want their future to involve "working long hours for someone else". And so their entrepreneurial story began to unfold.
Inspired by the uprising of artisanal products, the appreciation for them in the market place and the LACK of really delicious AND healthy muesli in that same marketplace — Farmer Jo began to take form. But not before a few other business ideas came… and went. The driving force behind landing on a product that would be the mechanism for their future life together, was intertwined with Scott's belief that if they worked together and were "both headed in the same direction, the relationship would be stronger" and that anything they did together simply "couldn't fail". This belief led them to choose a life that put family first.
The leap from there, to the breakfast bowl isn't quite what you'd expect. Having grown up with a healthy bowl of porridge for brekky everyday, Scott knew there was room for a more exciting breakfast offering. Sally's childhood spent on the shores of the Sunshine Coast, inspired an appreciation for the natural flavours we're so lucky to have from our local Australian produce. At the time, there did exist 'healthy' muesli offerings, though their main drawcard was always the amount of ingredients in the bag. The more, the better (or so these early adopters thought). So many ingredients, yet so little flavour. This is where they found their niche. Healthy muesli that actually tastes delicious. They designed their breakfast bowl around one hero ingredient and found what complimented that best. This was their huge point of difference. With Sally's background in design, the whole muesli experience became very visual and sensory. The ingredients were chosen based not only on how it would taste, but how it could look. Because after all, we do eat with our eyes don't we? This was a really clever approach and possibly one also influenced by Scott's experience working with the coffee roasters, knowing that when it comes to selling a product in cafes or restaurants — the look is just as important as the taste. So they used their individually unique skills to build a breakfast bowl, and a brand.
GIVING THE PEOPLE WHAT THEY WANT
So many businesses fail in the first year, because they don't test their product in market before investing in its creation. It's a really important part of any start-up story. You could have a great idea, but there may be NO audience for it. Or you could be sitting on a goldmine but not even see it until you try your initial product idea with some potential consumers. It's a trap for young players, but not for Sally and Scott. Being such down to earth people themselves, they knew their product had to resonate with people "just like them". And where could they find these people? The farmers market.
At this point, the couple were 'all-in'. Living off Scott's single wage and "giving the credit card a good work out", Sally spent her maternity leave doing something phenomenally constructive (aside from raising a child) she also focused on creating their product. And their kitchen became a sensory explosion of dehydrated fruits, nuts, seeds and various other delicious things. At every opportunity they were manning their stall at the markets, Scott chatting effortlessly to customers and Sally diligently taking mental notes of any useful feedback. They crafted their product based on what they learnt from this experience. And that's possibly a huge contributing factor to their success, as they still keep this at the forefront of all product innovation… "will people like us, like this".


10 YEARS, 15 FLAVOURS, 4 BABIES AND A RELOCATION…
A decade on, the Tulloch family have finely tuned their breakfast bowl to look and taste incredible, with 15 different flavours (and new things on the horizon too!)
However, with four daughters — despite their love for the Sydney set-up, city life was starting to feel a bit cramped. A big move was in order, and they relocated the family and the business to northern New South Wales. A move that this thriving business allowed… and that's the "real win" for Scott and Sally — "the life they've created for their family".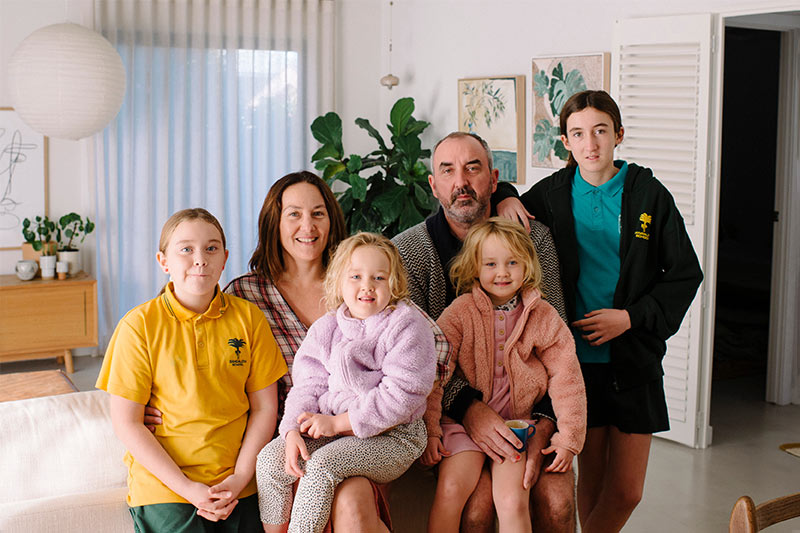 A HOMEMADE TOUCH, AT SCALE
With Farmer Jo in a fantastic place and the family settled and happy in their trendy hinterland home, one could assume that this couple would be able to put their feet up for a minute. Allow the business to keep ticking along, doing what they do best — creating a really "good product" that people love. But no, not for these two. They're still continuously searching for ways to authentically grow their brand, without losing touch with the "home-made" feel of the muesli. And, it was actually during COVID that they managed to start thinking about growth in this unique way. When none of their workers were able to come to the Mullumbimby-based kitchen due to restrictions, they found another solution. The muesli was moved back to Sydney, and took up home in a new kitchen run by what had previously been airline menu-makers (who were now out of work due to the border closures).
They were a trustworthy and reliable team of people who could make the muesli (and now granola butter — seriously try it. It's BEYOND delicious), with the same care and love that Scott, Sally and their Mullumbimby team would. Although it was "hard to find the right partners with the same beliefs", according to Scott, these guys were it. They bake each grain with the "same principle" used from the beginning. Everything is cooked in "small trays, in the oven" so it has that loving touch. This is something the couple won't compromise on, and believe they don't have to in order to scale the business. As long as you build the right team around you, anything is possible. The way Scott sees it, it's actually an opportunity for locals. "There are plenty of hands in this country who need a job" and for anyone reading this who sits in that category — hit up Scott and Sally! Help them prove the food industry wrong. As Scott says "you can still be a commercially sizable business and have handmade principles intact". If anyone can make that happen, it's these guys.

A HUMBLE BEGINNING, AND A HUMBLE FUTURE
From credit card debt and home-bake muesli, to a fully-fledged international brand (they now ship to parts of Asia too) — Scott and Sally have kept their family-first philosophy the whole time. Their plans for the future aren't to rival the likes of Uncle Toby's or Kellogs. It's to maintain the quality of their product and just share it with more people if possible. Eventually, the dream is to own a visitable property where customers can come and see or pick the fruit that is featured in the muesli. Less is more. Always have fun. Alway be honest. And most importantly — eat your muesli!
Learn more about Farmer Jo.