Just Between Us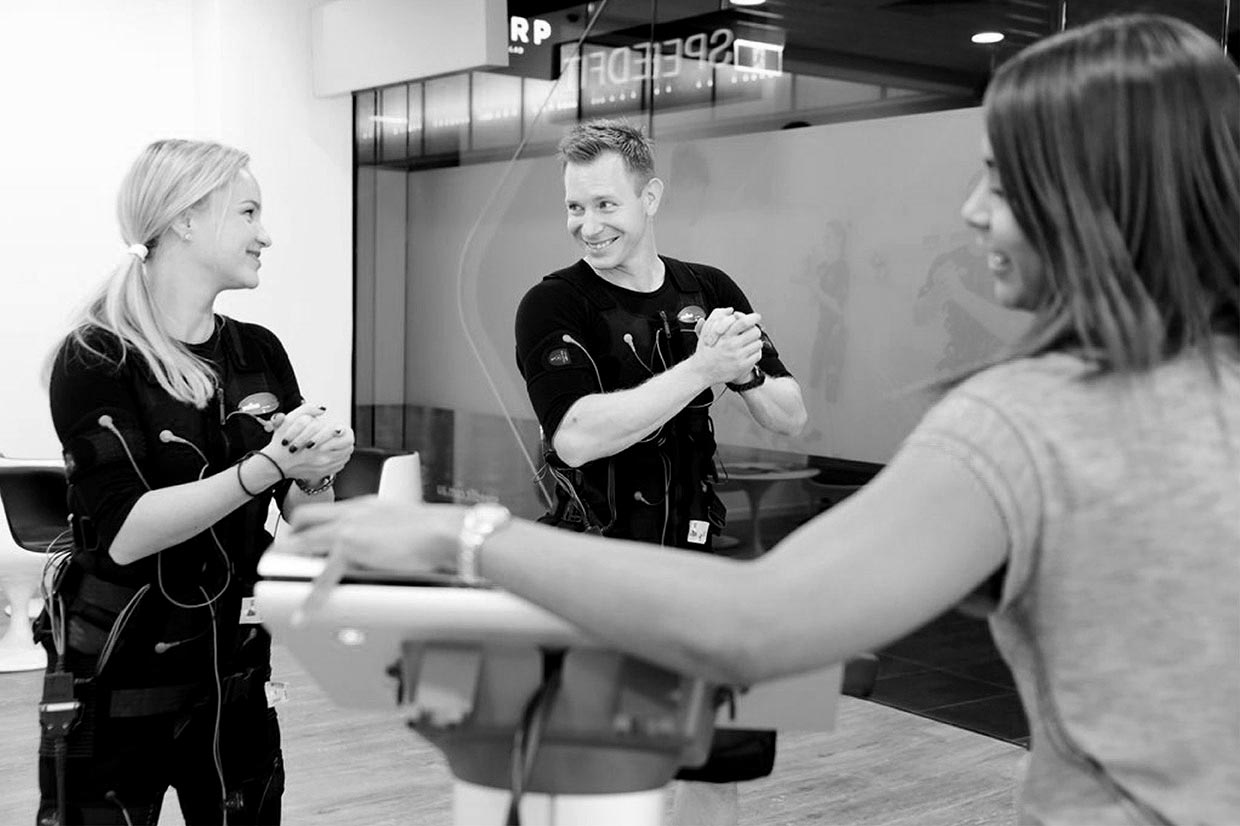 SPEEDFIT YOUR WAY TO HEALTH – THE COUPLE INTRODUCING WORKOUTS ON YOUR TERMS
It feels like the world is running at lightning speed. Juggling work, family, studies and a social life is a balancing act that has the scales tipping towards chaos. Needless to say, at the end of a busy day it can be a struggle to find any motivation for a long workout at the gym.
So, we're pleased to hear about SpeedFit – a 'smarter workout' popping up across Australia that takes just 20 minutes per session to "give you the same results as several hours spent sweating in the gym". Intrigued? Here's the science behind the magic…
SpeedFit uses EMS machines to mimic the natural action of your central nervous system, sending electrical impulses that contract your muscles. It's a system that has been used for decades in Europe for sports rehabilitation. But now it's a real all-rounder – building muscle, strength, improving posture and even reducing cellulite. Hallelujah!
Like many business success stories, SpeedFit was born from finding a gap in the market. For Matej – CEO of the company – this was a need for injury rehab and toning training when time-poor. We have to say, it sounds like a no-brainer. Less time in lycra, sweating it out at the gym and more time for… well, everything else on the to-do list.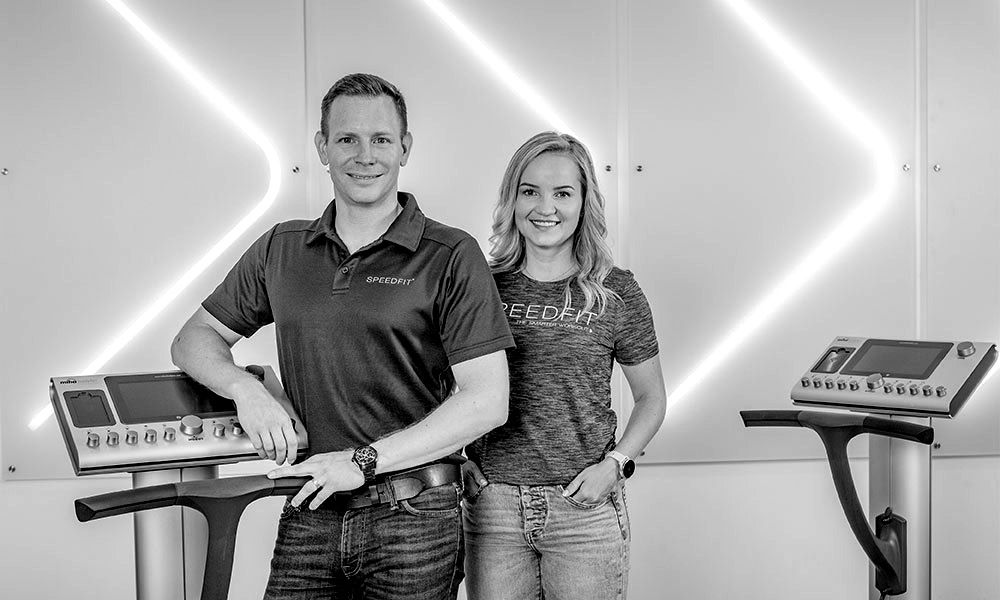 ZUZANA VARHALIKOVA
Matej and I met in 2006 while living in Slovakia and married in 2011. We have two beautiful daughters, Daniela and Nikol. When our first daughter Daniela was one, we travelled to Australia and fell in love with the country. We made the decision to move here a few years later and settled in beautiful Perth, Western Australia. It is here we also decided to launch SpeedFit.

Matej has always been the driver of the vision and runs the day-to-day operations, as CEO. With our daughter's both at school, I'm able to spend more time at head office in an operational role across all facets of the business. Matej and I are guilty of discussing work outside of office hours, so now that I have more time to focus on the business, I can not only be a sounding board for ideas and challenges, but I can also step in and assist where necessary.
I love Matej's honesty, integrity and leadership. That allows me to fully trust him and the decisions he makes. I also love the fact he can make tough decisions with a calm head, whereas I'm far more emotional!
That leads me on to some of the more challenging parts of a family business. When you're running a business and raising a family together, boundaries become very important. We've certainly had some interesting moments understanding how to deal with differences of opinion and making allowances for the fact that being a business owner means you don't ever really switch off.
All in all, I love that we get to enjoy our business successes together. When we first started in 2013, Matej was fully immersed in SpeedFit while I was at home taking care of our young children. At times, this felt a little isolating. Now that I'm more actively involved in the business, I really enjoy it! Also, working together helped me to discover other sides to Matej, and the fact he is not just an amazing husband and father but also an amazing thought leader and hard negotiator – who will make sure the best possible decisions are made for his team and SpeedFit's success.
As the business grows, we'd love to open up some more locations across Australia and hire a few newbies in our head office. As much as I've enjoyed learning about the operations side of things, I'm very passionate about the development of our brand and how we keep connecting with our clients and the broader community in a meaningful way. If I had to give one piece of advice, it would be to try and keep the business at work. Have enough time together as a family to keep the balance right (and as many holidays as possible)!
MATEJ VARHALIK
Zuzana and I moved to Australia when our first daughter, Daniela, was one year old. That experience was a real learning curve, as we came here not knowing anyone and only having each other for support.
I came up with the idea for SpeedFit when I first used EMS training for a back injury. I was getting great results and had the idea to open a business that offered this type of training for time-poor, busy people (like me) who had an injury, or wanted to get fit but didn't have the time for long workouts and high intensity movement.
As CEO I am responsible for the day to day operation of the business, which includes creating and refining our systems and processes, recruitment, and providing leadership to the team. Zuzana is the more technical type and very structured, so she overlooks operations in terms of warehouse/stock management, HR compliance and processing payments. She has a great eye for detail and is good at forming insights into what our core clientele wants. For that reason, she is heavily involved in coordinating our social media accounts – making sure they are aligned with our target audiences.
There are so many things I love about working with Zuzana. If I had to choose one thing, I really love that she takes ownership of her tasks and gets them done no matter what. Once she knows what the requirement of the task at hand is, she just does it; in a perfectly consistent manner and on time. Her consistency allows me to be more 'visionary' and idea driven, with a focus on growth.
The biggest challenge for me is to separate work and home life. It's that illusive work/life balance! I'm very passionate about SpeedFit and what we are creating, so it can be hard to 'switch off' even when I'm not in the office.
A crucial moment for me was understanding our differences and how we complement each other. We couldn't do each other's jobs to the same level, so that clarity helps to not interfere. Instead, we can focus on our own strengths and what the business needs.
The next step for us is expanding to more locations across Australia. We currently have 21 studios, with a goal of at least 30 studios by the end of 2022. We are also looking forward to building our team and resources in order to bring in more expertise in specific areas, such as marketing and operations. Ideally, I would like to take a bit of a step back in order to spend more time with Zuzana and our girls; the last eight years have been non-stop, with a lot of focus on building the business.
My advice for other family businesses? Think twice if you want to really work together as it might have a big impact on your relationship. It's challenging and not everyone can handle it. But once you master the relationship, I think it's amazing to share business successes with your loved ones and build your family empire together.
Learn more about SpeedFit.