Things We Love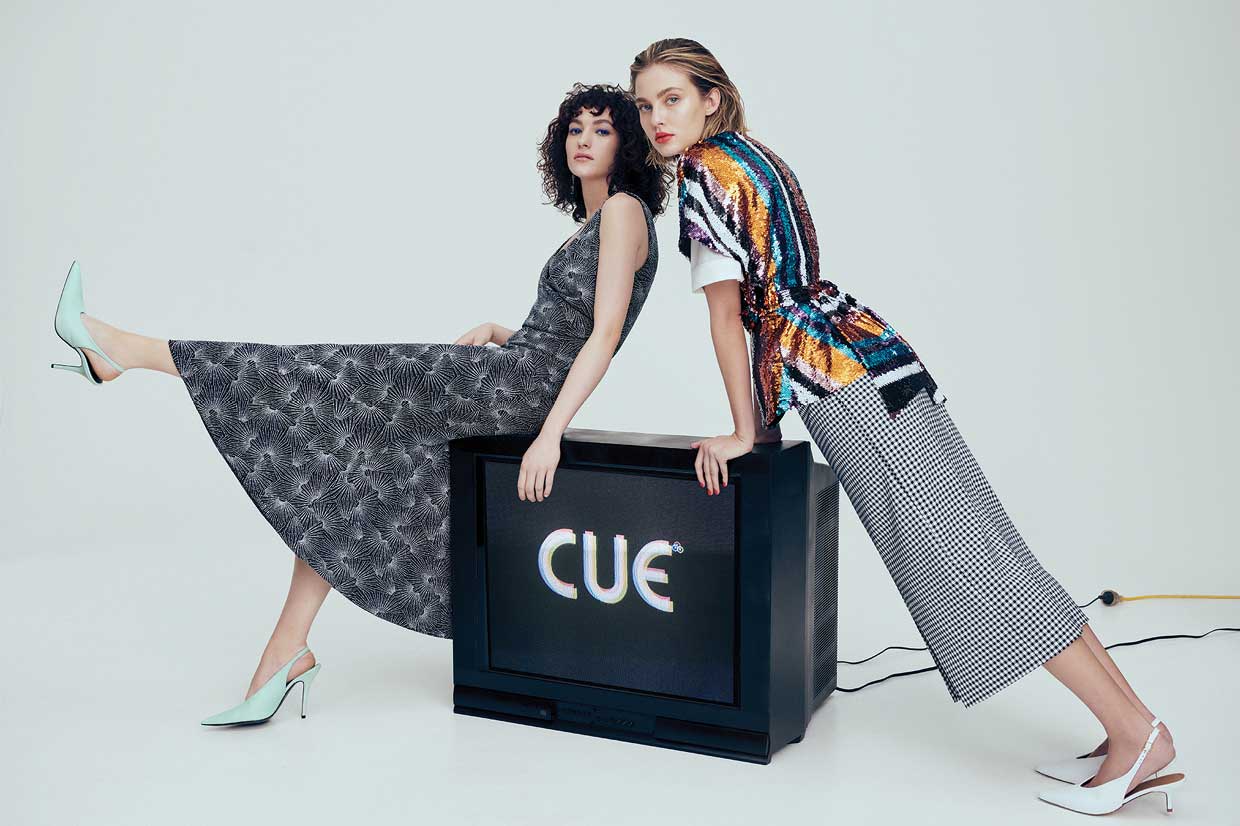 CUE CLOTHING
Now our go-to retailer for the demure but sophisticated work attire, Cue Clothing was once known for its groundbreaking foresight in bringing the youthful and edgy 'London look' down under. Their philosophy is all about being "on target, on the ball, ready for the next thing", as told by their founder, Rod Levis. Their clothing isn't just about style, they're really about a culture. So it's no surprise that they've evolved and changed their 'look' with each generation.
Rod was first swept up by the fashion world during a trip to London in the swinging '60's, it was the youth culture spearheaded by Carnaby St and The Beatles that inspired this law student to consider a career in clothing. Sensing a gap in the market for a fresh, youth-driven fashion platform in Australia, he opened his first Cue store in Sydney's Strand Arcade in 1968, a vision of red plastic furniture, aluminum floors and fashion, with top 40 tracks blaring in the background.
"Back then the clothing choices were mumsy and dowdy or too sophisticated," says Levis. "Cue made way for a new wave of young fashion inspired by what was going on in London and Paris." What made his venture so successful was that it wasn't just about fabrics or cuts or designs — it was about sharing an exciting movement of freedom. Rod single handedly educated Australian youths about what a 'fashion statement' truly is. It's more than just standing out, it's a choice to mould your appearance to be an extension of your personality.


RIDING THE COATTAILS…
Revolutionary in his approach, Rod introduced Australia to his fashion movement by creating pieces solely based on The Beatles. Embroidered t-shirts and the like were sold in line with their Australian tour. By bringing The Beatles into it, Rod was able to get loads of advertising airtime across Sydney's top 40 radio stations, creating a buzz that led to a sell-out range. He had discovered a (not so small) niche, a product they could relate to and a way to reach them. Their Strand Arcade residence had become more popular than the coolest of nightclubs, with youths lining up for the latest styles. At times, they even had to close their doors to control the hysteria. Along with the famed Beatles t-shirt range, Rod stocked pieces from young Australian designers and worked alongside Australian fashion icon, Carla Zampatti (at the start of her career), on his own Cue line. And so the Cue vision had been shaped. They would always be a brand that reflected the needs of their customers in the current climate. They would always be relevant, on Cue… so to speak.
THE TIMES, THEY ARE A CHANGIN'
As the brand grew, the Cue look evolved. With their Myer partnership in the '70's being defined by the mod-mini and disco drama styles — thanks to Cue, every Australian woman could get their hands on a homegrown original version of signature high-end and international looks. From here, the brand began infiltrating suburbs across the nation. And, with new stores opening, their advertising spread increased too. Always the innovator, Cue was the first ever clothing brand to advertise on buses, and in the cinema. Pair this with their already pretty frequent airplay ads and you literally couldn't escape their reach. Everywhere you looked (or listened), Cue's cutting edge style would be seen or heard. And, if they were to be heard, it would be in cutting edge dolby stereo sound. As had been a running theme with the brand since its inception, the soundtrack to Cue was of utmost importance to Rod. Their two minute cinema ad was the first to use the sound technology during that era, and featured a small-town girl transformed by a Cue clothing makeover — all to an uplifting and familiar tune.
SEQUINS TO SUITS
The mid 80s brought with it outlandish styling, seeing women adorned in sequins, glitter, shoulder pads and taffeta. Of course, Cue was right there to help Australian ladies find their perfect statement piece. Come the late 80s the Cue client was swapping sequins for tailored suits, as the working woman became a fashion icon, the chic black pantsuit was the symbol of this shift from women at home, to women in the workforce. All the while though Cue never lost its youthful edge. Still maintaining many fun, bright and colourful wardrobe items, by the end of the decade it was obvious that Cue was a trusted go-to brand for the 'everywoman'. From teenage rebel, to young mum, to CEO, Cue was there to dress you for the occasion.


THE NINETIES, NAUGHTIES AND BEYOND
True to its name, Cue continued to be on the front foot of cultural trends. With Rod's wife Lynette sourcing fabric and his children, Melanie and Justin as executive directors — this family led business moved from strength to strength, picking up new 'family' members along the way. Rod made everyone feel like a part of the family (whether biologically related or not…), and this has definitely paid off when it comes to staff loyalty.
"Each of Cue's head designers has risen through the ranks and stayed for more than a decade. They pass the baton to one another", explains Levis. It was perhaps this family-feel that enticed worldwide supermodel Claudia Schiffer to front their 1997 campaign. Cue followed this with an homage to local talent, working with (at the time) up and coming Australian models Catherine O'Neil and Jessica Hart for later campaigns.
Come 2019 and Cue was celebrating their 50th year in fashion. Quite the milestone for a family run business in an extremely volatile industry. They celebrated with an exhibition display in none other than Sydney's Powerhouse Museum, with a collection that featured a piece symbolising each decade of Cue.


WHAT NOW?
Well as so perfectly presented by Mr. Rod Levis, "since Cue began, the role of women in society has changed. When women started entering the workforce in the late '60s and '70s and '80s, we were already there for them. Women are now running companies and running countries, and our designs have reflected that." So, as humble observers, we can only assume that Cue will continue to be there for the 'everywoman' of Australia. Dressing them for their first job interview, a day at the races or a fancy formal event, so that every woman can have their Cue moment.