60 Seconds With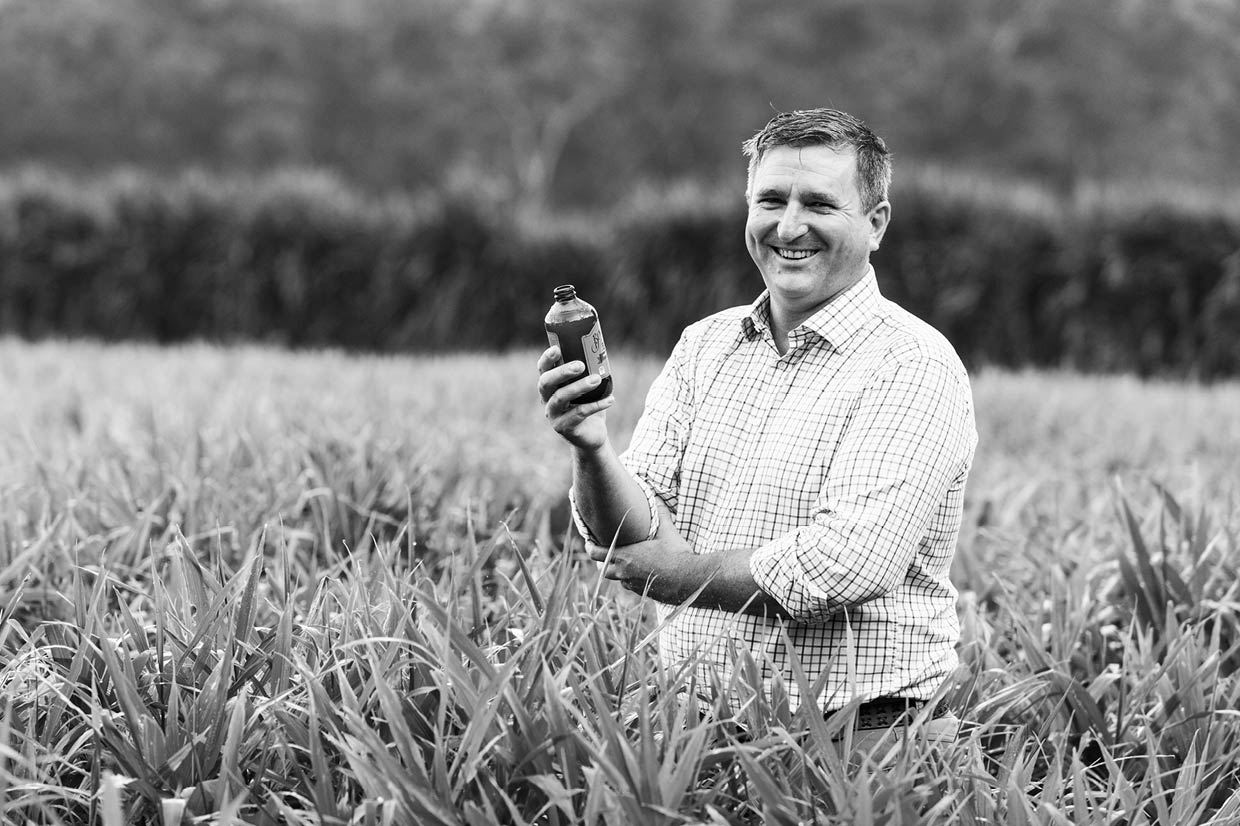 60 SECONDS WITH JOHN MCLEAN — GINGER BEER, CHOCOLATE AND WORLDWIDE DOMINATION
For most Australians, the Bundaberg Brewed Drinks label inspires immediate nostalgia. One sip of that cold, fizzy, ginger-y beverage and we're transported back to hot summers, checking out the surf with mates from the car park. A tube of sunscreen in one hand, and Bundaberg ginger beer in the other. Why? Because the product has become more than just that. It's an icon. A feeling. And to experience it, is to be part of the Bundaberg community. One that CEO John McLean helped build. It's no accident that this seemingly simple drink makes us feel so many things. When you talk to John, you truly understand why that's the case. It's because that's his mission. To see "pieces of Bundaberg in places all over the world."
Named after the Queensland town, Bundaberg Brewed Drinks have been around for over 40 years. The brand is now a familiar one in over 60 countries, in most part because of John's efforts. Having married into the family, John transitioned from school teacher to ginger beer salesman to — in his own words — "be the master of his own destiny". A move that certainly appears to have paid off, though not without its sacrifices. In his pursuit to build the brand and bring it to new markets, a lot of time was spent trying to balance "growing a business with growing a young family." A challenge this CEO seems to have navigated with thoughtfulness and grace, which can probably be evidenced by the fact that both his daughters now work in the business too. Still totally Australian owned and operated, from ginger root, to bottle cap. Their passion for family, for their town and what they've made, is truly infectious.
WHAT DO YOU BELIEVE IS THE FAMILY BUSINESS ADVANTAGE?

Working for yourself gives us a chance to be the master of our own destiny. To be in command of our own time and to build a business with values that we truly believe in.
WHAT HAS BEEN THE MOST CHALLENGING TIME WORKING IN A FAMILY BUSINESS?

Plenty of challenges over the time. My biggest one has to be when my girls were younger, and I was trying to balance growing a business with growing a young family. There is always a struggle around where you invest more time and work takes you away when your family wants you home. My girls, Bronte and Pia are now 22 and 20, and have since forgiven me because I taught them to drive! I started traveling when my youngest was 6 years old, which is a hard time to be away from your kids. I left the family home in pursuit of new customers and business partners around the world, to build our business abroad. Though it was painful to leave them at the time, it's been worthwhile as we've now achieved that with over 60 countries and my eldest, Bronte has since joined the business too. My youngest, Pia isn't far behind — working part time for us while she studies education.
WHAT HAS BEEN THE MOST REWARDING?

Seeing a piece of Bundaberg in places all over the world. Bundaberg is my hometown, so sharing our community, is definitely the most rewarding part of what we do. When staff members proudly share a picture of one of our drinks found overseas, it always feels special. Because it's not just our brand, it's our town. There's a little piece of Bundaberg everywhere.
WHAT'S THE LEGACY YOU WANT TO LEAVE BEHIND?

The Bundaberg community. We've borrowed the name Bundaberg and put it on our brand, so to be able to leave Bundaberg as a stronger community at the end of it all, help local businesses grow and give people jobs, that is the ultimate goal.
IF YOU COULD GIVE ONE PIECE OF ADVICE FOR BUILDING A BRAND, WHAT WOULD IT BE?

It all winds back to a concept of self belief, always thinking about what your values are and staying true to who you are. And, play the long game. Make decisions based on what you want the long term future to look like, not just what you need in the short term. A lot of people will tell you what to do, but nobody knows your brand better than you do. You have to believe in yourself.

I am inspired by my brilliant employees everyday, we see ourselves as a family business but not just because we work with direct family. Our employees are like family to us. I like to say that we've got 250 family members working with us everyday.
We were lucky enough to get a little more than 60 seconds with John. So we asked him a few extra questions…
You mentioned that before you took on the role as CEO of Bundaberg Brewed Drinks, you were a school teacher. What inspired you to leave that profession and move into the family business?

Once again, it comes back to that idea of being a master of your own destiny. I was working for a faceless boss and if I put in extra work there was no reward for what I was doing. So I suppose it was a little bit of my control side coming out, wanting to be able to command my own future. I was able to take seven years off from being an environmental educationalist without penalisation, so I took the risk — and here I am!
You've recently collaborated with fellow family business, Whittaker's Chocolate (based in NZ). Tell us a bit about how that came to be?

We had no pre existing relationship. Originally we contacted them and floated the concept of a product collaboration. We've always thought they were another amazing brand and a good family business from across the ditch. It sat there for a long time before anything was actioned, but eventually (I think because our values in the two businesses lined up) — they wanted to give it a go. Slowly the concept grew and evolved, though COVID challenged us, it was a great process that we worked through. And now, thanks to this collaboration, we've got an open line of communication with the Whittaker family. So this, combined with a broad range of existing products and a currently successful partnership means that there may be more collaborations to come.
Speaking of struggles caused by the 'COVID crisis', how has it affected your business so far?

COVID affected the supply chain in terms of bringing raw materials in, but we seem to have gotten around it quite well now. More than anything it has changed buying habits of consumers around the world. As we see the closure of bars and social activity is limited, people are shopping more for home. During this time, we've actually seen increased sales in many countries over the world. The unique thing about our product is that it can satisfy two different camps of people. We're a great beverage to have just on its own, but ginger beer is also a key ingredient to many alcoholic drinks too. We're versatile enough to feature happily in any home!
@bundabergdrinks

@bundabergdrinks