The Inside Story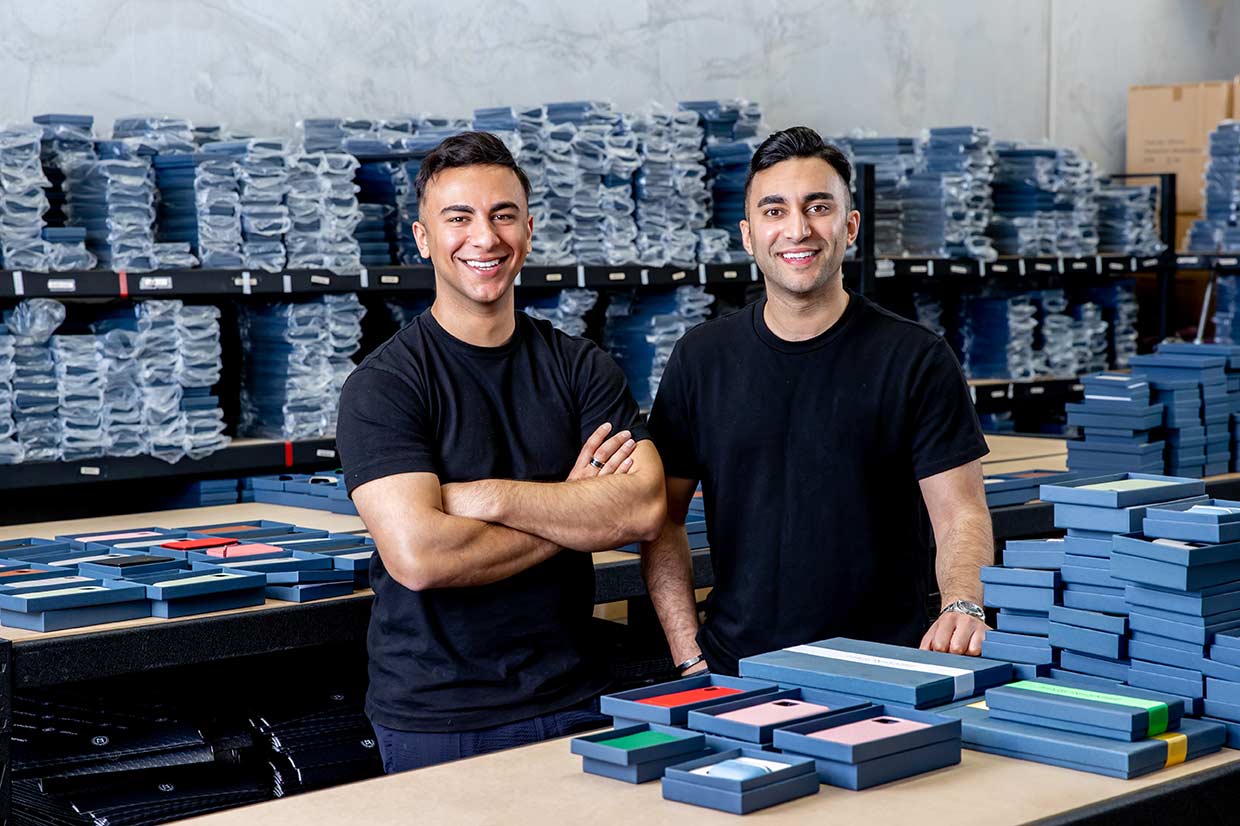 FROM DENTISTRY TO DESIGN – THE BROTHERS OF MAISON DE SABRÉ
Zane (left) and Omar (right) Sabré are two entrepreneurial brothers from Auckland, New Zealand. Founders of the multi-million dollar personalised leather goods business, Maison de Sabré, they share with us the power of living in the now, dreaming big and making sh*t happen. 


DENTISTRY AND DISTANCE
Omar is the eldest brother and studied dentistry at Otago University, New Zealand. Being the big brother, Omar coerced Zane into a career in dentistry with the view of opening their own practice in the future. He knew Zane had a passion for business and an entrepreneurial mindset that would perfectly complement his creative side – they had the making of a dream team. In 2014, Zane was offered a place at Griffith University in the Gold Coast, Australia studying dentistry and made the move. Meanwhile, on completing his own studies, Omar got a job working as a full-time practicing dentist.


FAMILY TRAGEDY STRIKES
Due to Zane's kiwi heritage, he was classed as an international student and had to pay all tuition fees upfront. You can imagine the bill for a dentistry degree and placements! Zane was lucky enough to have a supportive family behind him who were able to help cover the costs. Sadly, partway through the studies their father was diagnosed with leukaemia. The family were devastated.
As well as seeing their father battling illness, financial worries were looming. The boys were given two options – give up the degree and forfeit the fees, or find a way to fund the course themselves. Zane and Omar had a positive mindset on their side and saw this as an opportunity, "We were able to kickstart a passion project that turned out to be a global success", explains Omar.
They knew that starting a business was not the typical way to making quick money. Why not get a part-time job? Or a bank loan? Not for these go-getters. They'd always had a passion for business, specifically small leather goods, and believed whole-heartedly they could make it a success.


FROM A CREATIVE OUTLET TO A FULL-TIME GIG
During the already busy period of study and working, the brothers decided to launch Maison de Sabré in July 2017. Starting small, they took on part-time positions but quickly realised this wasn't going to work in the long term. Omar was flying in and out of the Gold Coast from New Zealand every other weekend and Zane was juggling uni work.
At this point they were running the whole operation from their Gold Coast apartment. Zane was committing to a 3am wake up to lead Maison de Sabré's dispatch, while Omar was using his lunch breaks at the clinic and nights (sometimes until 3am) handling emails and creative. This went on for a year; Zane describing it as "the true definition of a grind and hustle", continuing "when humans get pushed to the limit, sh*t gets crazy. We had no other option but to make it work. That's what we believed in from day one."
Maison de Sabré started as a creative, part-time project to pay off Zane's university loan. At the end of the first year, they'd aimed to cover the $60,000 student fees – instead the brothers made a massive $2 million in revenue. And that's just in a 12 month period! "For us that was a big wake up call" shares Omar. They decided it was time to choose – sell the business and continue with their careers, or go all in. "We passionately believe that if you do something well then you have to give it your all." Zane went from his degree to working full time in Maison de Sabré without ever working a day in dentistry.
In 2018, they decided it was time to fully commit and Omar joined his brother on the Gold Coast, setting up their first office.
TWO MINDS COMING TOGETHER
Omar handles the creative side of the business. From an early age he loved to design and for a brief period considered training as an architect. He transferred this to his dental career, working in cosmetics and "redesigning smiles" using 3D scanners, and then on to Maison de Sabré, where he now designs all of the products and stores.
Zane handles operations, which runs from warehousing to shipping, website operations, sales and finance. It's a classic family business 'Jack of all trades' role!
"The intuition between us has allowed us to grow autonomously" Zane shares, continuing, "the fact that we're brothers means we have this innate trust". They have very different roles within the company, so rely on this trust to know systems are running and decisions are being made with their shared values. "We're always on the same page and we always have this singular vision."
They also believe their strength and drive has been paramount. They always knew where they wanted to get to and quickly outgrew that. "If your aim is to get something done in 10 years, 5 years, then as yourself 'how can I get this done in 6 months? Or 2 months?' Have a binocular vision." Zane tells us.
One of their unique strategies is the commitment to living for today. Like most businesses they have a 6 month, 12 month and 5 year plan, however they believe we should only worry about what can be done right now. Today. The brothers believe productivity lies in asking yourself 'How can I get this done as quickly and efficiently as possible?'
Despite this 'live for the day' mindset, the brothers still have targets for the future. And right now that's the target of being a $100 million brand by 2024 and the key global brand for the leather accessory space. Right now they're working on bringing their fairly niche offering to a bigger global audience, so watch this space.
GIVING BACK
Zane and Omar are advocates of change. For them, this could be developing the leather production process to reduce water consumption, or through their ongoing humanitarian efforts. Recent causes include funding cancer and leukaemia research – one close to their hearts – and environmental initiatives that advocate for global empowerment. They do this through the philanthropic arm of the business, the "Make Your Mark Foundation".


OPTIMISM THROUGH COLOUR
If you haven't checked out Maison de Sabré, yet, then now is the time. The brand plays with the idea of "optimism through colour" and believes luxury, high-end goods don't need to always be so serious. It's about having fun and being expressive through your wardrobe. "Colour brings vibrancy to life and that's what accessories are for – bringing vibrancy to your wardrobe. Playfulness and optimism are two things we really gun for", shares Omar. They're proud that their designs stand out against the other stores. They want people "to feel a certain way when they interact with the brand" and bring nature into the retail experiences. They even have a signature scent in their shops. The product range includes leather bags, phone cases and even leather AirPod cases; all modern, pieces that can be personalised with your initials.
The brothers want the team to feel ownership of the brand and prosper. They're proud to have a team that shares their excitement, and that comes back to the naming of the brand. Maison de Sabré means 'house of Sabré' (Sabré being the family name), so the team feels part of the family.
From their family, to ours, we hope you're as inspired as we were by the Sabré family story.
Learn more about Maison de Sabré.