60 Seconds With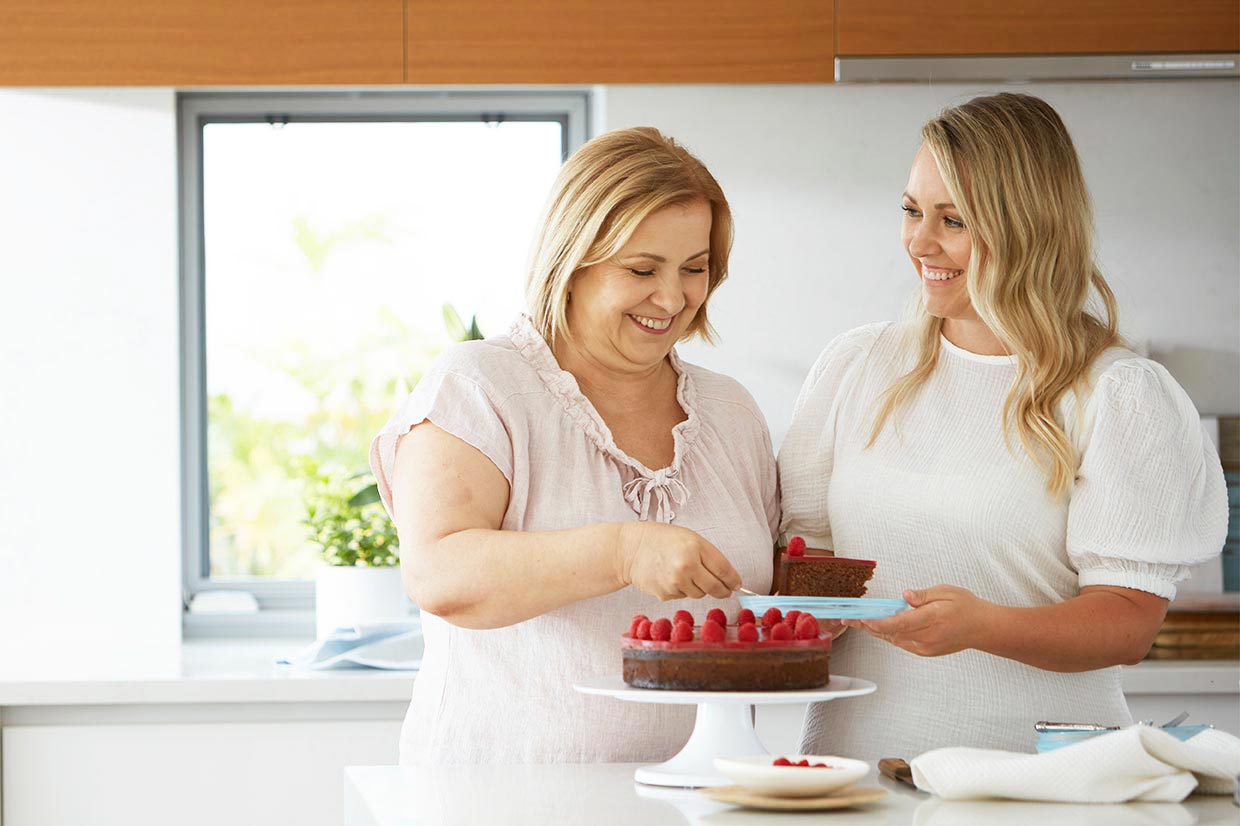 ONE APPLIANCE, ENDLESS POSSIBILITIES – 60 SECONDS WITH GRACE AND BIANCA MAZUR OF THERMOMIX
Whether you're a master of flavour or a cooking novice, there's a likelihood your kitchen cupboards house some wacky kitchen appliances picked up over the years. Need we say more about the slow cooker you keep threatening to make a stew with… taking up the majority of a shelf and only making its way out once a year (at best)? Well, Thermomix is one appliance you won't be able to put away. Actually, you can scrap the kitchen all together, as the 20 settings pretty much have you covered to chop, beat, blend, whip, weigh, mill, knead, mince and more.
Thermomix is run by Grace Mazur, who discovered the appliance when holidaying in Poland. As a keen cook, Grace was taken by the ability to create a whole meal using one simple piece of kit. She envisaged simplifying mealtimes of busy homes across Australia and knew the product had to come to our shores. Grace won the rights to become the sole Australian distributor from Vorwerk International (makers of Thermomix) and with rapid success expanded from one head office in Perth, to now include offices in Melbourne, Brisbane, Auckland, New Zealand, and with Sydney-based offices opening soon.
Now celebrating their 20th anniversary in Australia and with Grace's daughter, Bianca, forming the next generation within Thermomix, we were spoiled to have them both by to share some family business tips.

WHAT DO YOU BELIEVE IS THE FAMILY BUSINESS ADVANTAGE?

GRACE:
Being a family run business enables us to make decisions and adapt very quickly, as we don't have any shareholders that we need to consult or run things by. We can be more agile, nimble and are able to fast track our ideas.

BIANCA:
Being a family run business allows us to work through ideas with more open and honest feedback and challenge each other as we go. We built Thermomix on our values of being real and engaged with each other, and maintaining togetherness through everything we do. Today, there are way more people involved than just our family, but we carry those same values forward.
Being family run also enables us to work through things quicker and press forward with ideas much faster. I think it has also helped us to build a great culture as we always wanted to engage directly with our community and be real and present about the people behind the Thermomix brand here in Australia and New Zealand. We are everyday people working hard to make a difference and this in turn helps to build our community, our customers, and our consultants in the field.
WHAT HAS BEEN THE MOST CHALLENGING TIME WORKING IN THE FAMILY BUSINESS?

GRACE:
2020 was the year the world turned upside down – pretty much in every sense. COVID-19 presented challenges on all levels – personal, professional, psychological and physical – that no one could have ever imagined. It was a make-or-break year for many businesses around the world. A year that presented the challenge to pivot and stay on your feet or to stay put and potentially fall.
For us at Thermomix, that was exactly the conundrum with which we were presented and one we are so proud of because we tackled it face on as a team, choosing what we've since come to know affectionately as our "together is better" strategy.
Up until March 2020, Thermomix had worked with an exclusively face-to-face business model. A business model that had historically (and very successfully) been built around independent Thermomix consultants presenting Thermomix to prospective and existing customers via demonstrations, known as 'Cooking Experiences', in their homes. They would invite family and friends along and showcase Thermomix's functions and features in an in-person, totally sensory experience.
Guests were touching the Thermomix and smelling and tasting the food being made. How could you ever expect someone to make an investment of over $2000 on a kitchen appliance without tasting the food? Our assumption had been that you couldn't.
Then came COVID and with it, physical distancing. Practically overnight the cooking experiences could no longer take place. We had to overhaul our whole business model and do it quickly, or the entire business and the livelihood of over 2000 independent Thermomix consultants (at the time – now approximately 3000) would cease to function.
Like many businesses in 2020, we were thrown into the unknown. We'll hold our hands up and say with certainty that we didn't have all the answers. But what we did know was that we needed to quickly pivot our business into the virtual world and the only way to do that was to work as a team.
WHAT HAS BEEN THE MOST REWARDING?

GRACE:
Of course, there have been many rewarding times but the key for us is seeing the positive impact Thermomix makes on people's lives. We get to see people shine and flourish – both as customers and/or consultants, and that brings us so much joy. While hundreds of thousands of Australian and New Zealand households have embraced Thermomix in their kitchens, either to solve a direct problem like cooking for allergies or specific dietary needs or simply because they want to get time back in the kitchen and cook more homemade meals, saving money while they do. They might seem like little things, but when you add up all those everyday changes, the positive impact on health and happiness is huge.
Also, we hear the unique stories from our consultants of how Thermomix continues to change the lives of so many Australians. We know for example that we have made it possible for people with disabilities to cook for the first time and made cooking easier for someone that is partially blind. Just the other day, we were on a call with a creative agency and their director of technology shared his story of how Thermomix changed their lives for the better, as one of their children has anaphylaxis. It's stories like these that makes everything we do 100% worth it.

BIANCA:
For me it's also seeing my mum and dad succeed in the goal they set out to achieve over 20 years ago. I saw the hard times that they went through to get where they are today, and it's been amazing to be on the journey with them and be part of everything that they have achieved.
WHAT'S THE LEGACY YOU WANT TO LEAVE BEHIND?

GRACE:
One of the goals of our business from the start was to create a better, healthier, easier way of cooking for Australians and I believe we have done that. We are encouraging people to ditch fast food, use less additives and go back to basics to cook nutritious and healthy meals. We have made the impossible possible when it comes to cooking!

BIANCA:
I think for me, it's knowing that we have changed people's lives for the better and that we are more than just a cooking machine. Some people have lost everything but turned their lives around by joining our family and coming to work with Thermomix.
I'm also a certified dietitian, so the fact that Thermomix really promotes healthier eating and cooking from scratch is really important to me. Making healthier choices easier is the key to helping change mindsets around food and ultimately promote a healthier future. That is so important to us.
IF YOU COULD GIVE ONE PIECE OF ADVICE TO THOSE BUILDING A BRAND, HAT WOULD IT BE?

GRACE:
You will go through ups and downs but building a business and building brand awareness takes time so you will need to have patience, resilience, and strong belief in what you are trying to create.

BIANCA:
Stay true to your values and to the goal you are trying to achieve. Don't lose sight of that even in the hard times. Ensure you are also surrounded by the right people – ones that will support you every inch of the way on your journey.
Learn more about Thermomix.