Just Between Us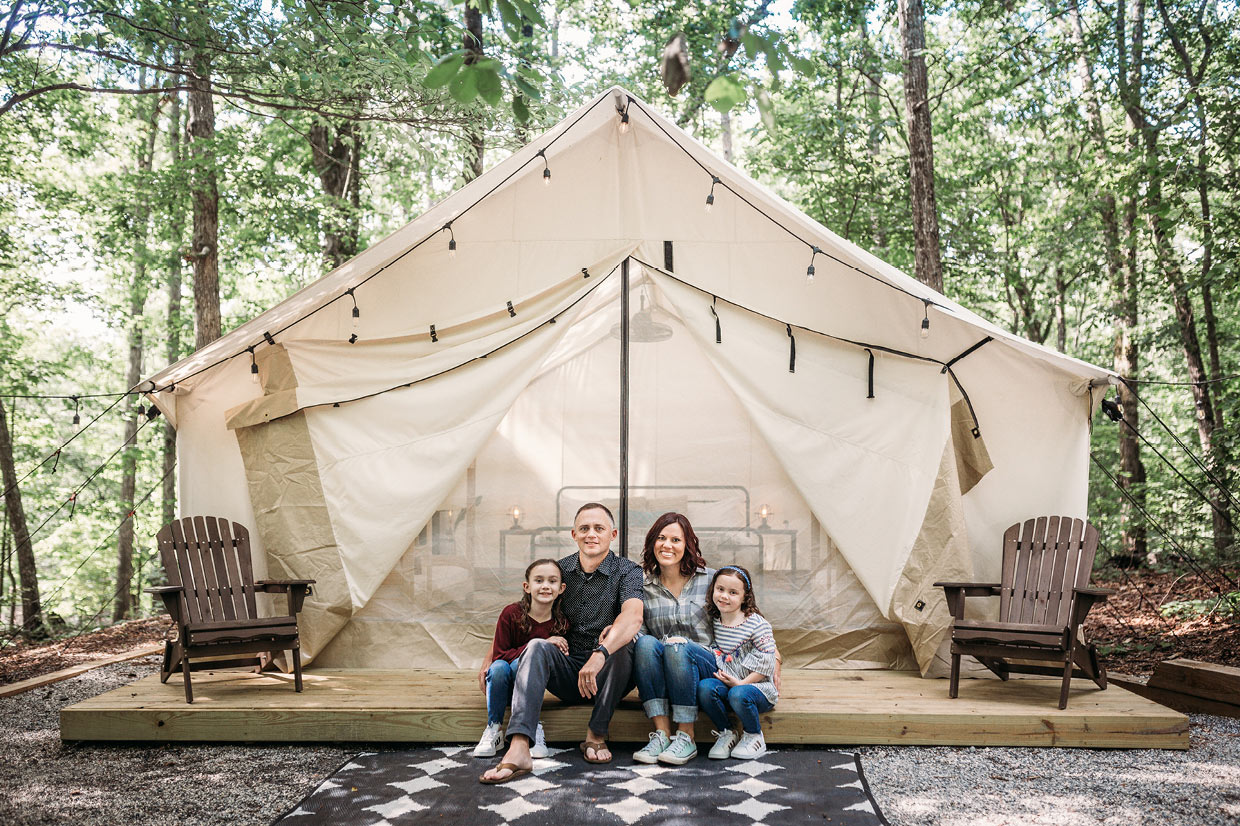 GEORGIA GLAMPING COMPANY BRINGS YOU CAMPING IN STYLE
For some, camping is a chance to reconnect with nature, live a simpler life and get that much needed tech detox. For others, it's visions of bugs, cold showers (if any) and pitching tents in rain, hail or shine. The good news is that no matter which side you fall on, Georgia Glamping Company has a solution that combines the modern luxuries we have grown used to with a picturesque lakeside setting sure to have you feeling refreshed.
On the drive back from a weekend at the beach "in a hotel with noisy neighbours", the Self family realised that rather than going to a fancy hotel, they wanted a place that people could come to escape and be amongst nature – reminiscent of their own upbringings. On the bank of Lake Lanier, Georgia they established bell tents kitted out with the same amenities you would find in a hotel room, so all you have to do is "show up and enjoy your Glamping adventure."
We caught up with Nathan and Rebekah to talk about successes, challenges and how they divide and conquer when it comes to their roles in the business.


REBEKA SELF
With Georgia Glamping Co, you get to experience the best of both worlds, the great outdoors but with some creature comforts. Inside your accommodation you are much more comfortable, with real beds, hotel style bedding, decor, mini fridge and coffee maker. Our goal is to provide unique, one-of-a-kind Glamping getaways for our guests and to help them create lifelong memories with those they love.
We've been married for a little over 12 years and both do a little bit of everything. Nathan handles a majority of the communications side of things and also our booking software and reservation management. I manage our amazing team of people at Lake Lanier, plus the promotional side of things.
Nathan is focused, ambitious and creative which helps drive our business forward. He is direct and great at communicating and customer relations which can be a weakness of mine, so we complement each other well in the work setting.
We both love what we do and are excited about it, and we both have a tendency to go into hustler mode in the evenings. It hasn't been too much of a challenge but we are trying to be better about taking some evenings off together to just hang out and turn work mode off. 🙂
We knew right away that we worked really well together and it was something special. We agree on most major decisions and our working styles are similar enough to flow nicely on the day-to-day.
In terms of the future, I'd say we are looking at so much growth and expansion! We could not be more excited about what's ahead, and especially with Covid this year, we feel ready. We currently operate at Lake Lanier but starting in the Spring, we will have another location opening near Augusta, GA on Clarks Hill Lake, and then our massive Glamping Resort will open in Henry County, GA on Iris Lake (just 25 minutes south of Atlanta) as well. There are a few other new locations in the works as well that we cannot announce just yet. Stay tuned!
My advice to other families in business would be that you need to give the other person enough space and grace to be who they are, encouraging them to be the best version of themselves. It's also important to set goals and values together and then stay true to those values no matter how much things grow or change. We started our business with a prayer — "Lord, bless this endeavor, so that we may bless others." We want to be generous and help others through our success. We also try to walk that fine line of staying in our own lane and not let what others are doing distract us from what we want to accomplish.

NATHAN SELF
We run a luxury camping business in North Georgia, it's a concept you may have heard of before — more commonly known as 'glamping'. Our guests can choose from a variety of sleeping options, all different but also all very comfortable and beautiful. Don't let the tent exteriors fool you! They're all very lush on the inside and by the time you tuck yourself into bed, you'd never know you were camping. We want to provide a really memorable experience for our guests that has an outdoorsy feel, with that connection to nature but without the discomforts of a traditional camping trip.
We're a husband and wife team and we're both across all aspects of the business. I manage our customer and business communications as well as taking care of reservations while Rebeka heads up our team at Lake Lanier. She runs the payroll, our social media accounts and anything ad hoc in terms of the day-to-day operations. I would like to think we both share thoughts on design and decor and we definitely collaborate on business development and growth.
The great thing about working with my wife, is that we complement each other. Rebeka is the dreamer. She believes that we can do anything we focus on. She is ambitious and creative. Whereas I'm more action oriented and help to drive tasks that way, turning dreams into reality. More recently, we've made a point to focus on and manage growth properly. We don't want to take on too many opportunities and over extend ourselves. It is a challenge to know what to say yes to.
Our idea for the business came to us on a road trip with our girls. So I guess it was born from experience and wanting something like this for ourselves, but not being able to find it. That drove us to work together on this project, and three years later — here we are. It's all up and running! We think about our future a lot, our site is currently at Lake Lanier but starting in the spring, we will have another location opening, plus a sizable Glamping Resort set to open near Atlanta. And we have our sights set on a few more locations too, but nothing locked in as yet.
My advice to other family businesses is simple, just make sure communication comes first.