Just Between Us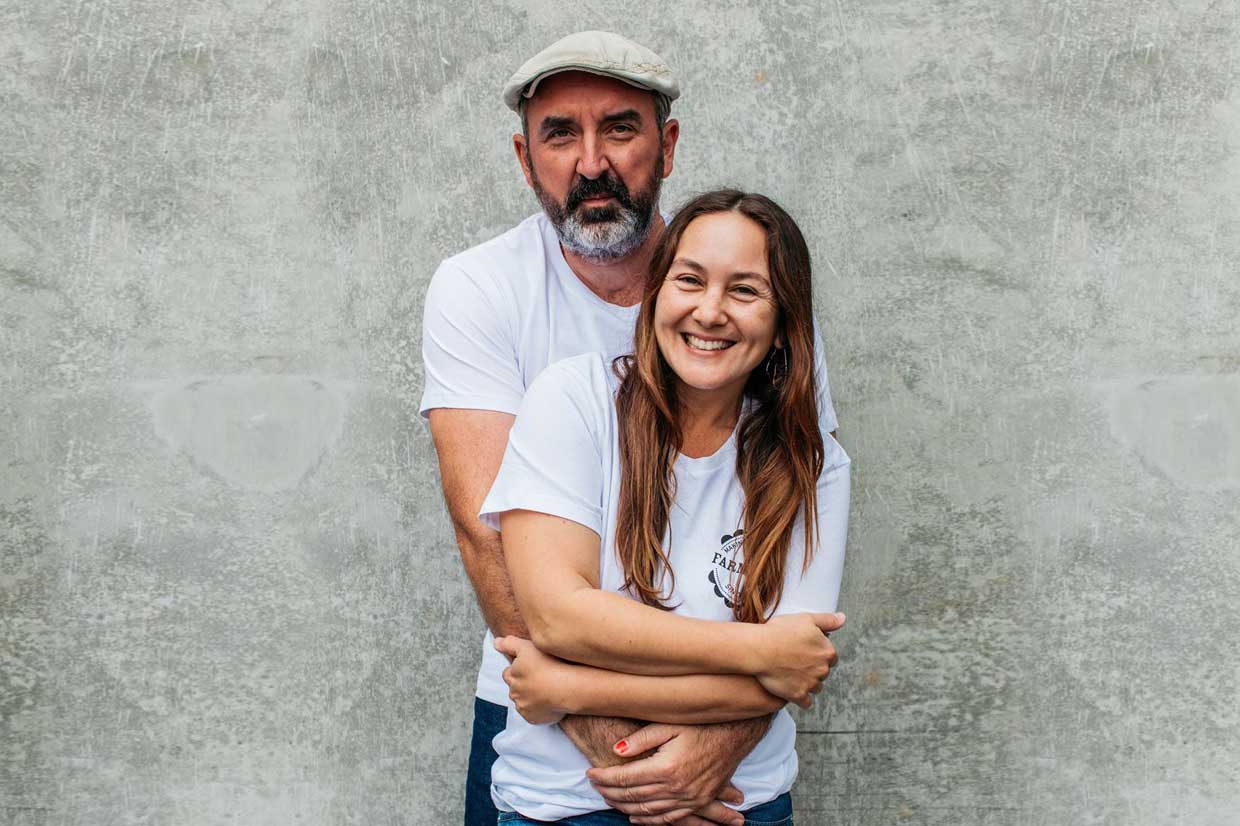 GET TO KNOW THE BRAINS BEHIND THE BOWL (OF FARMER JO MUESLI)
It's muesli that will have you 'salsa dancing to the breakfast table, wearing flowers in your hair', and it's all handmade in the rolling hinterland hills of Northern NSW, Byron Bay. But, Farmer Jo didn't start out that way. Born from many conversations (some rather heated) around their inner city dwelling's kitchen table, the cereal snack brand was the result of a very strategic business (and lifestyle) move. As a young couple set to start their life as a little (now rather large) family, Scott and Sally knew they didn't want their future to 'involve working long hours, for somebody else.' And so, after much discussion around what they could create together, the couple moved from organic cleaning products, to wool throws and various other ideas before settling on their premium product; Farmer Jo's muesli.
Theirs is an inspiring and relatable journey from independent careers, to a thriving family business and they're not shy about sharing all the details along the way. A real testament to the challenges but also the ultimately worthwhile rewards of venturing into business with family. As Scott so eloquently puts it, 'the s*!?t will hit the fan many, many times and if you can work together, it's easier'. Well, with a successful AND global business 10 years down the track — we'll take your word for it Scott. And, next time we sit down to a large nutritious bowl of Farmer Jo granola, we'll be sure to appreciate the people behind the product.


SCOTT TULLOCH
Sally & I are married with a wee tribe of kids. We met in London back in 2000; she swept me off my feet. Within our business, I am focused on sales and innovation while Sally looks after the details, like brand and product. She also keeps her eye on the finances. We're always pushing to create and achieve more; we both want to have an influence on the choices Australians have for breakfast & snack foods. We work well together because we compliment each other. Also Sally has a great bum, she had a bum before they were instagrammable. Her skills are very different to mine and vice versa. We are a super team.
I would say that our biggest challenge is having patience with finding reliable staff. As a manufacturer of handmade granola & muesli we rely heavily on people. Finding good staff is and will always be an issue.
I always wanted to build a family business, not sure if that's what Sally was after but after a few fights, here we are and we will be 10 years old in June. My advice would be to identify who does what and try to support each other.
In terms of our future, we were working towards innovation into new categories and possibilities of some retail stores; but after this f!*?ing virus, that all has to be re-thought. Export, has and is part of our growth plan. Though, our bread & butter is Australia and always will be, anything on top of that will be the cream. Many export markets buy cheaper products (in our category); they have not quite registered that health & wellbeing doesn't come in a fancy bottle of French Champagne. So for us, finding partners takes time. They need to share our beliefs when it comes to food and nutrition. 'Product Before Profit' — that's our mantra.
SALLY TULLOCH
Scott and I are married with four daughters, and are the co-founders of Farmer Jo. In the beginning, we did everything together. Put simply, I would make the product and develop new recipes and Scott would sell it. Everything else, we divvied up and learnt as we went along (finance, operations, etc). Ten years on, we are still a small family biz, but with the help of an incredible team (some are family) — we can now share the workload. Scott is still sales focused (sales, marketing, innovation) and I am still product development. Together we lead the business direction.
I love the laughs we've had along the way (Scott is a very funny guy!), because business is a rollercoaster of ups and downs and can get really serious sometimes. The biggest challenge for us (speaking of serious business), would definitely be navigating our financial responsibilities.
I never expected that we would work together, because we work so differently. However, as it turns out, that is perfect (for us anyway). If I had any advice for fellow family businesses, it would be to instill boundaries, they're very important. Be very clear about your roles and allow each other full ownership of that and then support each other.
I'm really not sure what the future looks like at the moment, but being a small family business means we can easily adapt as we need to. I do know for sure it will involve food, family, fun and laughter.