Travel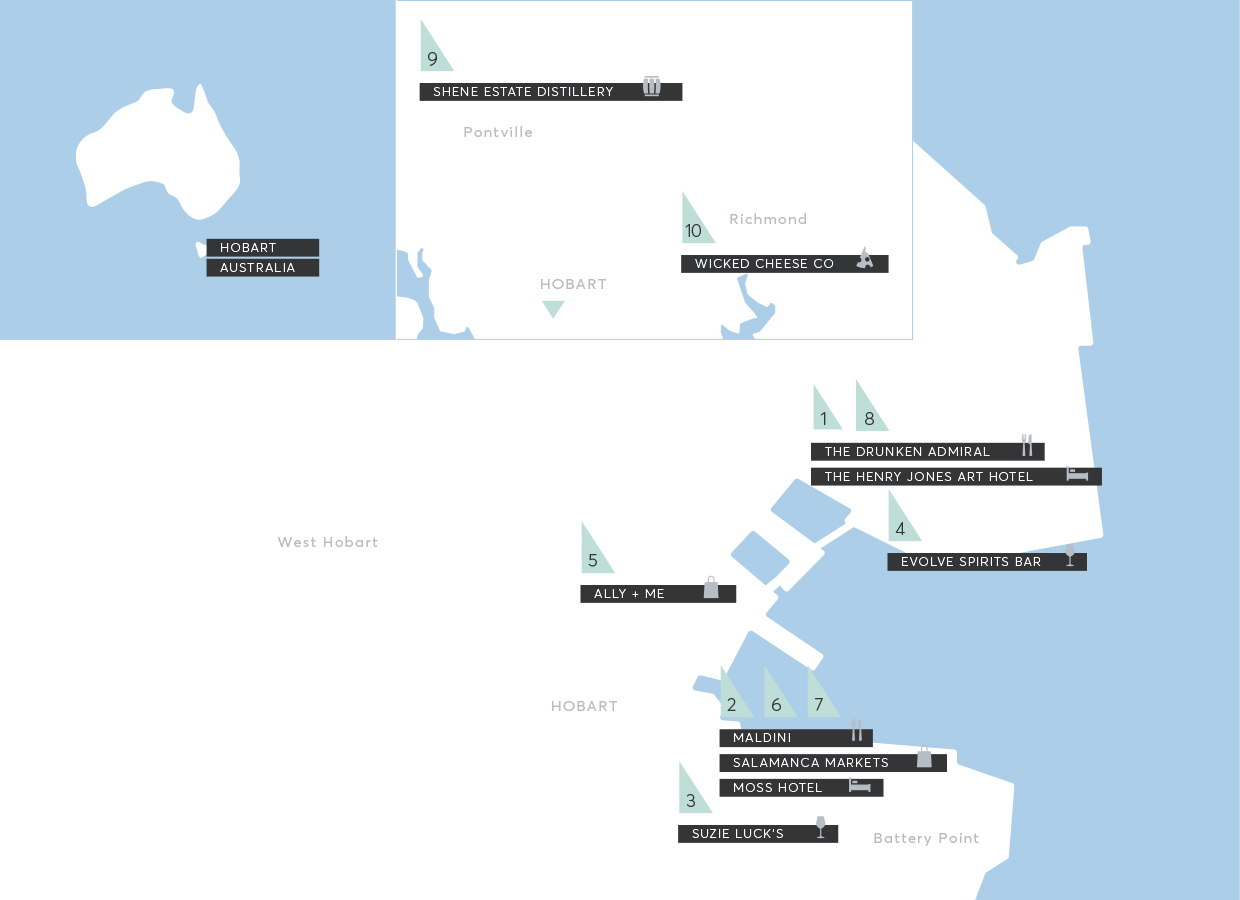 HOBART, AUSTRALIA CITY GUIDE – FAMILY BUSINESS STYLE
Vast and rugged, Tasmania is home to one of Australia's most vibrant and unusual cities – Hobart. Renowned for its art, culture, and history it is the perfect place to spend a weekend. Make the most of your stay and support family business with Brands of Kin's family business guide to Hobart.
DINE
Maldini
maldinirestaurant.com.au
17/19 Hunter Street, Hobart
The owners and operators of Maldini Café Restaurant are Bruno Di Tommaso and his son Dante. A family business built on friendly service, lasting relationships, close-bonded teamwork and, most of all, outstanding Italian food prepared from the freshest Tasmanian ingredients.
The Drunken Admiral Seafarers Restaurant
drunkenadmiral.com.au
17/19 Hunter Street, Hobart
The Drunken Admiral has been operating as a family-run restaurant since 1979. Priding themselves on a truly unique experience, the restaurant offers the very freshest Tasmanian seafood and a vibrant atmosphere. Try the Fishmonger's Board, which is updated every day with the latest catch. The Drunken Admiral is a hit with tourists and locals alike, so make sure you book ahead.
SIP
Suzie Luck's Canteen and Cocktail Bar
suzielucks.com.au
2 Salamanca Square
Suzie Luck's brings a unique Southeast Asian twist to the best and freshest of Tasmanian produce. But they're also famous for their cocktails, with names like 'I Once Had An Alpaca' and 'Express Ya Self'. Feeling hungry too? A local family-owned enterprise presenting authentic tastes of Thailand, Vietnam and their close neighbours you can be guaranteed a delicious time no matter what you choose.
Evolve Spirits Bar
evolvespiritsbar.com.au
MACq 01 Hotel, 18 Hunter Street
Run by the family-owned and operated Federal Group, Evolve Spirits Bar celebrates the emergence of premium distilling in Tasmania. Award-winning local spirits meet internationally-acclaimed treasures, and this goes far beyond just the drinks. At Evolve Spirits Bar you're surrounded by treasures, artefacts, and fossils dating up to 550 million years old. Now that's an unusual place for a drink or two.
SHOP
Salamanca Market
salamancamarket.com.au
Hobart waterfront
Held every Saturday from 8.30am-3pm, no visit to Hobart is complete without a trip to the iconic Salamanca Market. Located close to Hobart's picturesque waterfront, it features more than 300 stalls showcasing arts, crafts, jewellery, fresh food and produce, collectables and homewares. And many are family businesses. Grab a copy of the official Salamanca Market map where you'll see stands/companies marked with a 'T'. They're proudly selling Tasmanian-made and designed products.
Ally + Me
allyandme.com.au
Centrepoint Shopping Centre
Ally + Me is a small family-owned business located in the heart of Hobart CBD, specialising in natural fibres, ethically-made and high-quality products. The company stocks women's clothing, bags, jewellery, and homewares including their own exclusively-Tasmanian-designed Beech Cashmere. Can't get to Hobart? You can even shop online.
STAY
Moss Hotel
www.mosshotel.com.au
25 and 39 Salamanca Place
Moss Hotel is a hidden retreat above the bustling heart of Hobart – Salamanca Place. The building was once home to traders, whalers, publicans, and convicts but was transformed into a 41 room hotel by family-owned Behrakis Group. The hotel's rooms are sophisticatedly designed and channel a taste of the rugged wilderness that Tasmania is famous for.
The Henry Jones Art Hotel
federalgroup.com.au/the-henry-jones-art-hotel
25 Hunter Street, Hobart
Located within the oldest waterfront warehouses in Hobart, the Henry Jones Art Hotel is Australia's first dedicated art hotel. It opened in 2004 but was purchased by the family-owned and operated Federal Group in 2008. Featuring original contemporary artworks by emerging and established Tasmanian artists, a prime waterfront location, and plenty of history and heritage, this really is the ideal place to stay.
Moss Hotel

The Henry Jones Art Hotel
EXPERIENCE
Wicked Cheese Co
wickedcheese.com.au
1238 Richmond Road
A short 30 minute drive from Hobart, you'll find the wonderful Wicked Cheese Co. A family-owned boutique cheese maker, Wicked Cheese Co has won multiple awards for its creations, especially its triple cream brie. Head to their showroom and cafe for some true dairy deliciousness.
Shene Estate Distillery
shene.com.au
76 Shene Road, Hobart
David and Anne Kernke acquired the historic Shene Estate in 2006. A country residence of early colonialist Gamaliel Butler, Shene's colourful past has direct links with King George III, Governor Lachlan Macquarie and World Heritage Sites. But today – thanks to the Kernke it's also a distillery and home to the award-winning Poltergeist Gin. A visit for a distillery tour and tasting is a must when in Hobart.