Just Between Us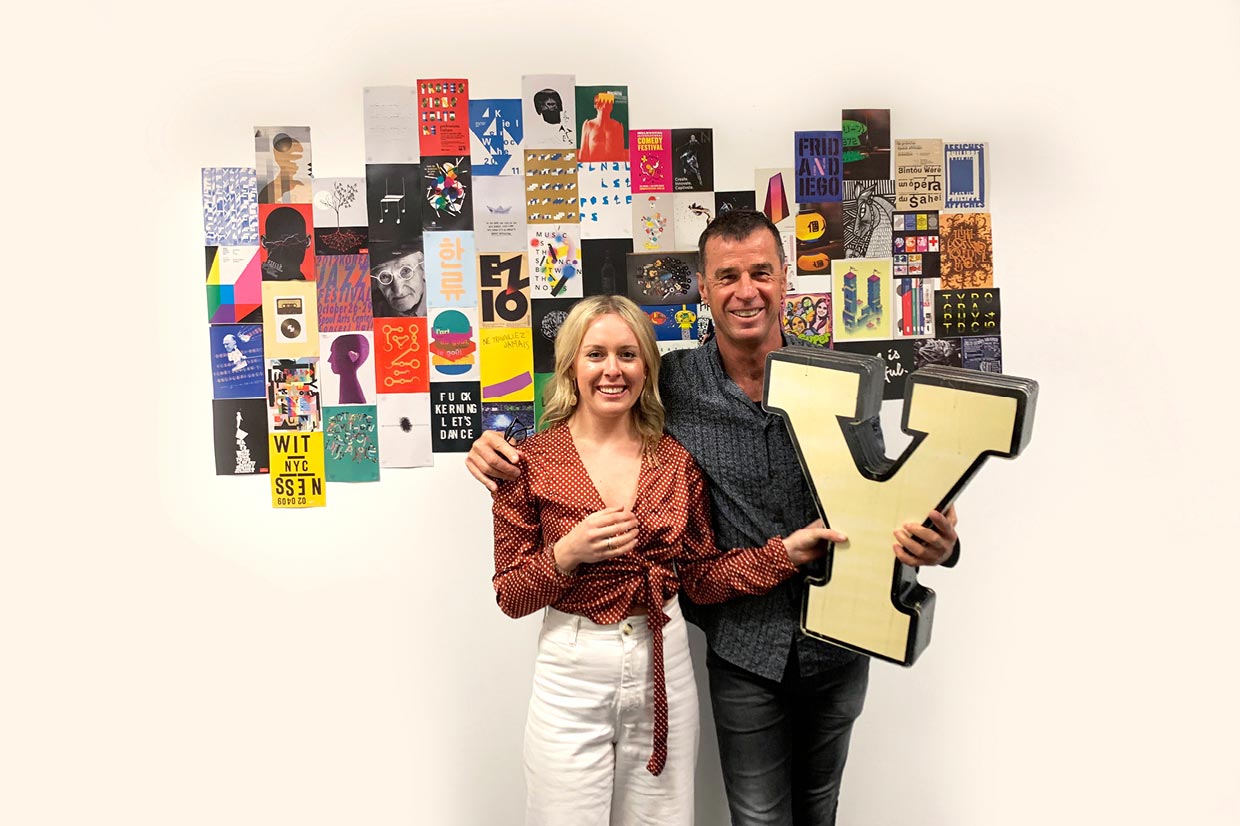 THIS FATHER & DAUGHTER ARE SHAPING THE FUTURE OF DESIGN
Design school Shillington Education has training institutions in Sydney, New York, London and more. Offering the highest quality of education in branding and graphic design, Shillington is shaping the future of the industry. The company was established by Andy Shillington, 57, in 1997 and his daughter Ella Shillington, 29, joined the business last year. Here, we find out more about the dynamics of working together.
ELLA
As student experience manager for our Australian campuses, I'm responsible for the life span of a student, from questions/enquiries about what we do here to enrolling, through to the students' experience during the course all the way up to graduating and getting a job on the other side.
My dad's the founder and CEO. We're both strong personalities and that can be a challenge for obvious reasons, but mainly it's about turning 'work chat' off when we're not in the office and learning not to bring work into our personal life with the rest of the family.
Something I really admire about dad is also something we have in common. We're both risk takers and like to go against the grain. We're on the same wavelength when it comes to that.
He's constantly pushing boundaries. He rejects the idea that just because something's been done one way forever, that it's the best way. This trickles down into everything we do here at Shillington and our unorthodox approach to design education. It's nice that our visions align like that.
In some way I always felt I would find myself working at Shillington. I didn't know in what capacity, it happened organically and it just feels right. I've seen Shillington evolve since I was seven years old when my parents first started out. And they always had such a passion for what they did. Now that I'm here, sitting where I'm sitting, I really get it. Why we do what we do. It's a truly life changing experience for our students and you can't not want to be part of the action.
My advice for family businesses is to try and keep your work life out of family dinners and social occasions. There are plenty of hours in the day and at the office for that. It's healthy to turn that off.
ANDY
We both have fundamentally the same roles which is to ensure students have the best experience we can possibly offer them, that our teachers are informed, and supported and that our campuses are all operating to a very high standard.
Ella's role is more hands-on and mine is one step back, hopefully allowing our talented and passionate team some space to do their part too.
Did you ever expect to be working together? Ummmmmm……….no and yes, though I'm not surprised and I'm very happy about it.
Ella is really connected to people and is very perceptive about how they might be feeling. She is kind, caring, passionate and balanced.
She knows when to hug, laugh, cry and have fun. Which is perfect because we're a people business. Connectedness is key and Ella has that in spades.
Ella wants to be treated like everyone else in the team, which I totally agree with. Apart from that, when you work with family, it's about defining your roles, and like everyone else in the office, trust that they will do a great job and let them get on with it.