Just Between Us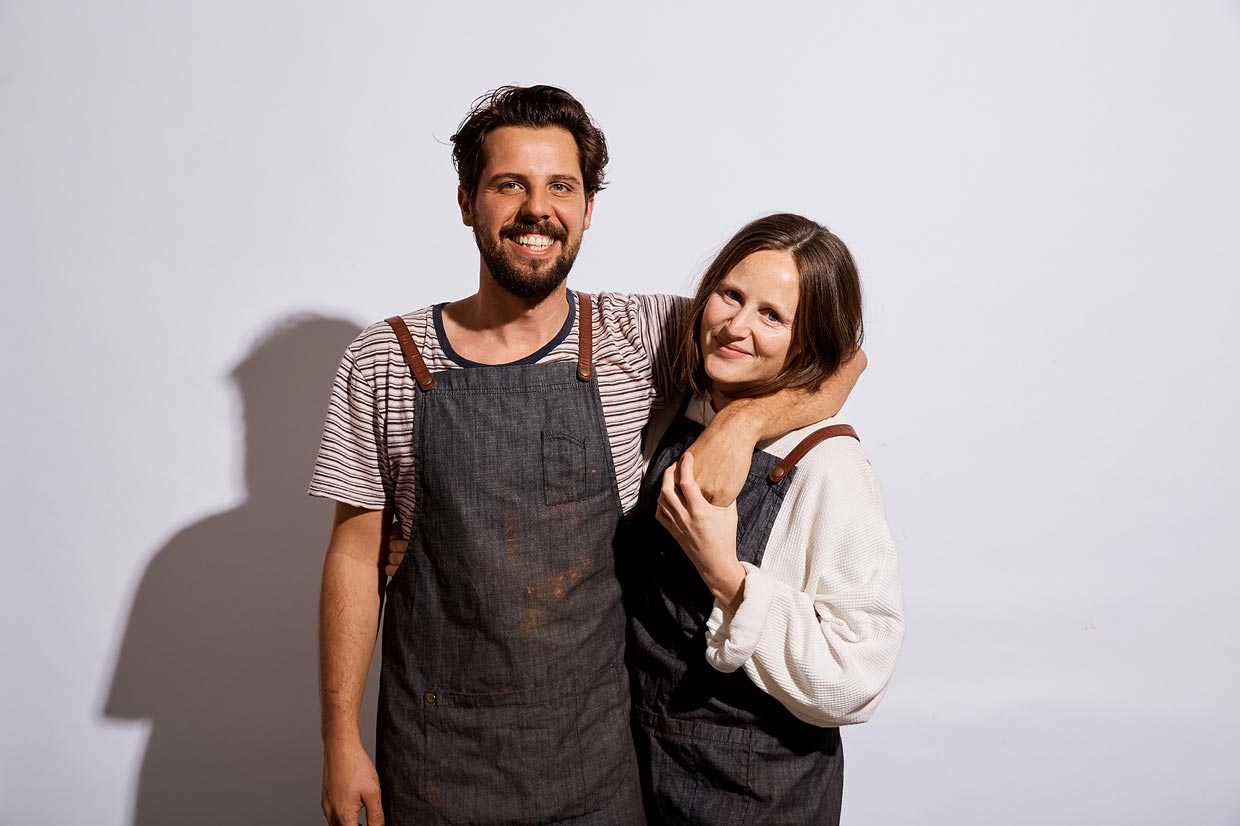 MEET THE SELF-CONFESSED CHOCOHOLIC PAIR BEHIND CHOW CACAO
Wil Heringer and Trudy Cockroft are the chocolate-obsessed, eco-conscious pair behind Chow Cacao – a family business bringing us some of the finest vegan chocolate on offer. Based in Byron Bay, they believe that chocolate can taste good, be healthy and do right by our precious ecosystem, working to bridge the gap between tradition and innovation to create "chocolate with all the snap and all the shine. Good for you, your soul and the planet!"
They believe that great flavour doesn't need to be complicated, and use techniques and recipes that reflect their simple approach to life. With the motto "nature covered in nature" you're not going to find any nasties in their raw chocolate bars; just "organic and sustainable ingredients, fairly traded raw cacao from Peru and raw coconut sugar from Indonesia." This commitment to keeping things simple is also evident in their packaging which is a combination of 100% home-compostable, recyclable and plant-based wonders. Could chocolate indulgence ever feel less guilty? It's certainly ticking all the boxes for us!
And the couple themselves? Wil and Trudy are together in life and business along with their young daughter, Zepha. They title themselves 'Founders and All-Rounders' and commit themselves to all aspects of the business. In a moment between chocolate making, marketing and looking after the little one, we caught up with them to learn more.


TRUDY COCKROFT
We create classic flavours using vegan, organic and sustainable ingredients. Myself & Wil are partners in life, mother and father to our daughter Zepha and business partners.
Wil is more chocolate production, dispatch, liaising with distributors and stores — he does more of the physical work. And because I'm mostly at home taking care of our one year old daughter, I do the graphic design work for packaging and marketing. Also I will do the accounting/emails. Anything I can do from the laptop really. And when I can, I will go in and do a production day so Wil can have quality dad-daughter time.
The one thing I love about Wil is that he is super organised… I am not, haha. He's also pretty good at showing me how I can be more efficient (he's so German) which is good as I'm such a perfectionist. We both have different strengths, so it's a good balance to our business relationship.
We always find it hard to switch off from work mode when we're at home together. It's tough because we love what we do! And we usually feel like the only time to talk about business is when Zepha's in bed. Which is 7-8 at night. This is why the weekends are good! Usually we're better at switching off on the weekends.
We had a bit of a breakthrough when we realised our different strengths and that we could cover most roles ourselves to run the business. I think this leads to having more trust in each other, which is such a key component in a relationship.
We have many ideas/products for the future, but we like to try to keep it simple. The next thing you will probably see will be more flavours of our top selling chocolate clusters 🙂
My advice to fellow family businesses would be to keep having fun and keep creating!
WIL HERINGER
We make real chocolate that makes a lot of people happy! Chow Cacao (which means Eat Chocolate) is about creating nostalgic chocolate flavours made using real chocolate and better-for-you ingredients.
We are partners in crime, parents, business partners, founders and all rounders at Chow Cacao.
In terms of who does what in the business, I'm doing sales, marketing, chocolate making, local deliveries and more. Trudy is doing most of the design and creative work, recipe development and accounting.
The best thing about working with Trudy would have to be that we trust each other and that we'll get where we want to be in life and business!
On the flip side of that, the biggest challenge would be not eating all the chocolates while I'm making them.
If you were to ask for the 'ah-ha' moment in our family business journey, it's definitely when we both realised we could have this amazing lifestyle in Byron Bay, making chocolate! And when looking to the future this is what we would like to continue to do – make more people happy with our chocolates.
My advice to other family businesses would be to keep on keeping on and don't be afraid to say no to keep it simple.