Just Between Us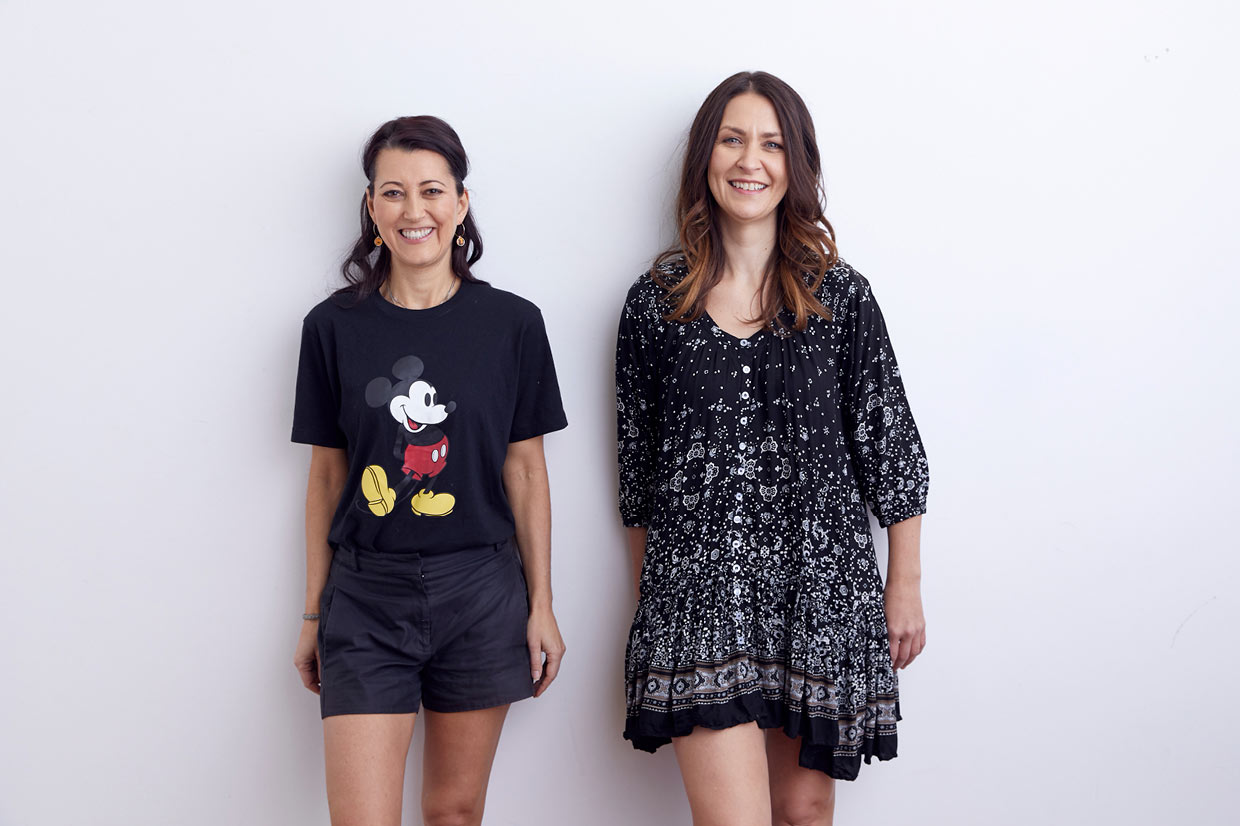 MEET THE WOMEN BEHIND BRANDS OF KIN
In this month's Just Between Us, we speak to Jodie de Vries and Emma Scott – two of the three women behind creative branding agency Tiny Hunter, and Brands of Kin itself. They talk about what it's like to be 'the ring in', how they've built their knowledge of family businesses, and why a little bit of OCD can be a good thing.


JODIE
We're a strategic branding agency based in Sydney who specialises in the family business space. It was easy to choose this niche; we love the passion, agility and amazing stories you find in family businesses. You simply don't get them anywhere else.
We've worked across all sorts of industries, from food, to beauty, to superannuation, finance and property. We love the variety – helping businesses that are extremely talented, connect with the right customers in the right way, to create growth.
We're a family business ourselves too. Tiny Hunter has three owners; myself, Emma and Jo. Jo is my sister-in-law, so Emma likes to call herself the 'ring in'. In reality – family or not – we're all really tight. They do say being in business with someone is like marriage, and they are right. I would even say that I see Emma more than my husband.
As the managing director I focus on the agency strategy, culture and running of the business – making sure we are headed in the right direction and that all the moving parts are working together harmoniously. Emma is the strategy director and is instrumental in the creative vision for our clients, their strategic positioning in the market, and measuring the impact that our work delivers. Those roles aside, we are business owners which means we do 1,000 other things, generally all at once.
Even though we do very different roles, I love that we both have a crazy work ethic and are both OCD when it comes to quality. I think if there was a mismatch there we would drive each other crazy. In terms of differences in working, I actually see them as an asset. It all helps to bring new perspectives and thinking. We have strong commonality in terms of values, but different personality types and I think that's a recipe for success.
Emma and I had known each other for a really long time, one day I walked out after having breakfast with her and realised like a strike of lightning that we should merge our agencies together. That gut instinct has completely shaped where we are now.
We're so excited about the future of Tiny Hunter, but at the same time the other work we are doing such as creating Brands of Kin. What's next? We're busy creating a new business that is going to be built around empowering other women in creating their own success. Watch this space.
EMMA
We're blessed to have a great relationship, so whilst we could both probably list a number of amazing things about working together, the most important is the absolute trust we have in each other. We both want the business to thrive as much for the other as ourselves. Trust is known to be a critical factor for the success for all businesses and therefore, this mutual trust is very beneficial to the business relationship.
I think what makes Tiny Hunter truly unique is our ability to understand the needs and nuances of family business. We're a family business ourselves and both Jodie and I have grown up in our parents' family businesses. It's in our blood. Our processes at Tiny Hunter are specifically designed to account for the generational structures within family businesses, guiding all family members along the process of strategic branding, ensuring all voices are heard and that there is unanimous alignment in the way forward. I think having personal insight is so important when working with family businesses, as their challenges (and opportunities) are often very different to other types of companies.
We've had many successes over the years, including industry awards and huge growth achieved for our clients, but I guess what I am most proud of is the longevity in our relationships. Some of our clients have been with us for over ten years, which is really special.
I think that part of our success is that we are 'people people', and what this means is that we truly care about our relationships. We're authentic, caring and candid when we need to be. We're also not afraid of the tough conversations to ensure our relationships grow and flourish.
Lots of people ask us if Jodie and I are sisters. We're not obviously, but it feels like it. In a good way, of course. We work with such synergy and to each other's strengths that I really do feel like we were born to work together. We're like two pieces of a puzzle. In actual fact, Jodie and Jo are sister-in-laws and then Jodie's brother Byron works in the business. I am the ring-in.
Our skills are definitely complimentary. I love that Jodie is such an interesting combination of big picture thinking with detail driven analysis. She breaks things down in a way to get to the heart of a problem and is then able to define the best way forward. Sometimes I want to move faster with things, but she slows me down with good reason. We're a good combination.
The relationship is deeper than just business too. A few years back I was going through a tough time personally, and I realised whole-heartedly that this girl has my back. Work and life are so intertwined and I feel a deep love and connection to both of my business partners, beyond your regular working relationship.
If I had one piece of golden advice for other family businesses, it would be to never underestimate the power of your brand. It is your piece of gold that if nurtured in the right way can become a powerful tool for driving business.

Jodie de Vries

Emma Scott