City Guides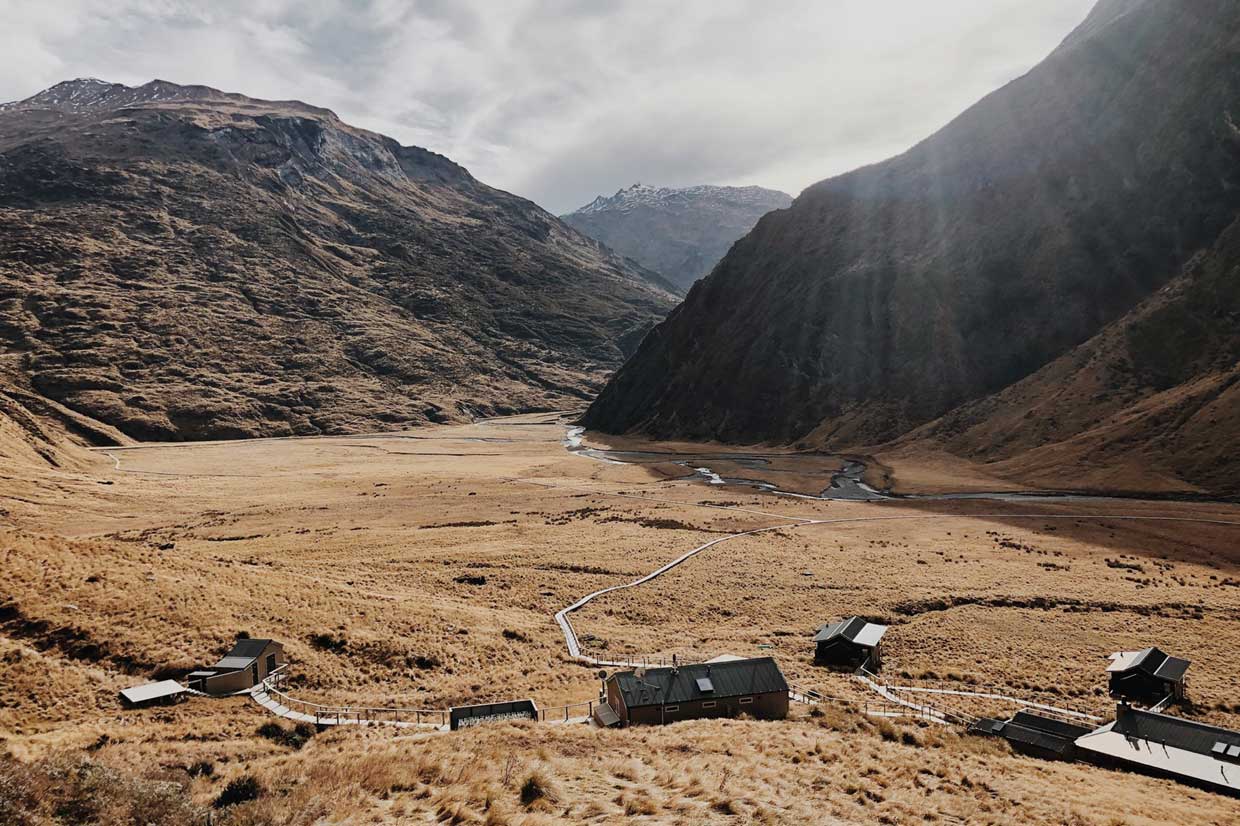 QUEENSTOWN CITY GUIDE – FAMILY BUSINESS STYLE
New Zealand has become a beacon of hope for the rest of us over the past months. With Jacinda Ardern at the helm, they have managed to eliminate Coronavirus and lift all domestic restrictions across the country. In a salute to their success, and to create some inspiration for the Queenstown locals next staycation, we found the best in family business across Queenstown to eat, drink and shop. And with the area boasting some of the best terrain for adventure sports and picturesque landscapes, we have activities to get you out of the house, exploring the local area and all of its beauty.
This month we include indulgent doughnuts and winery degustations, family honey farms and eco-friendly wares for the little ones. We help you plan your next adventure on a hiking tour and see the sights in style during a private helicopter flight. And at the end of a long day exploring, what could be better than relaxing in one of our hand-picked luxury retreats.


EAT & SIP
Akarua
Visit Website
265 Arrowtown-Lake Hayes Road, Arrowtown, Central Otago 9371, Queenstown
This family owned winery first started growing grapes in 1996, when Sir Clifford and Lady Marie Skeggs purchased the land and planted 34.5 hectares of vines. Their cellar door is 45 minutes from Queenstown, Central Otago, and allows you to see where it all began. If you are looking for something closer to the city itself, then we recommend Akarua Wines & Kitchen by Artisan – a restaurant where you can sample their wine in the 'Tasting shed' and enjoy a lunch while overlooking their manicured gardens.
Cardrona Distillery
Visit Website
2125 Cardrona Valley Road, Cardrona
Desiree Whitaker began studying the art of Whisky distilling in 2011 – a process that took her to Scotland and the United States — to learn from many of the world's masters. Desiree opened Cardrona to pursue her dream of making a New Zealand Single Malt Whisky that would stand tall on the international stage, and she sources equipment from all over the world to create the range that now includes Single Malt Whisky, Gin, Single Malt Vodka and limited edition Liqueurs.
The distillery is open 7 days a week and offers daily tours – giving you an insight to the distilling process from milling and fermenting the malt, right through to the all important tutored tasting of the final product. If you are short on time and unable to make it to the distillery, a multitude of bars across Queenstown stock their spirits.
@akaruawines

@cardronadistillery
Balls And Bangles
Visit Website
15 Church Street, Queenstown, 9300
So you've decided to spend the day exploring Queenstown and your body is calling for that sugar fix to get you through to dinner; this is where we recommend a pit stop at Balls And Bangles. Famed for their signature doughnuts, these very instagramable creations are freshly baked daily by the husband and wife pair, Clint and Tess Sloan, whose motto is to "let the sugar shine!" And for those seeking the ultimate treat, why not get a doughnut topped thickshake and wave hello to your new favourite dessert.
Frank's Eatery
Visit Website
24 Hawthorne Dr, Frankton, Queenstown
If cosy cushions, wholesome, ethically sourced food and great coffee is what you are looking for, then look no further than Frank's Eatery. Opened in 2017, this fairly recent addition to the cafe scene has quickly cemented its spot in Frankton, Queenstown with their fuss-free food and fairtrade, organic fair. They are massive advocates for supporting local, and where possible source produce from nearby suppliers in an effort to reduce their carbon footprint and keep the community thriving. In their words: "Frank's is all you need."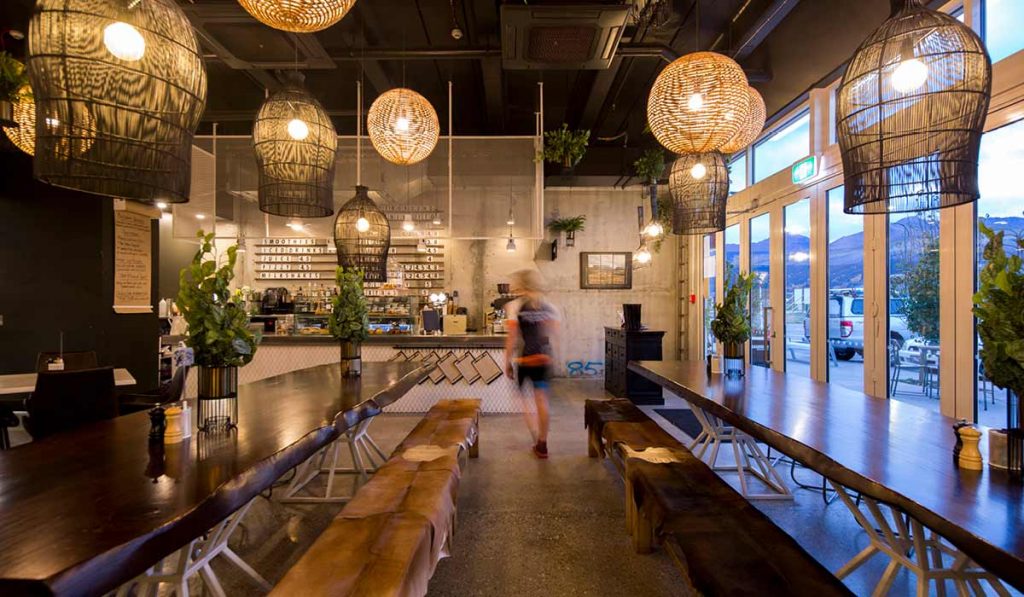 SHOP
Neat Meat
Shop Online
The Landing, 5 Hawthorne Drive, Queenstown
Neat Meat was built by three brothers – Simon, William and Tim Eriksen – who grew up on their family sheep and beef farm. The boys realised that lowest price didn't necessarily equal best quality and flavour, and decided it was time to embark on a new way of thinking, in the hope that a "premium local product carefully nurtured by good farmers would be rewarded, and the flavour of beautifully produced meat could be appreciated on the plates of New Zealand diners." Today, their HARMONY range continues the Neat Meat story with organic, free range beef, lamb, pork and chicken produced using the most sustainable methods.
So, whether you have a holiday rental and fancy staying in, or call Queenstown your home and haven't yet checked out Neat Meat, we recommend getting some friends and family around the table and cooking up a feast.
Mocka
Shop Online
Mocka is a furniture store selling stylish yet functional pieces for the home. Their values are to "enhance people's lives and environments through offering well designed, super functional and stylish home and living products at exceptional prices." and since 2007 they have certainly achieved that. Now that we're all accustomed to online shopping, even though we're allowed out again, it's still good to know that we can have home items safely delivered to our door – and this one has a local distributor.
Naked Baby Eco Boutique
Visit Website
1332 Gibbston Valley Highway, RD 1, Queenstown
When shopping for your baby, you want to know that they are being dressed in and surrounded by quality products that are practical, will last and (as an added bonus) are good for the environment. Naked Baby Eco Boutique is committed to "high quality organic and natural baby care. We stock only those brands we know offer reliable, durable products, made with values that align to our own." They want you to be safe in the knowledge that you can shop with complete confidence, stocking everything from eco nappies, baby food, baby clothes and eco toys; so it really is an eco-emporium for your baby's needs.
Happy Valley Honey
Visit Website
24 Hawthorne Drive, Remarkables Park, Frankton, Queenstown
Apiculture is a skill we are big on at Brands Of Kin, as a way of protecting our precious ecosystem and, in turn, producing a product both delicious and full of nutritional benefits: honey. At Happy Valley Honey, the third generation of the Janson family look after over 5,000 hives across the New Zealand countryside to produce the finest quality Manuka honey. Their retail stores in Auckland and Queenstown stock their range of skincare, gifts and top grade UMF (Unique Mānuka factor) honey, while offering the opportunity to sample some of their sticky, sweet delights.
@neatmeatnz

@mockanz

@happyvalleyhoney
STAY
Minaret Station
Visit Website
Remote location accessible by helicopter
Minaret Station is among the most exclusive and remote destinations in the world. Accessible only by helicopter, the four Alpine lodges offer complete seclusion from the day-to-day and give you a chance to escape, restore and take in that fresh, glacial air. Each chalet features a king size bed, hot tub and private deck to "relax and unwind beneath the stars", and adventure packages can be arranged during your stay along with gourmet cuisine prepared by an Exclusive Chef.
Millbrook
Visit Website
Millbrook Resort,1124 Malaghans Road, Arrowtown, 9371
Millbrook is more than a hotel – it is a luxury lifestyle retreat. Featuring a golf course, onsite spa and fitness centre, restaurants and 160 rooms, it's the perfect base to do as much or as little as you like. The accommodation is made up of deluxe studios, cabins and whole properties, so can cater to your needs whether it is a romantic getaway for the weekend, or a whole family affair.
Stoneridge
Visit Website
756 State Highway 6, Lake Hayes, RD1, Queenstown, New Zealand, 9371 Queenstown
Nestled on the shore of Lake Hayes, and just a 15 minute drive from Queenstown is Stoneridge Estate and winery. The property features panoramic views over the lake, mountains and vines, and their hotel and experience packages are created for the ultimate ease in planning for families and friends with their 'Family Escape', 'Winter Wonderland' and 'Vine and Dine' options. Wooden beams, cosy sofas and exposed brickwork paired with an infinity pool and hottub on the terrace means The Retreat is our personal pick.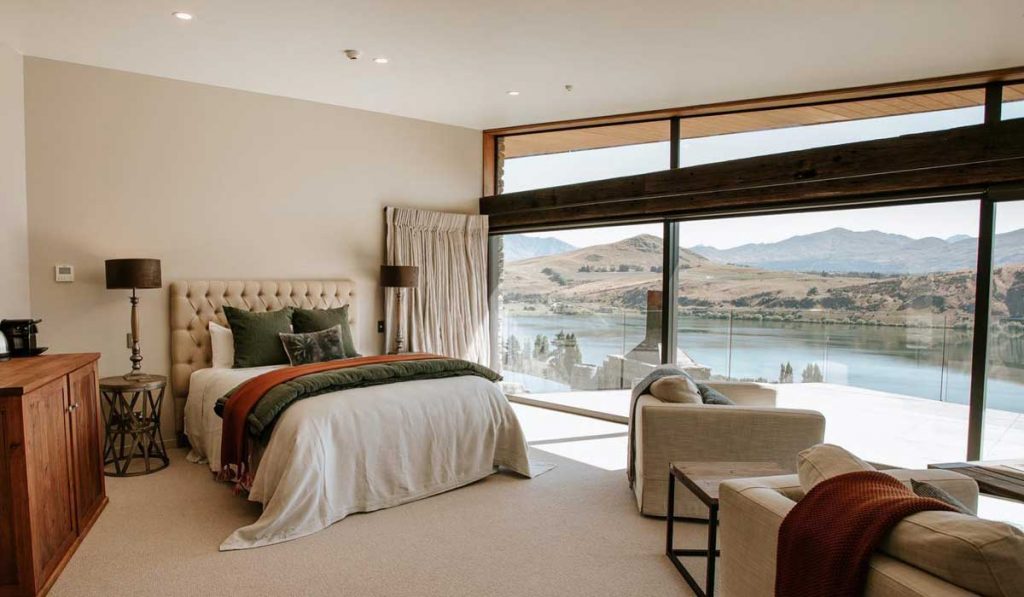 EXPERIENCE
Alpine Helicopters
Visit Website
64 Grant Road, Queenstown 9300
Alpine Helicopters has been ruling the air since 1963, offering scenic flights to the Southern Lakes, Central Otago and Fiordland regions, including Dusky & Milford Sound, Aoraki Mt Cook and Mt Aspiring National Parks. As well as flights to take in those picturesque views, you can get your heart pumping with their heli-skiing, heli-biking or Mt. Cook glacier tour. An experience you are sure to remember!
Real Journeys
Visit Website
Real Journeys Visitor Centre, Steamer Wharf, 88 Beach Street, Queenstown
Real Journeys is your one-stop-shop for an action packed time in Queenstown. Their site features a hand-picked selection of activities including vintage steamboat trips, restaurant dining and horse riding. They also have a handy blog with articles on activities for the family and best hiking tracks to inspire your time in Queenstown.
Queenstown Wine Trail
Visit Website
Pickup and drop off from Queenstown and Central Otago
As well as being home to some of the more awe-inspiring scenery in the world, New Zealand is a standout region for wine. Queenstown Wine Trail is committed to showing Queenstown and Central Otago's premium wineries while keeping the group size small to give a personalised touch. The company has been providing tours for 27 years and has strong bonds with the local wineries, meaning their selection is picked for you to "taste the full spectrum of wine varietals".
Whitestone Cheese
Visit Website
3 Torridge Street, Oamaru 9400
So you've tasted the finest wine the region has to offer, and you are looking for the ultimate pairing to go with that new bottle. It seems only right that we would send you to the finest artisan cheese makers in the South Island. Located in Oamaru, cheese fanatics can tour the factory and learn about the making process. If the cross-country drive isn't for you, Remarkables Market runs each Saturday during summer from 26 October in Queenstown itself where they have a regular stall, or you can shop the full range on their website.
@alpinehelinz

@realjourneys