Just Between Us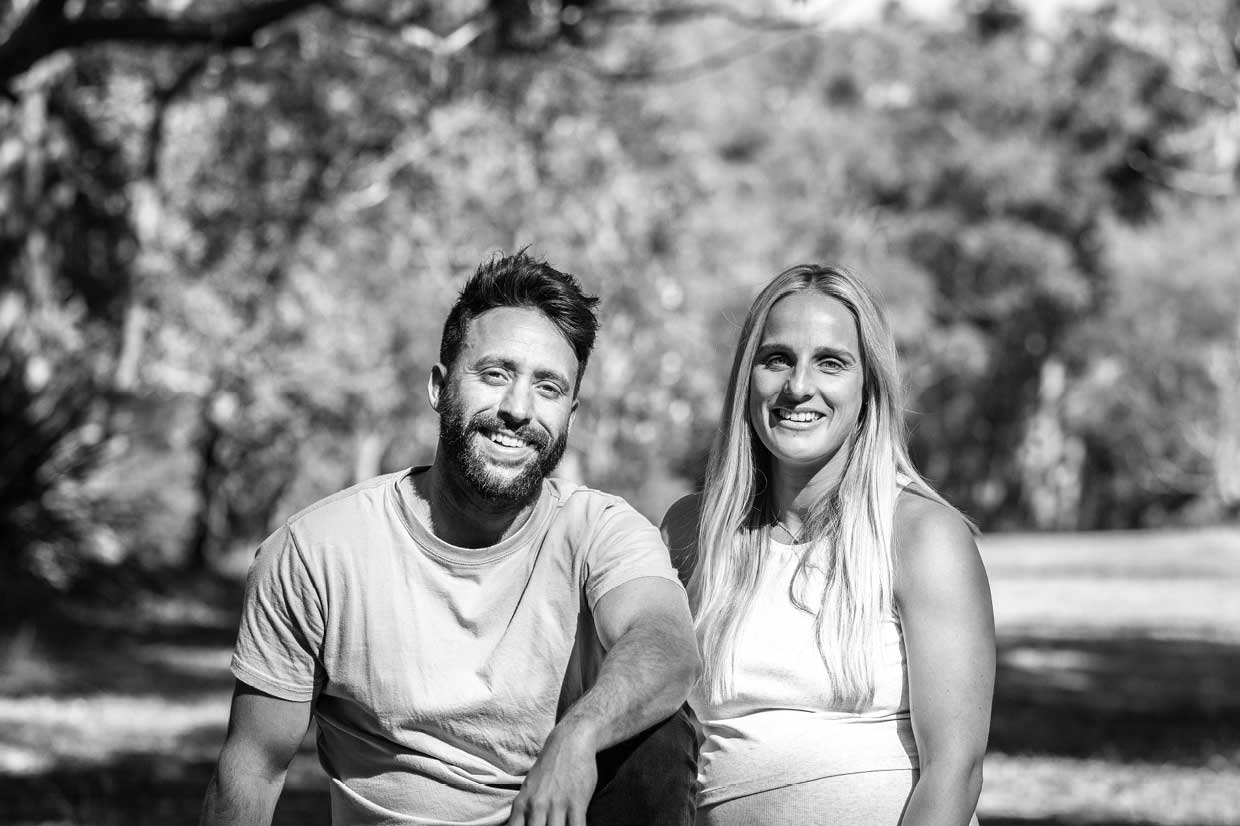 HERE'S WHAT'S COOKING WITH THE HUSBAND AND WIFE BEHIND DELISH DELIVERIES
Market fresh produce, picked at the 'crack of dawn' and delivered to your door. From farm to you, in under 36 hours. That's the promise from husband and wife team, Claire and Jaeger, of Delish Deliveries. That they've got your food situation sorted. You can stay at home, lay in bed, wear your PJs AND still feed yourself and your family nutritious meals without having to hustle through a busy street market or line up at the local grocery store.
And, you can trust Jaeger to carefully select all your fruit and veggies. He knows how to pick the best of the bunch, just for you — because he's been doing it for a decade. Started in his mother's garage ten years ago, Jaeger's passion for food (and the people he shares it with) is only matched by the admiration he has for his wife Claire, and her ability to bring grace to any situation. Together they navigate their business by relying on each other's strengths, with Jaeger being the tactile side of the team — collecting the produce and managing the 'numbers' and Claire working on marketing and relationship building.
They're a truly vibrant team whose core values shine through everything that they do. They "love to have fun, love their family and friends and love food". It's infectious. In fact, we barely made it through this interview before immediately signing up for our first Delish Delivery and we're certain you'll most likely do the same!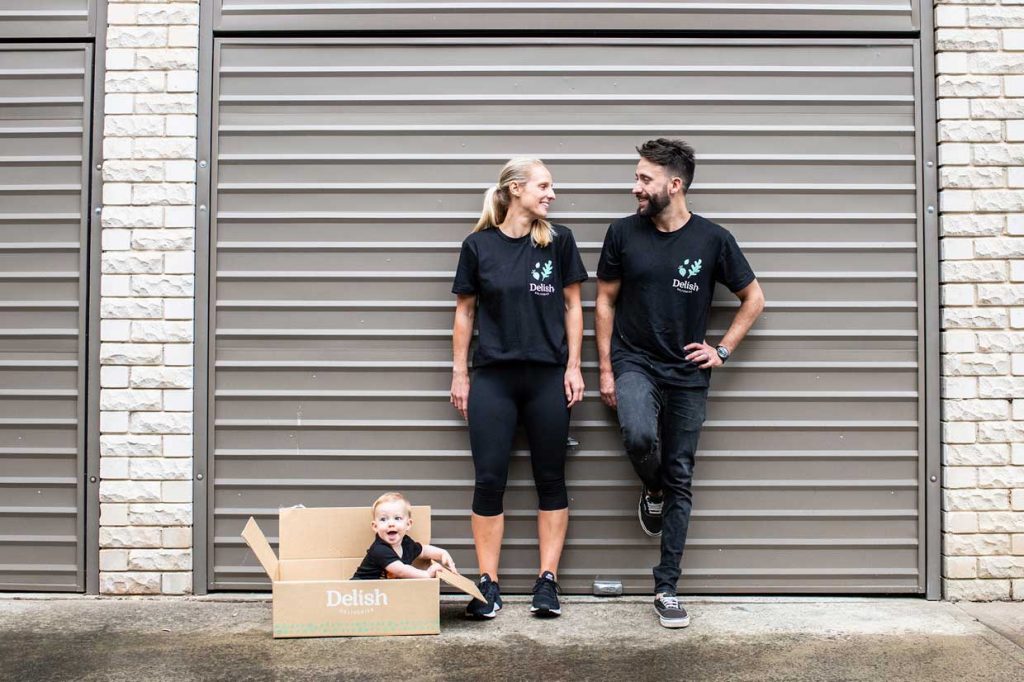 CLAIRE RICHMOND
Call me biased, but I believe that while technically Delish is just an online fresh grocery delivery service, what we offer is SO MUCH MORE! Delish was born in Jaeger's mum's garage, ten years ago where he packed his very first fruit box. Today our 'digs' are slightly bigger, but our mission remains the same — to deliver the freshest produce and groceries NSW has to offer at supermarket prices. From the farm to your door in 36 hours.
Being an online only business means we go that extra mile EVERY TIME to provide the best experience for all our customers. We don't have the luxury of that face to face time to build relationships and trust, so we have to be raw, honest and friendly. I think we do this really well and I know that our customers certainly don't feel like they don't know who we are. We aren't hiding behind some multinational branding, we are front and centre and share our life through food with our customers.
Jaeger and I are married but we are so much more than Husband and Wife. Working with your partner isn't for everyone but it is definitely for us. Jaeger and I met 20 years ago and formed a solid friendship before we even went on our first date. We know everything about each other and while we are completely opposite in so many ways our core values have always been aligned. We love to have fun; we love our family and friends and we love food.
When you have a small business, you tend to wear many hats but, in a nutshell — I am a people person and he is a numbers man. We would always come back to this before allocating any tasks or new jobs to one another. While we always bounce ideas off each other in terms of execution, we mostly stay in our lanes.
Jaeger works harder and is more passionate about his work than anyone I know. He is very hands on and steps in to do whatever needs to be done. Being in the markets requires really early starts and sometimes very little sleep, but he never complains. We often joke that he loves Delish more than me and you know what, I am totally ok with that. It's nice to see him get to do what he loves each day.
Last year we welcomed our first little boy, Cliff, into the world which has obviously changed the way we work together. For me the biggest challenge has been learning to let go and taking a step back from Delish while I do the mum thing. Seeing our first baby (Delish) thrive without me and feeling like I am missing out on things can be hard.
Jaeger is somebody who in his personal life is very forgetful, he always leaves his keys, phone and wallet behind when we sit down somewhere for longer than 5 minutes. I never really understood why until I started working alongside him. The things he coordinates each day within the business is insane and he never misses a beat! I will admit the first day I got really stressed thinking he isn't going to remember all of this but after seeing him in action, I realised this is why he doesn't remember things at home. His mind is forever focusing on the 1000 things that need to happen each day to make Delish move. This was when I accepted his forgetfulness and sort of grew to love it about him.
We're always thinking about growth and have recently expanded our delivery area to the Central Coast and Illawarra region, we've got a list of places we want to tackle next!

If I were to give advice to family businesses starting out, I would like to say — to try and create some boundaries between home and work but in reality, Jaeger and I talk about Delish all the time. Delish is our home and what makes us both happy. So, I would have to say pick the right people around you, eventually you will require help outside the family, and you want people with heart. They need to care about it like it's their own.
JAEGER RICHMOND
Delish is your fresh food concierge, an online grocer that specialise in sourcing the best locally grown produce and groceries. Behind it, is myself and Claire, we are a husband and wife team.

Claire just had our baby boy Cliff so she has been out of the day to day operations at the moment. However she is still handling our socials, and is the heart behind the operation. Helping me navigate most decisions over dinner. Before Cliffy boy was born she was sales, marketing and head of customer happiness.

Claire's emotional intelligence is incredible. She brings a different angle to dealing with difficult situations. I'm 'all numbers' and she is 'all feels'. She has helped me to think about what are the real drivers affecting people to make decisions. This always helps us to navigate sticky situations, because she truly cares about people and this is key for us. Delish at its essence is a community, Claire's approach has been key in helping us build strong relationships with staff, growers, suppliers, clients and anyone else in the Delish family.

In the early days our biggest challenge was just learning about how to communicate with each other and rely on each other's strengths rather than challenge them all the time. Claire has come from a corporate background, whilst I have always worked for myself, which is a weakness in itself. Being a small business when we kicked off, meant that I was used to being the sole decision maker. Then when Claire joined I guess I struggled with being challenged all the time, however now I look back and she was challenging me on areas which were weaknesses, these days I rely on this to make sure I'm making sound decisions. Which normally happens over dinner each day.

I cannot remember one in particular 'ah-ha' moment in our business journey. Although every time Claire replies to keyboard warriors on Facebook, it's so clear to me that she brings grace to confrontation and uses her emotional IQ to deal tactfully with the situation. Which reminds me of where her strengths lie.

In terms of our future, we are focused on growing the Delish family across Australia and finding more like minded, amazing Aussie growers and producers to work with. Watch out for some exciting new areas opening, a new website with some whiz bang features and some awesome new product lines.
We've had a great journey so far and love what we do. Our advice to others looking to start their own family business would be to focus on understanding each of your strengths, use them, celebrate them.

@delishdeliveries

@delishdeliveries

@delishdeliveries