The Inside Story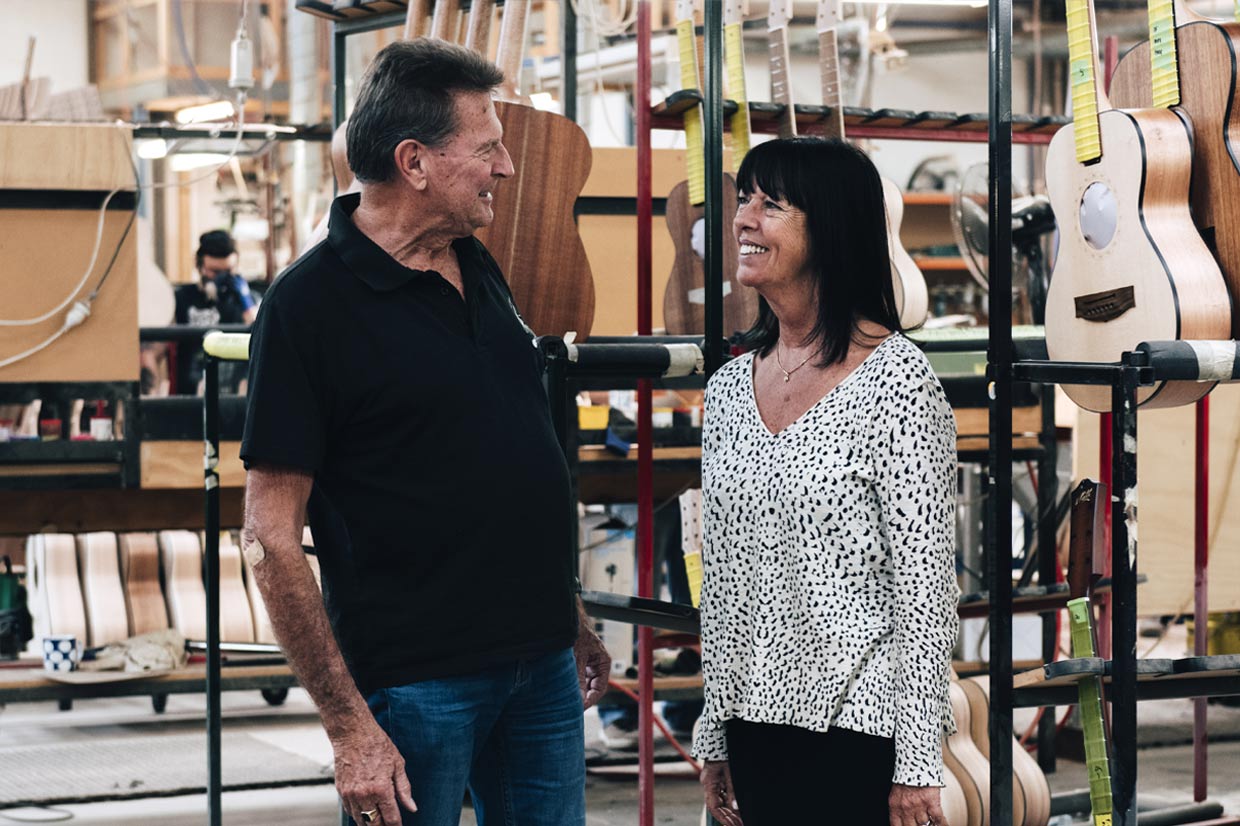 THE MATON GUITAR; FROM A GARAGE IN MELBOURNE TO THE HANDS OF ROCKSTARS
Bill May, the founder of Maton Guitars was an innovator. He liked to experiment, try new things, always on the search for creating something different. And he was an absolute perfectionist and artist. Bill would claim that the name Maton would only ever appear on an instrument of pure perfection.
I've always found guitar players incredibly sexy. There is something about the way musicians create magic with just six strings and their fingers. They are rockstars. They are crooners. They are gods and goddesses. So you can imagine my excitement to interview – no, not some talented muso that commands a guitar and has an entourage of fans – but the source of this divine musical mastery, Linda and Neville Kitchen from Maton Guitars.
Linda and Neville share with me the story of true artistry, the story of how Maton Guitars came to be arguably the most famous guitars in the world – in the hands of Elvis Presley and the infamous Keith Richards, from the Rolling Stones.
It all started in Thornbury, Melbourne where Linda's mum and dad lived. In 1946 Linda's dad, Bill May, began to craft guitars in his garage, for himself and his friends. Bill was a woodwork teacher by day, and a musician by night. In the 1940s you couldn't really buy good guitars in Australia. Actually, you could buy and ship them from the US, but they were very expensive. 
"Dad had a great understanding of wood and he was a musician so guitar making became his passion. At the time he was fully employed with the education department. He made a decision to resign and become a full-time guitar maker. That was a gutsy effort in those days, leaving a regular income to a life of uncertainty. My Mum, Vera supported him in those early days, doing the books for the business. He drove the car out of the garage and that became his workshop," shares Linda.
It was tough for the May family in the beginning, a new business and two small children, Linda and her older sister. Bill had to work weekends and nights to have enough money to buy the wood for the guitars.
"Because Dad was using electricity in his garage and he was doing it sort of illegally, when the person came around from the electricity board to check out the meter Mum would send me out there to try and distract them with questions," laughs Linda.

THE CREATION OF A MASTERPIECE
Bill's creations always began with the wood. Bill would see a piece of wood touch it, smell it, feel it, tap it and then he would know if it was the piece of wood for his next guitar. He liked to work with Australian wood. Black Beam was often his choice for the finger boards, Queensland Maple was another native timber, and although it was difficult to work with – it created beautiful guitars. Rosewood was one of his favourites, but very hard to source. Being so small it was very difficult for Bill to source woods and other materials. In the early days there was no industry in Australia and most suppliers would only work with those that could order in bulk. The new business was riddled with hurdles.
Another issue the family faced was in the selling of the guitars. All the top retailers were only importing guitars from America. Bill had to work really hard to get into retail music shops – like Allan's and Palings in Sydney. Eventually they did manage to do that, and that's when the real opportunities opened up. The orders began rolling in.
"Dad had so many good friends that were musicians that used to play on Channel Nine and Channel Ten television. He would give them a guitar, they played the Maton and gave Dad fantastic feedback. George Golla, a very famous pioneer jazz musician in the 60s was a huge supporter of Dad and Maton guitars. He would play up to five TV shows a week from Bandstand to The Don Lane show. The Maton was getting air time and gaining in popularity," shares Linda.
George Golla started with a Maton Starline. 'For a start it looked beautiful… and it was nice to play. It just felt comfortable," shares George in the book The Music that Maton Made. That was the beginning of George's collection of Maton Guitars.
Bill made a huge variety of guitars in the beginning – acoustic, to electric, to jazz. He was an innovator. He liked to experiment, try new things, always on the search for creating something different. And he was an absolute perfectionist and artist. He would do all the catalogues himself, he even hand drew the Maton logo that we see today. Bill would claim that the name Maton would only ever appear on an instrument of pure perfection. Bill was also a great teacher, everyone loved working for him so this great Maton culture emerged. The people that worked on the floor had to be just as passionate about making guitars as he was. These handmade guitars were relatively expensive, so Maton developed a reputation for the guitar you'd aspire to. People would save up for their Maton.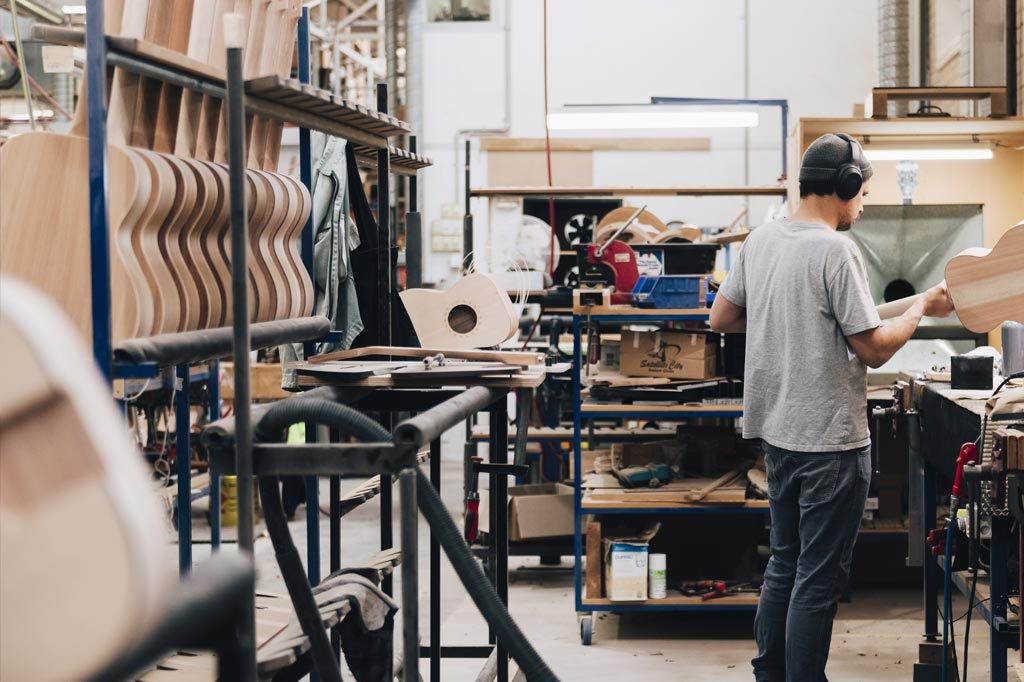 THE ARTISTS WHO FELL IN LOVE WITH MATON
Discovering an instrument that was created with an almost obsessive focus on craftsmanship was a rare find. It excited the very best musicians around the world. The famous began to take to Maton. 
Elvis Presley never actually made it out to Australia, but in 1957 he played a Maton in the movie Jailhouse Rock.
Keith Potger from The Seekers played a Maton at the largest single-concert crowd gathered in the Southern Hemisphere, in Melbourne in 1967. The crowd was in excess of 200,000 people at Melbourne's Myer Music Bowl. But Maton was there with them from the beginning. The Seekers first concerts were in South Yarra to about 30 people, and the Maton was with them all the way.
This was just the beginning. The list today of talented artists who fell in love with Maton guitars includes the likes of George Harrison from The Beatles, Ray Davies from The Kinks, Keith Richards from The Rolling Stones, Tommy Emmanuel, Normie Rowe, Neil Finn, Keith Urban, John Butler, Paul Kelly, Phil Palmer from Dire Straits, Ben Lee, Josh Pyke, John Williamson, Diesel and Jesse Hooper from Killing Heidi and Josh Homme – to name a few.
"When Tommy Emmanuel was asked how long he's been playing a Maton he replied simply 'All my life.' And when he goes overseas and people say, 'Don't you miss Australia?' he says 'no because when I open my guitar case there's a bit of Australia," smiles Linda.
The Maton guitar had firmly established itself on the world stage.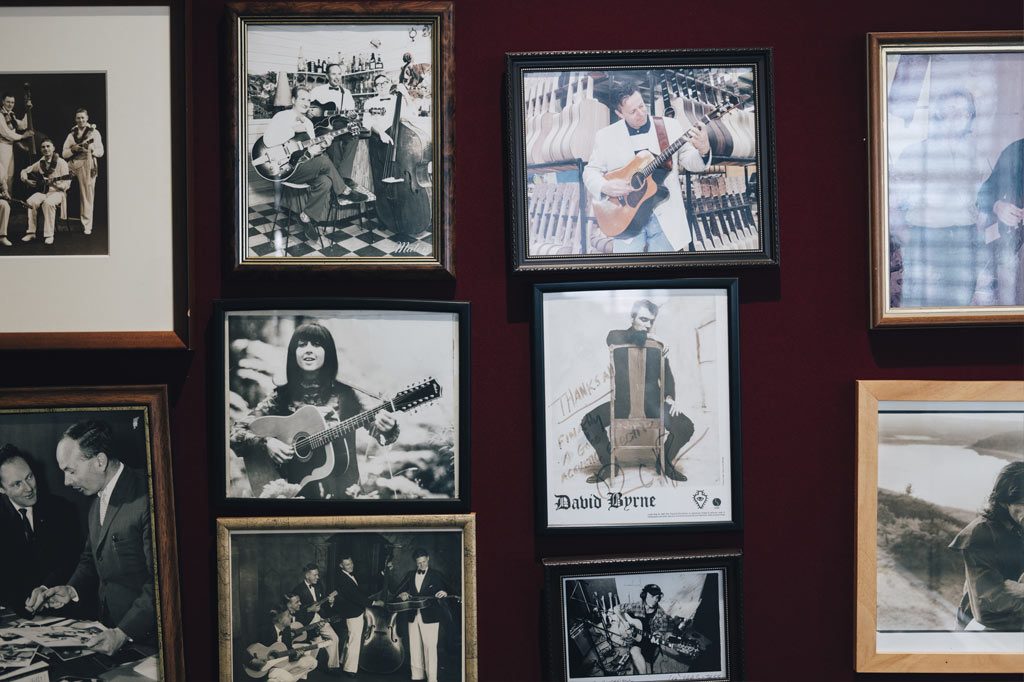 A FAMILY BUSINESS
For almost 30 years Bill and Vera managed the business themselves. Eventually they had made the transition out of their garage, they bought a block of land on Canterbury Road and built the factory.
During the Christmas holidays Linda and her husband Neville would look after the business to allow Bill and Vera to take a break, and to get out to tradeshows. At the time Neville was a high school teacher, teaching accounting and economics. In 1980 Bill asked Neville if he would be interested in working in the business. Neville wasn't sure. He and Linda weren't musicians, and he was concerned this might be a problem. Neville eventually decided he would give it a try. His business acumen could be an asset. He quit his teaching job and so began a new era for Maton.
Neville worked with Bill and Vera in the office for five years.
And then disaster struck.
Bill became sick with Parkinson's disease. Neville shares that it was the worst possible thing that could have happened to him because it meant he could no longer use his hands.
It was a tragedy.
Eventually Bill had to give the business up, so Linda and Neville bought the business in 1987.
"We decided to buy the business because Linda and I wanted to do things our way, and we knew if Bill was still involved he would always be looking over our shoulder," explains Neville.
Linda tells me that it was a dreadful time. Financially the business was not in a good state. Bill and Vera hadn't spent much money on it in 20 years. Their accountants reviewed the books and advised them not to buy the business. But they decided to ignore the advice and give it a go.
"Dad's dream was to have Maton selling worldwide, so that gave me my mission," shares Linda.
When Linda and Neville took over the reigns they decided to focus on one thing – making the best acoustic guitars in the world, and the best onboard pickups out there. (I had no idea what an onboard pickup was before this interview, but I soon learned that it is the device that allows the acoustic guitar to be amplified. Just thought I would share that in case you are a newbie in the world of guitars too). It was perfect timing because the unplugged guitar revolution had begun. They cut down the number of models from 50 to half a dozen.
Not being musicians themselves, how did they make the right decisions when it came to choosing the models for the future?
"Well, you've got to surround yourself with good people. Just on the floor, we've got 60 people working for us and over 55 of them are musicians. You look, you listen to people, you learn and take advice from musicians," says Neville.
Neville and Linda made other changes to the business. Bill had one person dedicated and skilled on each of the many tasks required to make a Maton guitar. Today the business is setup with multi-skilled people. This keeps the staff interested, it becomes boring if they are doing the one task day in day out. It also means there is less risk to the business because all the knowledge doesn't sit with one person.
Today Maton is handmaking 7,500 guitars a year. And if you go to the factory the making of a Maton is quite an extraordinary process to witness. So many people touch the guitar from start to finish, add their skill and expertise to create this perfection that is the Maton. It is a labour intensive process. Every person that works on a guitar signs their name on the inside. It's the Maton seal of quality. The Maton guitars are known for having a soul.
"Over the years people have said to us 'you need to take the business overseas and cut out the labour costs'. If we did that we would make more money of course, it's hard to make money with such a labour intensive process. But we would never do that. The handcrafted process by experts is everything to us," explains Linda.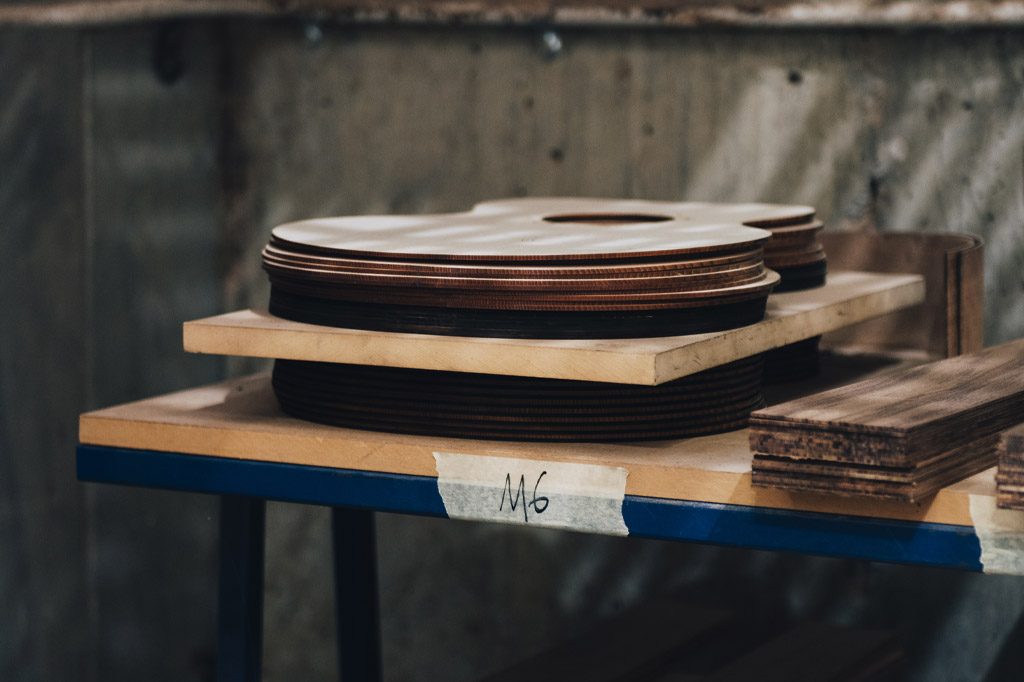 GLOBAL IS KNOCKING
Recently Neville and Linda have begun to see overseas distributors take a keen interest in Maton. They are knocking on the door wanting to buy Maton guitars in bulk. They have distributors in America, England, Europe, Japan, China and most recently Russia. These are exciting times for the team, but with this new found interest comes the stress of filling these orders. Russia's first order was for 100 guitars. 100 guitars is a lot for Maton. It was all systems go to fill this order. And the most recent request, again from Russia, was for 280 guitars.
China is an interesting growth market for Maton. The developing middle class are interested in the real deal. They don't want copies, they want authenticity. Maton's craftsmanship credentials has created keen interest from the Chinese buyer.
The future's looking bright.

THE PLAN FOR THE FUTURE
Neville and Linda want the Maton name to live on. They are hoping the next generation will want to come on board and see Maton transition into the future. They are working hard on their succession plan with advisors through Family Business Australia. Bill May had a dream to make Maton the most famous guitar in the world. Neville and Linda plan on ensuring that Bill's dream comes true.
NEVILLE'S PIECE OF ADVICE ON BUILDING A BRAND
Be persistent. Stick to what you know. We've been going since 1946 and we are still doing what we know. Surround yourself with great people. Don't make cheap stuff, quality is everything