Just Between Us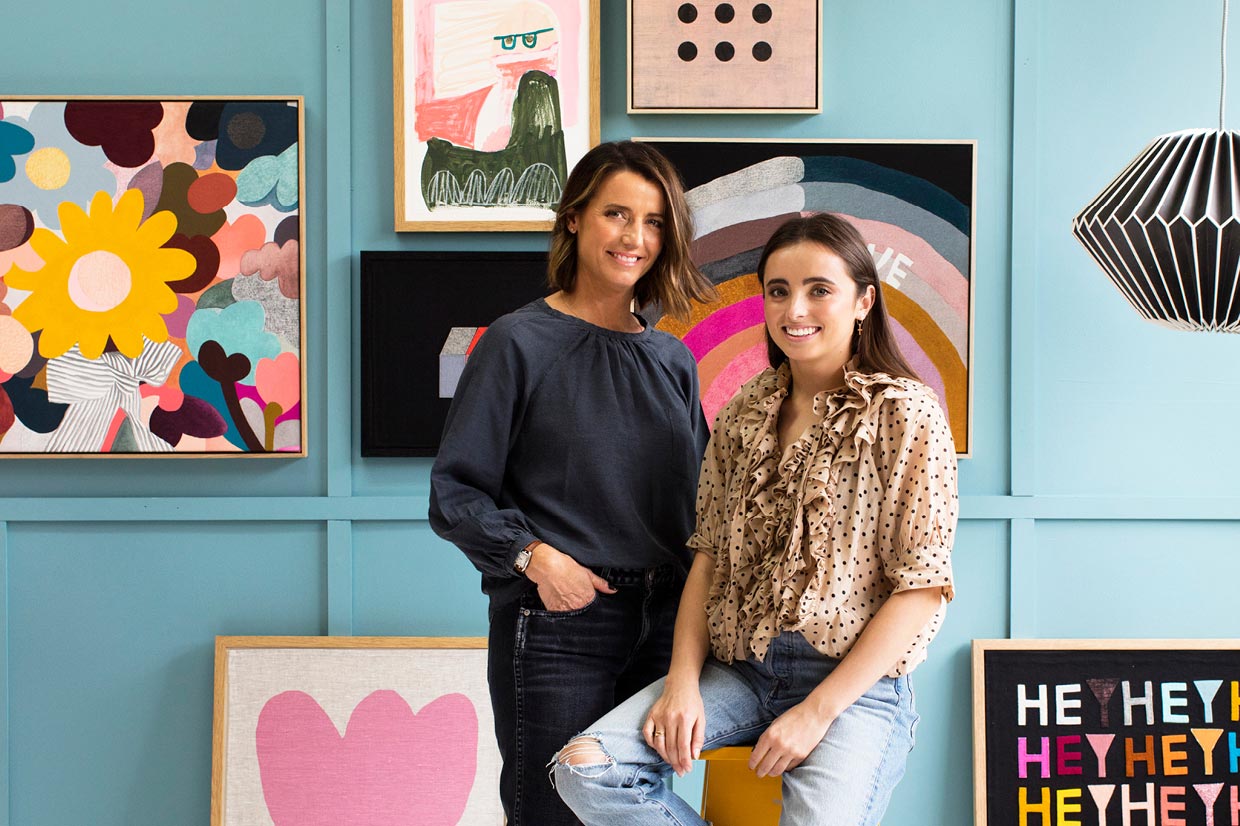 THE MOTHER DAUGHTER DUO FILLING THE WORLD WITH SUNSHINE AND RAINBOWS
Fun, colourful and whimsical – the Castle brand is described as a 'haven for lovers of all things sunny'. And you only need to have a quick peruse of what they have on offer to suddenly feel filled with sunshine yourself. A sea of spots, pink, fluro, yellow, orange, a little grey and a love heart or two, is what a room totally decked out in Castle pieces would look like. But you don't have to drape your entire interiors in Castle goods to feel sunshiney – a single pillow, throw or bedspread would brighten up any room.
When you spend time chatting to Founder, Rachel Castle, you can really see just how much of her personality shines through into her products. From accessible artwork and bed linen to cushions and even clothing, Rachel and her daughter Cleo, put their personal touch on absolutely everything. The artwork is screen printed or painted by Rachel herself and Cleo (as Rachel's willing protégé) helps to hand embroider their boldly comical tea towels. With such enthusiasm for happiness, you can see why Castle has become a highly sought after brand for homewares. With over 130,000 loyal followers on Instagram, Castle has amassed quite the fan base – but even with so many willing customers, Rachel continues to ensure everything is handmade, so each piece feels like a real 'one-of-a-kind'… because it is!
RACHEL
A family business is like a baby. You conceived it, you watched it grow, you nurtured and fed it, and watched it fall over at times. The relationship you have with your own business is unique and complicated and frustrating and wonderful and crazy, all at once.
Working with Cleo definitely has its moments! We can happily sit beside one another for half a day uninterrupted and sew tea towels which is lovely, the flip side however is that our disagreements can go from 0 to 100 in a nanosecond!
The most rewarding part for me is teaching Cleo the handmade elements of the business. Before she started actually coming to work as a proper job she was not interested in being taught anything by me… all of a sudden she was learning how to sew and print make and mix paint and prepare art boards, so I have absolutely LOVED passing on these very personal and much loved parts of what we do daily here at Castle.
I want my grandchildren to always know how handmade feels, to be surrounded by colour and handmade things. It's a really important part of our business, because for me personally, it is a very important part of my life. My family knows that for every birthday and Christmas handmade cards and presents for one another are a must, and as they grow older, I hope this love of 'making' continues.
My advice to those working to build a brand would be, don't hold on too tight. I try very hard not to take work home these days, I have to prioritise my family and friends because they are more important to me than anything else. I work very long hours 5 days a week but am always home for dinner and try not to work weekends. This keeps everything safer and gives, I believe, better perspective and a better focus of energy.



CLEO
I've been surrounded by Castle ever since I can remember, so I think it's taught me a lot about hard work and what it takes to run a small business. I know the history of the business, I know the way it needs to look and sound just because I've always been around it and exposed to it. I would say luckily for Mum (heeeee) I'm very interested in all things design and so at some point down the track I might be able to take over from her. She's always begging me to work full time so she can go on a big holiday!

Working with my mum can be tricky, she definitely treats me differently to the other girls, she gets grouchier with me quicker! Luckily she is very good at letting everyone know when they've done a good job, including me, so this makes it all ok in the end.

The most rewarding part is learning from the bottom up I think. Sometimes I'm allowed to do the orders which I love, I also get given all the manual backend internet stuff which means I've learned how to use Shopify, I know how to unpack a delivery from India, and how to wash my mum's brushes, and screen print with her, so there's a LOT she's teaching me. Probably the best bit though, because I am a student, is that I get paid to do it!

Make something you love for yourself because you enjoy it. People can tell if something is made with love, and If other people like it as much as you do then you're really lucky! Do what your mum says, she knows best for the time being!