Just Between Us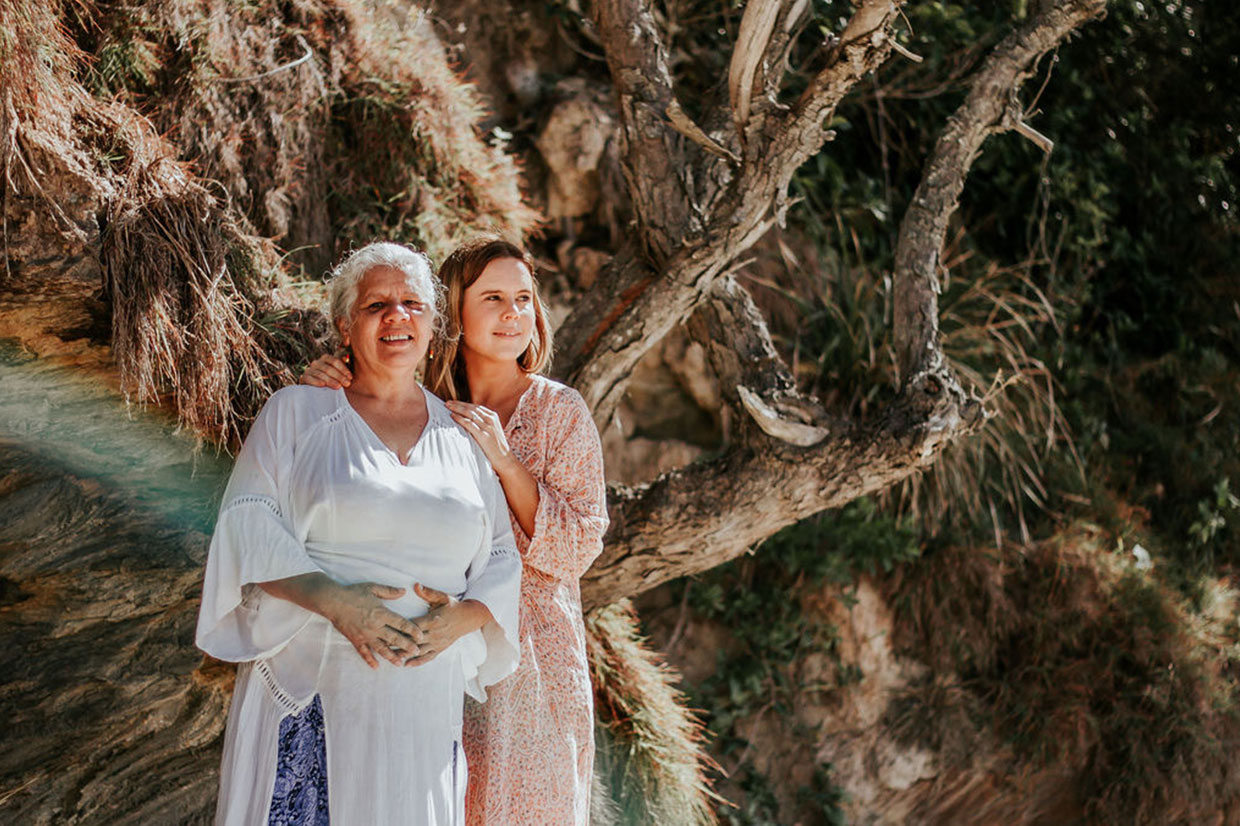 THE MOTHER-DAUGHTER DUO INSPIRING STRENGTH THROUGH INDIGENOUS ARTWORK
Miimi & Jiinda is the artistic creation of mother-daughter duo Lauren Jarrett and Melissa Greenwood, who sought to create a business where they could share their rich cultural history and stories of their land, while honouring traditional skills and artistry. Melissa and Lauren hail from the Gumbaynggirr, Dunghutti and Bundjalung tribes of Australia's East Coast. They are "traditional owners of their ancestral homelands and proud custodians of the oldest surviving culture in the world." A culture they wish to share, spark interest and educate others with stories of "kin".
Launched in 2018, the brand quickly gathered a following across Australia drawn to their bright colours, patterns and distinctive style. In this feature we hear about the 'aha' moments when the duo realised the business was going to be a huge success, and how they use their art as a platform to inspire hope for Aboriginal Australians to "heal and prosper" through creativity.
With mother and daughter heading up the business, Melissa's fiance, Abraham, managing "the operations plus the framing, shipping and packaging side of things", and having a 4 year old boy and a baby on the way, they are a family who continually support and nurture each other's growth and thrive in the process.


LAUREN
For me personally, the family business advantage is working in a family environment. I love that there is that innate understanding of each other and shared respect and unconditional support. It is also advantageous that I get to pass down knowledge and share wisdom with my daughter in a safe, happy space where we are both growing and achieving our goals.
Being in a family business has both its rewards, and challenges, like most things really. The hardest part for me was setting up the business. I have never run a business before and we both needed to learn many skills in a short amount of time. Another challenge is differentiating between work and personal time because we really enjoy what we do.
The most rewarding aspect is personal growth and the opportunity to showcase our beautiful culture. Our creativity is always expanding which in turn supports our overall happiness and wellbeing.
In the end it's about leaving a message of strength. As an Indigenous Australian you don't need to stay in trauma and poverty. You can heal and prosper through culture and creativity.
If I could give one piece of advice, it would have to be staying passionate and ethical always!

MELISSA
I think the advantage of family business is really knowing the brand and the business so well because it represents family, culture and our mother-daughter connection. It's also powerful to achieve something alongside family and be able to thrive from each success and milestone together.
It's so inspiring for us all to be able to create our work within the family. And give the customer a finished product that is made in our Miimi and Jiinda studio on our beautiful Gumbaynggirr Country from the beginning to the end.
On one hand it's helpful being so close to your team, because we can really 'read' each other. But on the other hand, in busy times it can make it even more stressful as you let your guard down more with family. So aspects of the business where we may have been more withheld in situations, we just communicate absolutely everything!
The most rewarding aspect would be seeing my mum's confidence rise. She has always been quite shy and timid, which is a reflection of what she has been through in her earlier life. And at times within this business journey, she has really stepped out of her comfort zone and blown audiences away with sharing her story. Also working alongside my amazing and supportive partner Abraham, he is incredibly passionate and hardworking and it's really nice for our son and little one on the way, to see us striving and achieving together.
A surreal moment for us was seeing our artwork on Channel 9's TV show The Block. It was never something I could have fathomed manifesting so quickly into our business launch and feel so grateful that Australia was ready for our art at this time
My hope is to be an example of someone who turns lemons into lemonade. To remind others that even when you come from a disadvantaged and low socioeconomic background, you can still succeed and fulfil your dreams. And I want people to know I am incredibly proud of my culture and heritage. To see that deep healing can come from sharing the wisdom from your personal journey. Not only to those who feel inspired by it, but I want to encourage my children and children's children, to grow up proud and strong in their identity and culture.
Be authentic, stay true to your brand, engage with customers and be real. Treat your audience the way you would like to be treated, be compassionate and kind, because what you put out there energetically comes back to you.
There are some very exciting things coming in 2020, but we can't share just yet, so stay tuned.