The Inside Story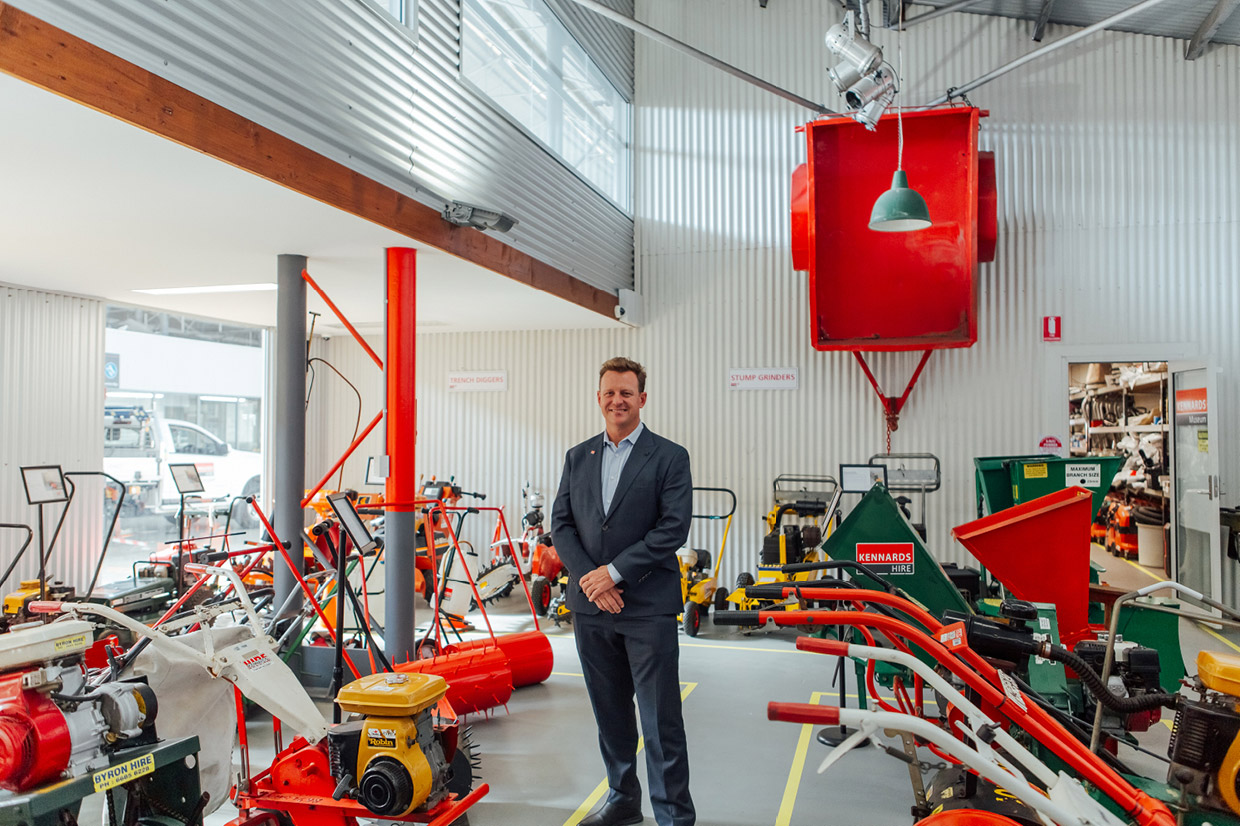 EQUIPMENT COMPANY KENNARDS HIRE, PIVOT TO ALSO BECOME LEADERS IN TECHNOLOGY
"We are using technology to create new business models. Better, more convenient ways of doing business for our customers," Angus Kennard.
For three generations Kennards Hire has faithfully served Australians by providing access to equipment and machinery needed for large-scale, commercial construction projects, small DIY home renovations and everything in between. The Kennards Hire motto has always been 'great customer service'. They go above and beyond to make sure their customers are happy. This commitment has seen them grow to 180+ branches across Australia and New Zealand, and gain the position of the number one family-owned hire company. So where do you go from this stellar position? What's next for the company?
I catch up with Angus Kennard, the third generation Kennard now leading the company into the future.
THE PATH TO CEO
Angus didn't always know that he would follow his father Andy's footsteps. He always had a love for the business, but the head job hadn't been in his sights.
"I actually resisted coming into the business for a long time," says Angus.
"When I was young, I used to do odd jobs in the business to earn money. I'd package up bits of rope and other equipment. My brother and I used to deal with explosive charges for the ramset guns. Somehow I kept all my fingers," he continues. "You probably wouldn't let 10-year-olds do that these days."
Angus got an understanding of the work ethic and the peripheral parts of the business by osmosis. During holidays they would attend equipment shows or something similar, and their Dad was always hiring equipment for little projects around their home. Kennards Hire was just part of their vernacular.
Kennards Hire have always had a rule, you can't come and work in the family business unless you have worked somewhere else for at least five years.
So after school Angus left Sydney for Lismore, where he studied a Bachelor of Business.
"I'm sure I could have worked harder," confesses Angus. "I had a pretty good time, but who doesn't at uni."
After doing his time in the big wide world, an opportunity opened up for him to enter the business working under the legendary Grant Spradbrow. Grant had been with the business for more than 20 years and had run the business for Angus's Dad for a period of time. He was an amazing operator, he understood the pulse of the business. Angus came in as a manager of the Brookvale branch. He was blessed to receive amazing training and he worked his way up through the ranks.

"So I was delivering equipment, cleaning equipment, cleaning dunnies, doing all the jobs that needed to be done. Serving customers, working weekends, and I worked my way up to manager. I actually bought my Dad's share of that franchise, so I was 50/50 with Grant. At the time there was a branch out of Mona Vale that wasn't really performing. I went out on a limb and actually bought that from the business too. I ran that for about seven years. I built it up over time and it became a very well-performing branch," Angus explains.
But like all good budding entrepreneurs, Angus got bored.
"It was all a bit too easy. I had this great business that produced dividends. I lived six minutes from home and the business was going well. I could have just kicked back," he says.
"So why didn't you?" I ask.
"I needed another challenge," Angus shrugs. "So I researched another type of specialist equipment – concrete equipment. There was a whole suite of larger, expensive equipment that really wasn't available to people unless you were operating a big job and you had budget to buy it. I'd worked out that it was being used around the world but not much in Australia. Concrete was the second most used resource in the world. There was an opportunity."
Angus explains his thinking, "I thought there is probably always going to be a need for machines working in and around concrete, especially in setting concrete. You need things like set blades and diamond blades for cutting the surface and that's all expensive and difficult. So I made it easy and created a niche."
Angus sold his franchise back to the business and embarked on this new adventure for Kennards Hire. But what he didn't count on was the fact that the value was not necessarily in the equipment hire, it was in the knowledge needed to support people to use the equipment properly. This new division of the company involved going to sites, speccing the equipment required, setting everything up and training people on how to use it.
"We went from being an equipment hire company to a solution company," Angus explains.
Angus developed this side of the business for another seven years. The seven-year itch seems to be Angus's cue for change. He sold this division back to the family and decided to take a year-long break. He took his family, including his four children, to France for a year. They skied, immersed themselves in the language and the culture and had a damn good time.
On his return, Angus did some bespoke projects for the company, and decided to get his masters. At the tail end of his studies, an opportunity opened up for CEO.
"We had this CEO who had only just joined us and wasn't really working out. The board was going to make a change so I thought 'it's time'. I've spent so many years on the board driving the agenda and the direction of the company. It was time to throw my hat in the ring."
I quickly learn, the role wasn't handed to Angus on a silver platter. He had to go through a rigorous selection process. Angus had to be psychometrically tested. He had multiple interviews before the decision was made to offer him the CEO position. That was three years ago.


THE MOST CHALLENGING ASPECT OF THE NEW ROLE
"People are always the most challenging part of a leader's job," shares Angus.
And he now has a team of 1,700.
"When it comes to the people and the culture, the key to success," explains Angus, "is to preserve the great things of a small family business and bring them to life in a large family business. You can't have a system in place for everything, but you can have a line of values. Not a line of thinking, but a line of values. When everyone is aligned with the values, you reduce the politics and conflicting agendas. If people are in the yard and they have to make a decision and they think about those values and think about what they mean, they have everything they need to make the best decision possible."
Every person in the company went through a process of understanding the values and culture of the company, and understanding the 'why', the company's big purpose in the world. There were 40 sessions. And Angus championed this whole process.
Angus explains to me that a strong culture unites the right people in the company and pushes out those that don't fit. It consolidates the team.
"We make people accountable and self-evaluating," says Angus. "We always ask the staff 'how do you bring the values to life, tell us stories about how someone has lived those values'." And we celebrate those that are living and breathing the values. We have values awards every year. People are proud to work here. They are proud of what they do. It is reflected in staff engagement and customer satisfaction."


The Kennard Hire values are:
One family, so we look after each other. We make sure people go home safe every day.
Fair dinkum, which is about being honest, real, true and genuine.
Every customer a raving fan, so do whatever it takes to serve the customer safely.
Taking hire higher, which is about innovation and continuous improvement.

"My dad taught me that the most important thing in business is to have a deep care for your people and your customers," says Angus. "If you look after them then they will look after you. They will do the right thing by you. Our staff know we've got each other's backs."
I do need to add in here that Kennards Hire was ranked in the top 10 in the 2018 Best Places to Work Study, in Australia. This is not just a proud family-owned leader gushing about his amazing staff and culture. It's a truth.
THE SHIFT TO A TECHNOLOGY FOCUS
"We have always been a service company. We offer incredible customer service in the equipment hire space, which has enabled us to grow in some other areas. It has funded our growth. We are also asset managers, we have a charity foundation that we run and we have an innovation side to the business. All my siblings are involved, and my Dad still takes a keen interest," shares Angus.
Angus is always looking to the future. He is concerned about what's on the horizon. The sharing economy is expanding and rental is a growing trend. Although Angus is not concerned about his direct competitors he is concerned about someone that may enter the market and completely disrupt it.
To future proof, Angus believes technology is the answer. Kennards Hire has made big investments in technology. They have built a digital platform that monitors and reports on their connected equipment, measuring how each item is performing when out on hire.
Angus explains, "We know where the connected equipment is, who's using it and if it is being used correctly. It's for us, but it's also for our customers. So for example, you've got a customer on the southern part of Sydney who is doing a major project and we've got equipment and machines in a container shed nearby. We know exactly when the customer has taken the machine out of the shed and when they return it so we only charge them for the real-time they are using the equipment. We are using technology to create new business models. Better, more convenient ways of doing business for our customers."
Although Angus Kennard might have taken a slow path to the CEO role in the Kennard Hire family business – he wasn't made CEO until some 20 years after his father retired – he is certainly now leading the business into the future with two hands firmly on the throttle.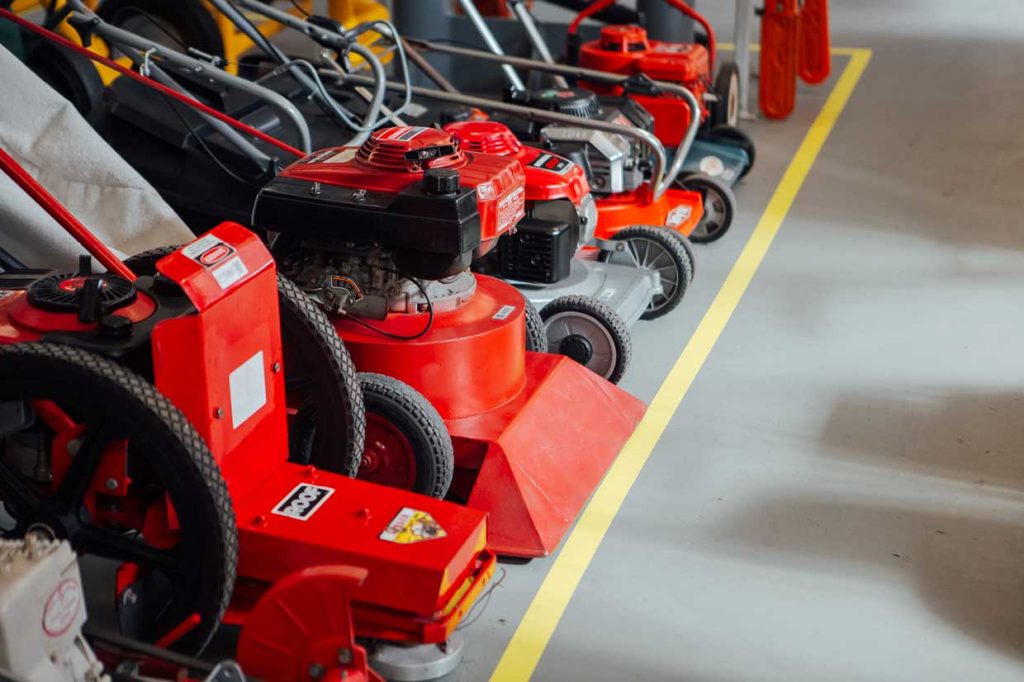 ANGUS' PIECE OF BRANDING ADVICE ON BUILDING A BRAND

"Having a clear definition of your brand, communicating what that is and then ensuring you execute along the lines of your brand as tight as you can. The strength of any brand relies on the experience and feeling customers have which comes back to our values and the delivery of our values."

Angus Kennard
ANGUS' BOOK AND APP LIST TO INSPIRE