City Guides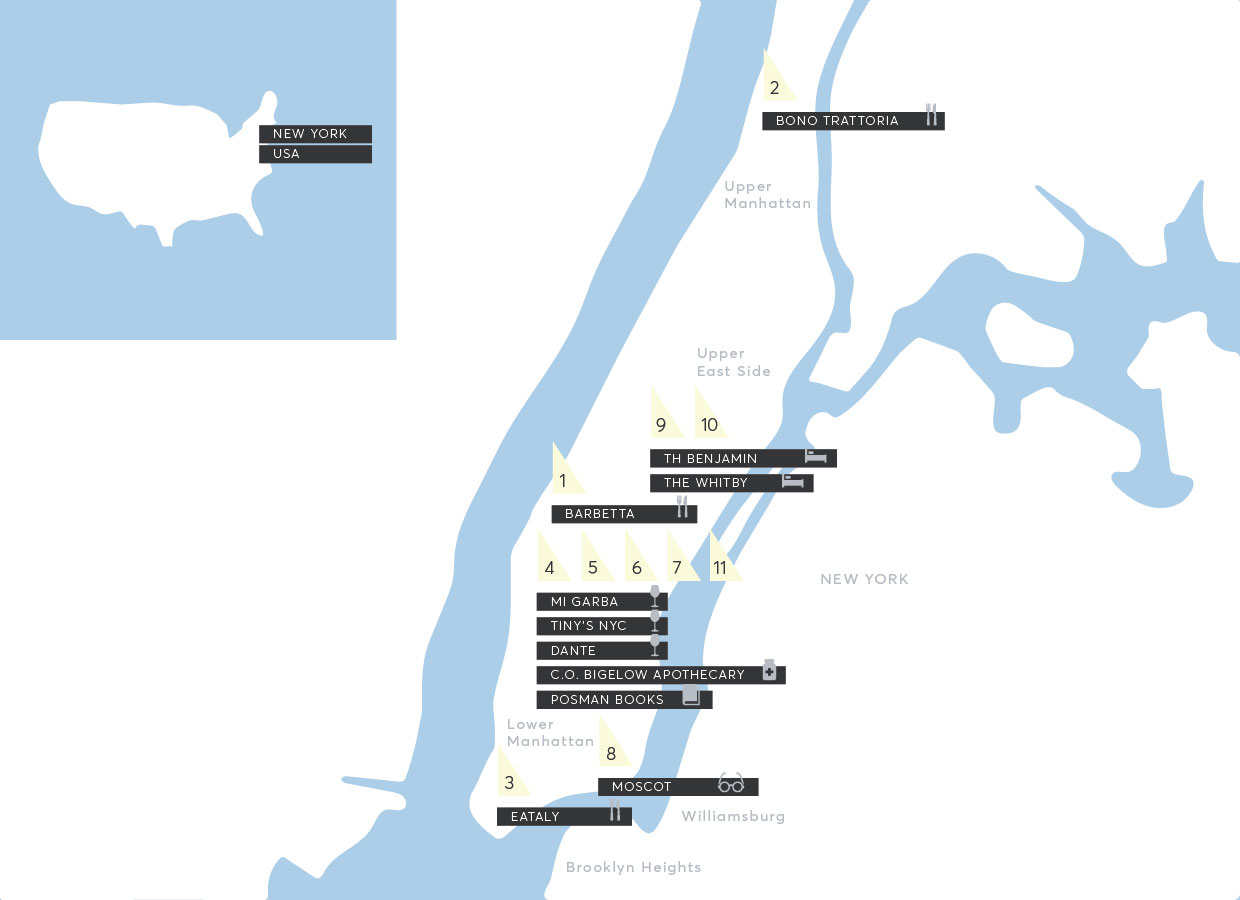 NEW YORK, USA CITY GUIDE – FAMILY BUSINESS STYLE
For this month's family business city guide we head to New York where we discover everything from 100-year-old handcrafted sunglasses to America's oldest apothecary.
DINE
Barbetta Restaurant
barbettarestaurant.com
321 W 46th St, New York, NY 10036, USA
Barbetta, having celebrated its 100th Anniversary in 2006, is the oldest restaurant in New York still owned by the family that founded it. Founded in 1906 by Sebastiano Maioglio, Barbetta is now owned by his daughter, Laura Maioglio. It's a true landmark among New York restaurants and serves the cuisine of Piemonte, Italy's northwestern-most region, bordering on Switzerland and France.

Bono Trattoria
bononyc.com
3658 Broadway, New York, NY 10031, USA
Brick oven pizza, leisurely meals, and a delicious selection of wines all served up in a casual, intimate dining experience in Hamilton Heights. Inspired by the authentic Italian cooking of Nonna Maria Antonietta, Bono co-owner, Graziella Lo Brutto is inspired by the simplicity of Sicilian food and the people who taught her how to serve it. Her family's passion for entertaining truly shines through and each dish is a symbol of love.
Eataly
eataly.com
4 World Trade Center, 101 Liberty Street
In November 2002, the Eataly concept was born from Oscar Farinetti's idea sketched on a piece of paper. The idea was simple: to gather under one roof high-quality food at sustainable and reasonable prices for all, celebrate Italian biodiversity, and create an informal, natural, and simple place to eat, shop, and learn. Today, the family business is an institution across America and sells fresh italian food to eat in, takeaway, as gifts, and online. Their venues also host a packed schedule of events throughout the year.
Bono Trattoria

Eataly
SIP
Mi Garba
mi-garba.com
129 4th Ave, New York, NY 10003, USA
Family owned and operated, Mi Garba is a true Tuscan wine bar offering a wide range of authentic drinks and dishes, prepared in Italy's most internationally loved region and air-shipped to the USA. Whether you pop in for a midday coffee break, a light lunch or their bustling happy hours, you'll enjoy their unique blend of Big Apple sophistication with the leisurely, enviable elements of the traditional Tuscan lifestyle.
Tiny's NYC
tinysnyc.com
135 West Broadway, New York, NY 10013
Tiny's and the 'Bar Upstairs' is a three-story townhouse located on W. Broadway in the heart of Tribeca. The building dates to 1810 and much of the original materials have been restored and overlaid with whimsical American finish detail. Siblings Matt, Jack and Ana Abramcyk conceived of a space where you can come to eat, drink, or just talk over a glass of wine. A true must visit.
Dante
dante-nyc.com
79-81 Macdougal Street, New York City 10012
Named 'World's Best Bar 2019', Dante has been a beacon for the community of Greenwich Village since it opened its doors in 1915. Since then it has been passed from family to family, and today is run by a small New York based Australian family. The family has stayed true to the Italian heritage of Dante whilst taking influences from the global ingredients that New Yorkers have learned to love. Visiting Dante means you'll be sharing a space frequented by people as diverse as Al Pacino, Alec Baldwin, Whoopi Goldberg, Jerry Seinfeld and Bob Dylan.
Shop
C.O. Bigelow Apothecary
bigelowchemists.com
414 6th Ave, New York, NY 10011, USA
Nestled in the tiny neighborhood of Greenwich Village in New York City, C.O. Bigelow is the oldest apothecary in America. For nearly two centuries the family-owned business has been a favourite neighborhood provider of unique and unusual personal care remedies. Each product tells its own intriguing story and is either crafted by the Apothecary itself or sourced from all over the world. Their promise? Formulas that have stood the test of time, just like their business.

Moscot
moscot.com
108 Orchard St, New York, NY 10002, USA
Moscot's optical roots were first planted in America by great great grandfather, Hyman Moscot, who arrived from Eastern Europe. Hyman began selling ready-made eyeglasses from a pushcart on Orchard Street in Manhattan's famed Lower East Side. In 1915, he opened the first store and today, the Moscot family has multiple stores across NY and ships its handcrafted sun/glasses worldwide.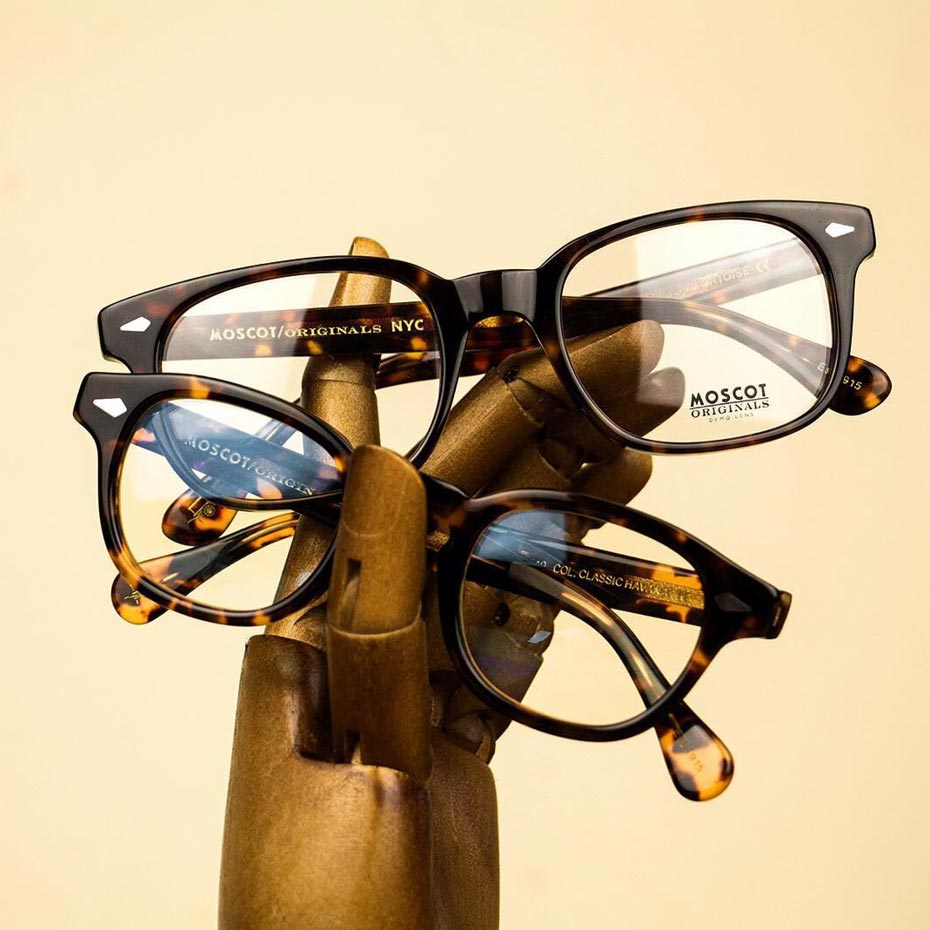 Stay
The Benjamin
thebenjamin.com
125 E 50th St, New York, NY 10022
Originally established in 1927 as the Beverly hotel, this Neo-Romanesque building is considered to be one of the most recognised works by famed architect Emery Roth. Fully redesigned in 2012, the Benjamin was recently awarded the honor of NYC Landmark status. For a true historical NYC stay, the Benjamin – owned by family-owned Denihan Hospitality Group – is a must.

The Whitby
firmdalehotels.com/hotels/new-york/the-whitby-hotel
18 W 56th Street New York, NY 10019
Luxury hotel, The Whitby, is Firmdale Hotel's second New York establishment. Owned by Tim and Kit Kemp it is situated in the heart of upper midtown Manhattan and is a celebration of contemporary art and design. Just two blocks from Central Park and on the doorstep of some of New York's leading restaurants, galleries and museums, including MoMA, this is the perfect choice for any trip to the big apple.
@firmdalehotels

@firmdalehotels
Experience
Posman Books
posmanbooks.com
75 Ninth Avenue, New York NY 10011
What better way to laze away a weekend than getting lost in a world of books? Luckily, family owned business of over 30 years, Posman Books has not one, but two New York stores to choose from. Their stores uphold the traditional independent's standards of an experienced and well read staff, an unbiased yet discerning selection and a commitment to the community it serves.

Real New York Tours
realnewyorktours.com
Husband and wife team Luke and Amber established Real New York Tours in 2007. Their goal was to go beyond the typical cookie-cutter tour experience and offer travelers a more local and immersive perspective of their city. They wanted to break down the negative stereotypes about New Yorkers being rude and make their customers feel as if they were with friends and family. Like a real New Yorker.