Just Between Us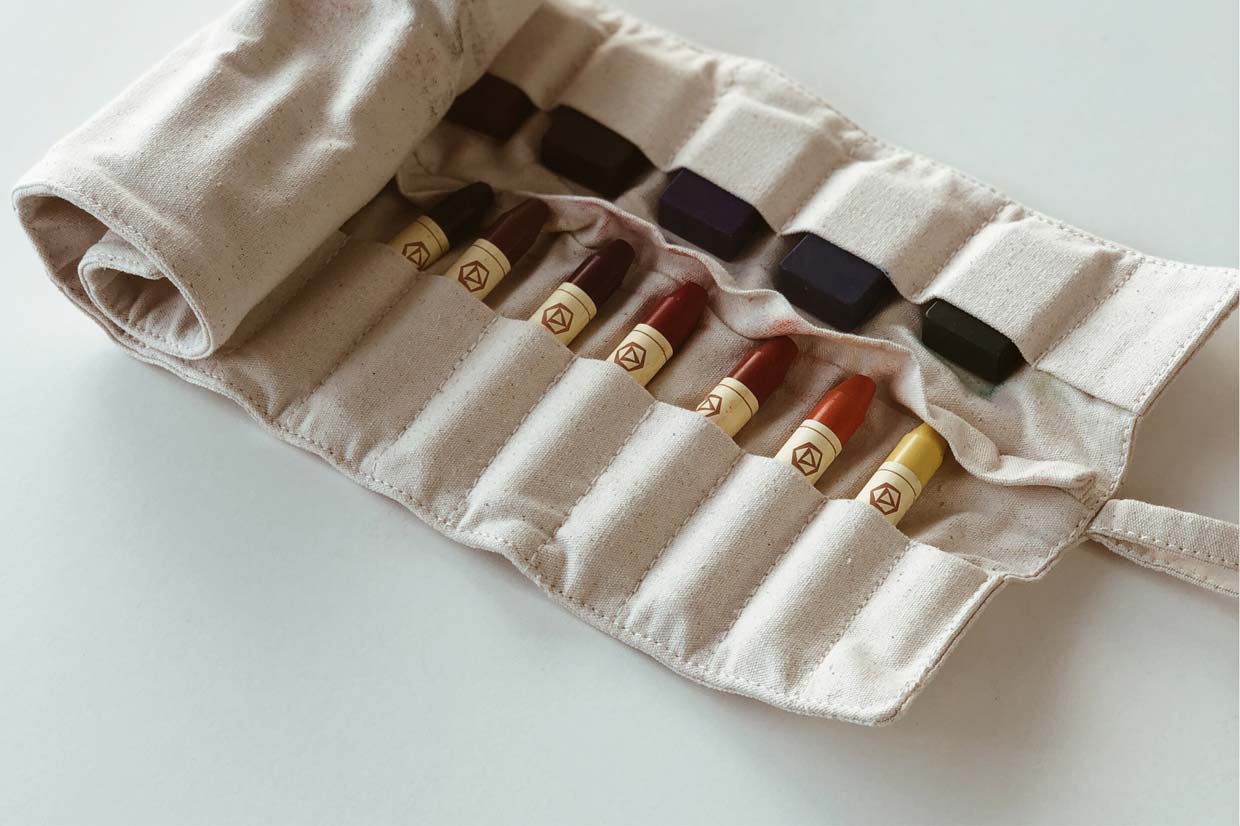 MEET THE LOVED-UP COUPLE PUTTING PASSION AND PLAY AT THE HEART OF THEIR DESIGNS
When we first discovered Leo Leo, we were captivated by their stylish designs, artistic influence and playful nature. However, it wasn't until we sat down with Josefine and Emil Ekstrand that we realised what a beautiful family business we had stumbled upon.
Leo Leo is a Copenhagen based childrenswear and accessory brand that creates luxurious and timeless pieces from organic materials, in colour palettes "with the aim to give a calm and harmonised effect". Basically, this family is the definition of cool!
This is one of those interviews that really struck a chord. Josefine and Emil's energy is contagious and we found ourselves grinning from ear to ear the more they spoke about their childhood romance, raising their two kids… and there was even time to hear about the Leo Leo brand itself.
We couldn't help leaving the interview feeling that anything was possible. We hope you feel the same.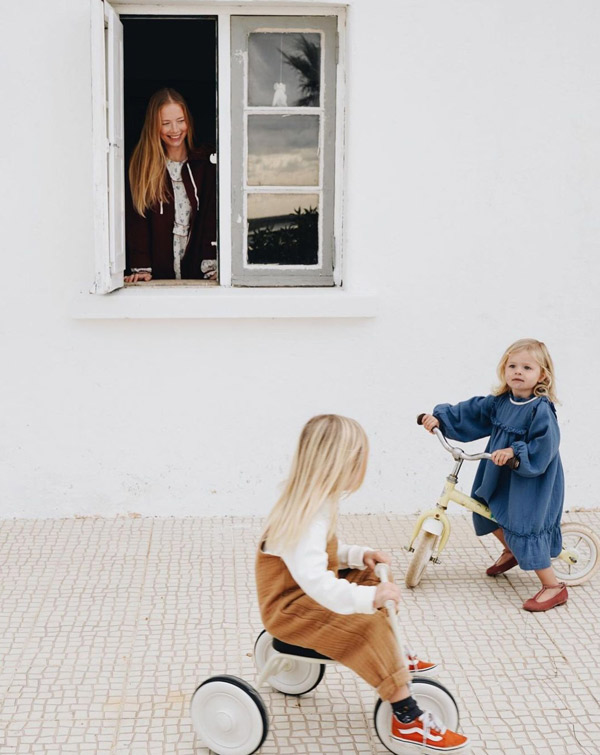 JOSEFINE EKSTRAND
We are a husband and wife team and the founders and designers of Leo Leo Copenhagen. We like to combine classical pieces with playful and conceptual design. We have fun while working, instead of working to have fun. We make soft toys, bedding, bags and clothes for babies and kids.
We are a family business, which means Emil and I are doing everything ourselves. Most of our designs have come to life during parenthood to our two children Leopold (5) and Hilma (3); everything from creating the first samples, graphic design, pictures, movies, website, B2B and customer service. Our business is three years old and we're selling our designs in over 14 countries.
We focus on good quality, organic materials and GOTS certified manufacturers. I'm a classical educated designer from The Danish Royal Academy of fine arts and I feel it's my duty to respect not only the history of design, but also our present. I take much pride in designing and nothing starts in production before it has come to life in my sketchbook.
We're a team! Simple as that really. Emil is the best team buddy I've ever had. He's my best friend, the father to my children and the only person I couldn't live in this world without!
In terms of our history… we go way back. Met each other in first grade at a Waldorf School and later again at our class 10 year reunion. We've never been apart since! He's definitely the more calm and steady type, whereas I'm the one freaking out if things get too predictable or structured. We balance each other out.
As a former professional football player – later auto-mechanic and Body SDS therapist with his own clinic – Emil has a massive knowledge around so many things, which can be quite handy when it comes to business. He likes to constantly educate himself within economy, politics and cultural currents. It never gets boring with Emil and he always knows something about anything. I admire him for that.
Emil is a yay-sayer and never afraid of trying something new – whether it's moving to a foreign country, starting a business or breaking out of ordinary thinking. He's taught me everything about brewing kombucha, meditating, breathing and letting go of bad habits. He's really trendy… haha.
In terms of being a workbuddy, I don't think they come better than him! His positive energy is amazing to be around and he doesn't mind my moody spells.
What do I find challenging in family business? Creating a business is nothing but challenges and every day is about solutions. It's never easy, but it's never boring either.
The work/life balance is a classic challenge. I realised yesterday that Emil and I haven't gone on a "real date" in five years. We've started playing tennis together and to us it's kinda like a date.
There was a moment in our working history when we realised this work/life balance had been completely lost, and that was really the turning point for us. We ran a little concept store in Copenhagen back in 2016. We had a kombucha microbrewery, a body therapy clinic and our brand Leo Leo, which I was running whilst very pregnant with our first child; I was exhausted.
One afternoon I found a note where Emil had written in big red capital letters; "stay on track"! That was a crucial moment to us; we knew we had gone too far. From that day on we worked to set ourselves free.
Emil and I have never planned much ahead and often take our next step based on what feels right, then and there. One constant is to be proud of our journey and to show our children that you can do it, no matter where you start. You have the chance to create the life you want to live and to be the person you want to be. Lots of love, Leo Leo and support, that's the future.
If I was to give one piece of advice… ironically my best advice is to not take any!
You're the only one who knows what you dream for you and your family. So the best thing you can do is to start being serious about yourself. It's so easy to fail in something, so you might as well take the risk of failing in something you love.
We have decided to always start with a "yes" to each other. The word yes is an absolute game changer and has the power to evolve and invite you to new places. Saying "yes" is key to getting things moving and to allow yourself to take action on the dreams you have. It's so easy to hold back, saying "no" to yourself, and in turn neglecting one's own dreams and desires. Don't let people get you down with their worries and 'what ifs'.
EMIL EKSTRAND
Leo Leo is a classic family business with both mum and dad involved full time. For us, it's important to do as much as possible to get our own personal touch on the brand – everything from the first idea, drawings, styling, making a new sample or taking the photo. We started out with the white lion collection that includes rattles, musical mobiles and a cuddle. Now we are expanding the product range with bedding, soft toys and home furnishings.
Myself and Josefine are a husband and wife team. We have two kids – Leopold and Hilma – and have been together for 6 years, having known each other since 1991 when we started grade one together.
Josefine is head of design and social media, where I head up the finance and strategic planning… and of course we keep changing titles. Sometimes I become the designer and Josefine the cool negotiator. It works very well for us 🙂
The only reason that we can be in this industry is because of Josefine's talents. One of her talents is to be very stubborn when it comes to executing a product or reaching a deadline, but no matter what, we have each other's back. We know that if one of us is a little down, the other one will help and understand that this too will pass. Most importantly we are best friends and that's the key to why I love working with Josefine.
I think the most challenging part of our journey is that we never get any help or get offered help – we rarely ask for it either. So no matter how tired or exhausted we end up, we still need to continue our business. I know this is quite normal for families with small children, but starting a business can be really tough, especially without anyone to take the load off your shoulders from time to time. 
Earlier this year our kids started in kindergarten and that has been a big game changer. Now we have time to work on Leo Leo and also more quality time as a family. Since we started Leo Leo (3 years ago) we have been full time parenting whilst working on the business. It was time for a change! Since Covid-19, our production has slowed down. As i'm speaking with you, I've just had an email come through saying we are delayed again. It's hard!
For me, if there was an 'aha' moment it would actually have been in the beginning of the relationship, when I noticed that it was so much fun to create things with Josefine. It reminded me of when we were classmates. Just to hang out with her and see her smile and laugh makes my whole day. We had been doing many different things together before Leo Leo; we would mix our own tea blends, oils for the skin, and ended up creating a small concept store in Copenhagen selling our own Kombucha! In the back room I was doing my body therapy and Josefine was sewing clothing and soft toys in the basement; that later became Leo Leo.
Our short term goal is to continue to expand our brand with new designs, potentially moving in a new direction. Watch this space!
My advice to other family businesses? I don't think I have any good advice, but I will tell you what I did and how we as a family are working…
Ultimately it was about finding a way to construct a family life that would back up our dreams and goals without neglecting the children or the marriage in the process. It's not something I knew anything about from the beginning and it's been a process of learning. Sometimes you make good decisions, sometimes you don't. But ultimately we're together as a little unit. We're a family business where each of us has a place and will be seen and taken care of. Nobody stands alone.

Learn more about Leo Leo.