Just Between Us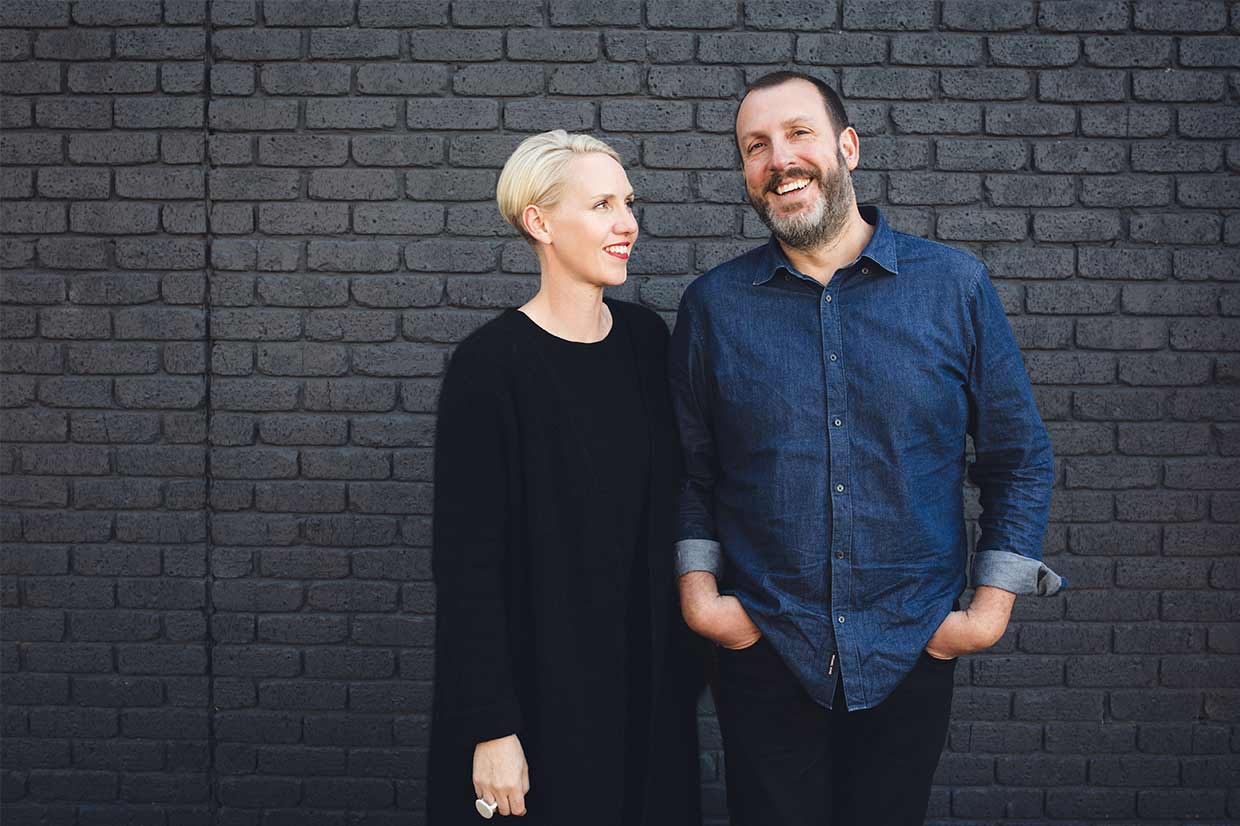 SLOW FASHION IN A FAST-PACED INDUSTRY – LEARN HOW THIS COUPLE COMBINES SUSTAINABILITY WITH STYLE
Slow fashion is fast becoming the way to shop. There's a demand for people to know where their clothing is coming from, and thankfully we're moving away from a culture of buying clothes cheaply to wear a handful of times.
Now some businesses might say they're doing their bit to help the planet but are they really? We had a chance to chat with Marnie Goding and Adam Koniaras – founders of ELK, partners and parents – to learn about their dedication to transparency. "We offer an inside view into what makes us tick, detail our goals, highlight our wins and lay out the challenges ahead. There is so much opportunity for positive change and that's what we are focused on", Adam and Marnie share. There's no greenwashing here.
As for the designs? They source materials from independent manufacturers all over the world, and tap into traditional skills and techniques that translate to the high-quality nature of the finished pieces. ELK releases a bi-annual collection with the design ethos of "simplicity and sustainability meets innovation" at its core. Their enduring commitment to ethical values is one of the prime reasons their customers return time and time again. "The ELK customer has always embraced slow fashion, and shops for investment pieces that build on their existing wardrobe."

MARNIE GODING
We are a Melbourne based fashion label making apparel and accessories with a key focus on ethical and sustainable production. We have a set of core principles steering us around environment, community and ethics and use the UN SDGs (United Nations Sustainable Development Goals) to frame our decisions and guide our operations. We are wholesalers, retailers, and online traders with stockists all over the world.
Adam and I have been together for around 26 years (ages!) and are lucky to have worked beside each other for 18 of those years. We divide our time as business partners and parents to Willow who is 10 and Ollie who is 7. I'm the Creative Director working with our design, marketing, and PR teams and alongside our Head of Ethics and Sustainability. My role influences how the brand is positioned and perceived in the market and I am passionate about driving positive change through transparency, and by continually improving what we make and how we make it. Adam – as our CEO – is more of the engine hub looking after operational, financial and logistical needs. He's a creative person at the core and I have a good understanding of operations, so whilst we balance each other out, we also innately understand each other's responsibilities. It's a very symbiotic business relationship.
I'm so grateful that we have each other's backs and have total trust in the other's decisions. We've worked together for so long that we can trust one another to make the right decision. Without this deep-rooted faith we would end up double handling so many things, which we just don't have time for.
A positive change for us was to not talk shop (too much anyway) at home, so a lack of time together is our greatest challenge. In a smaller business it's easy to keep your finger on the pulse and be across everything. In a business of our size and as we continue to grow, we are pulled in so many different directions. We struggle to mark out time in the diary for planning and catching up… we need to get better at this!
When you start a business, you work from the ground up and along the way there are many stretch points that prove you can't do everything yourself. We've had many of these moments (maybe more ahhh than ah-ha) and have done a lot of work to strengthen our management team and recruit senior people to help us run and grow the business. It has meant we continue to shape our roles and working relationship to be more analytical and strategic, rather than being too embedded in the day-to-day. We've gone from being the doers to being the drivers.
As we grow, we're working towards becoming a B Corp business. We have a new office renovation coming up which will finally give us the space our team needs. We're expanding our retail footprint and growing our online business… a lot!
My advice to family business owners would be this: for a harmonious working relationship, you can't expect to manage each other – so work out one another's strengths and let the other person be autonomous in their role.
ADAM KONIARAS
I'm a fine jeweller by trade. I used to have a business hand making master models and bespoke jewellery for private clientele and worked alone for 10+ years before Marnie joined me. Together, we worked to frame a new business model that capitalised on the already loyal clients that I had. We still maintained the high-end side of the business whilst introducing a more price-pointed product that encouraged customers to come back more frequently. We registered ELK in 2004 and our new business expanded into other products as we met new makers, learnt new design techniques and challenged ourselves; this meant my original business had to close as the demand for ELK grew at an extraordinary pace. The brand now offers head-to-toe outfitting – mostly for women with apparel, accessories and leather goods. Since inception, we've always had a focus on ethical trade and production and in the last 7 years, we've been working hard to reduce our environmental impact.
My working relationship with Marine goes something like this… we share the same values and objectives but are quite different in the way we work. Marnie is considered and thoughtful, I shoot from the hip more and so we balance each other well. Marnie can be the moderator for my sometimes over enthusiastic approach. Marnie covers all things branding and product whereas I focus on operations and finance. Together we drive the strategic direction and work alongside our management team to keep the business strong, on track and well positioned to cope with anything that comes our way.
Marnie has total confidence in anything that I do and is always respectful. She is there for me 100% with the time and emotional support that I need to facilitate getting the job done. I love spending time away motorbike riding, four-wheel driving, surfing etc and she always backs me up to have this time away.
Like most working couples with kids, time management is the big issue as we try to balance work, kids and a social life. Finding time away to plan, analyse and strategise has been a struggle for us – but something we're trying to get better at!
The research and work that Marnie and our team have done over the years in building transparency, supply chain management and environmental impact has been extensive. Whilst I understood it, the scale of work done and the tasks ahead of us to reach our goals all came together in our first Transparency Report. This was a real illustration for me of what Marnie was working on and has helped to shape the direction of the business in every way. The footprint we've made as a business goes beyond the product right through the operation and affects all business functions.
What does the future hold? We want to progress and be leaders in business, and be a real-life example of a business in transformation as we transition to be an ethical and sustainable business. B Corp certification is our next major mission.
If I was to give one piece of advice, I would say that family business is not for everyone, it's important to make sure you're both aligned and committed with the same goals.

Learn more about ELK.