Lifestyle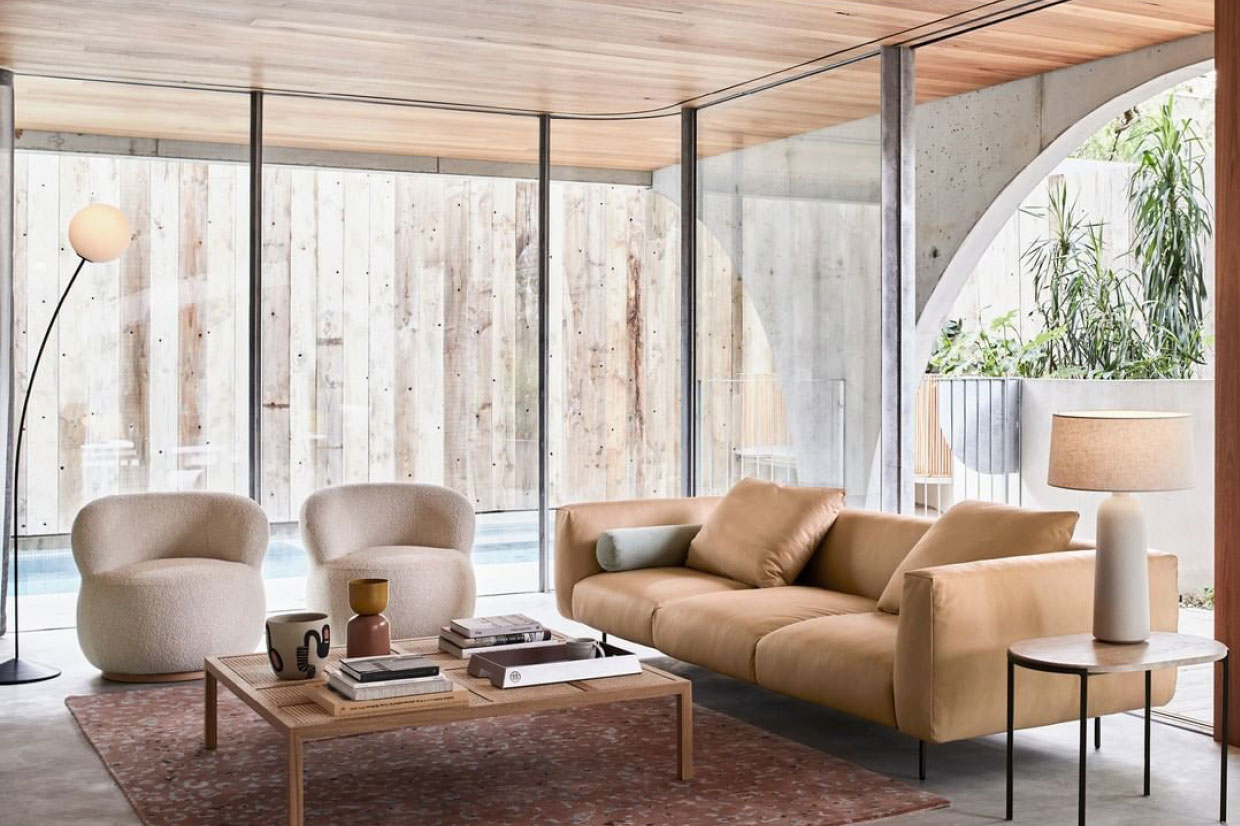 THE LUXURIOUS LIFE OF LUSCIOUS INTERIORS
You know that feeling you get when you walk into a restaurant, cafe, store or hotel and it's just welcoming, warm and inviting? It almost feels like a home away from home. It's comfortable and friendly, or it's inspiring and exciting. As much as it feels effortless, it doesn't just happen. It takes a skilled team of people to create a certain atmosphere. And it's a real art to be able to build upon this more, to create a recognisable one – or a 'feeling' that customers and patrons start to associate with a brand.
You could say, it's like 'atmospheric' or 'in-situ branding'… intrigued by this and hoping to understand more, we've found and profiled a few family-run businesses who specialise in creating atmosphere, be it for their own establishments – or for others.
MERIVALE
Merivale is one of the most recognisable names when it comes to function venues, if it doesn't ring a bell for you – then you've probably been to one of their venues without realising it. With over 72 to choose from that span across all kinds of eateries, restaurants, clubs, bars and pubs; the family built brand truly dominates the Australian hospitality industry. From classic rooftop or beachside venues like Coogee Pavilion, The Newport and The Beresford, to high-class party spots such as Ivy or Marco Polo (and everything in between) – the Merivale aesthetic manages to make an appearance across all establishments.
Owned and run by the Hemmes family for over 60 years, the brand actually began as an iconic fashion house. So it's no wonder that, when it comes to style, the Hemmes family have this deeply rooted into the foundations of their business. A possible tribute to their fashionable beginnings is their exclusive (hireable) venue – House of Merivale. As described by the family themselves, the space is "a mix of quirk and sophistication in every room", adorned with "chandeliers, greenery and intriguing antiques. Imagine your eccentric old aunt bequeathed you her mansion – that's the feeling you'll have when you enter House of Merivale."
This unique space encapsulates so much of what Merivale is about; the unexpected and the whimsical; with new discoveries around every corner. So, next time you find yourself at a Merivale venue – see if you can pick the subtleties in decor that make it uniquely Merivale.
@merivale

@merivale
CASTLE AND THINGS
Fun, playful, colourful and whimsy. These are words that come to mind when scrolling through Rachel Castle's Instagram feed and perusing the Castle and Things website. Carefully crafting her sense of style over a 20 year career in the homeware industry in both Australia and the UK, Rachel founded the company in 2008 and describes it as a brand that has "become the haven for lovers of all things sunny". And when you get to know her styling, you certainly associate that 'sunny' feeling with all of Rachel's creations and findings.
As a true labour of love, Rachel hand paints, screen prints and embroiders all of Castle and Things artwork pieces herself (with a little help from her youngest daughter Cleo). So, when you purchase one – it's not just decorative, it's a stylistic artwork distinctive to the brand. From bed linen to cushions, throws, clothing and towels – everything is so obviously Rachel Castle. It's witty, fun, bright and vibrant. They work as feature pieces to add a splash of colour to a neutral room, or you could completely immerse yourself in the quirky world of the Sydney-based designer and stylist, with a cacophony of colour covering every inch of space available! It may come as no surprise that this is how the house of the lady herself is described by husband Daz; with their Northbridge home being a beautiful reflection of the brand's essence.
@castleandthings

@castleandthings
JARDAN FURNITURE
They built their name on sofas, beds, tables and chairs – though now the brand has expanded beyond just this. Today, they're all about a total living approach, incorporating lighting, textiles and homewares. This Australian family-owned business has been operating since 1987 and they draw inspiration from the relaxed, Australian way of life; expressing contemporary ideas through quality materials. Throughout the process of design and production, they strive to reduce their environmental footprint and make their products sustainable by using quality local materials, reducing waste, and making furniture that truly lasts.
As facilitators of style, Jardan pride themselves on their collaborative approach to working with a vast array of clientele. Developing ideas alongside them to achieve results that not only meet the brief but surpass expectation.
You'll find some of their pieces at iconic business spaces across the globe, including (but not limited to); Facebook (Sydney office), Google (Singapore office), Spotify (Sydney office), ANZ (Melbourne office) and Virgin Australia (Perth office) – just to name a few.
LUSCIOUS LEGACIES…
From huge family organisations, with iconic venues scattered across the country – to delicately hand painted pieces that add a unique touch to any room or home; it's amazing to see family businesses thriving in their respective industries. So next time you're sipping away on your cocktail at Coogee Pavillion, searching for the perfect homeware gift (which you'll obviously find at Castle and Things) or admiring a piece of Jardan furniture – you can appreciate them on a whole new level. Knowing that they are more than just venues, a piece of furniture or decor. They're little pieces of the legacies created by the families behind the brands.
@jardan

@jardan