The Inside Story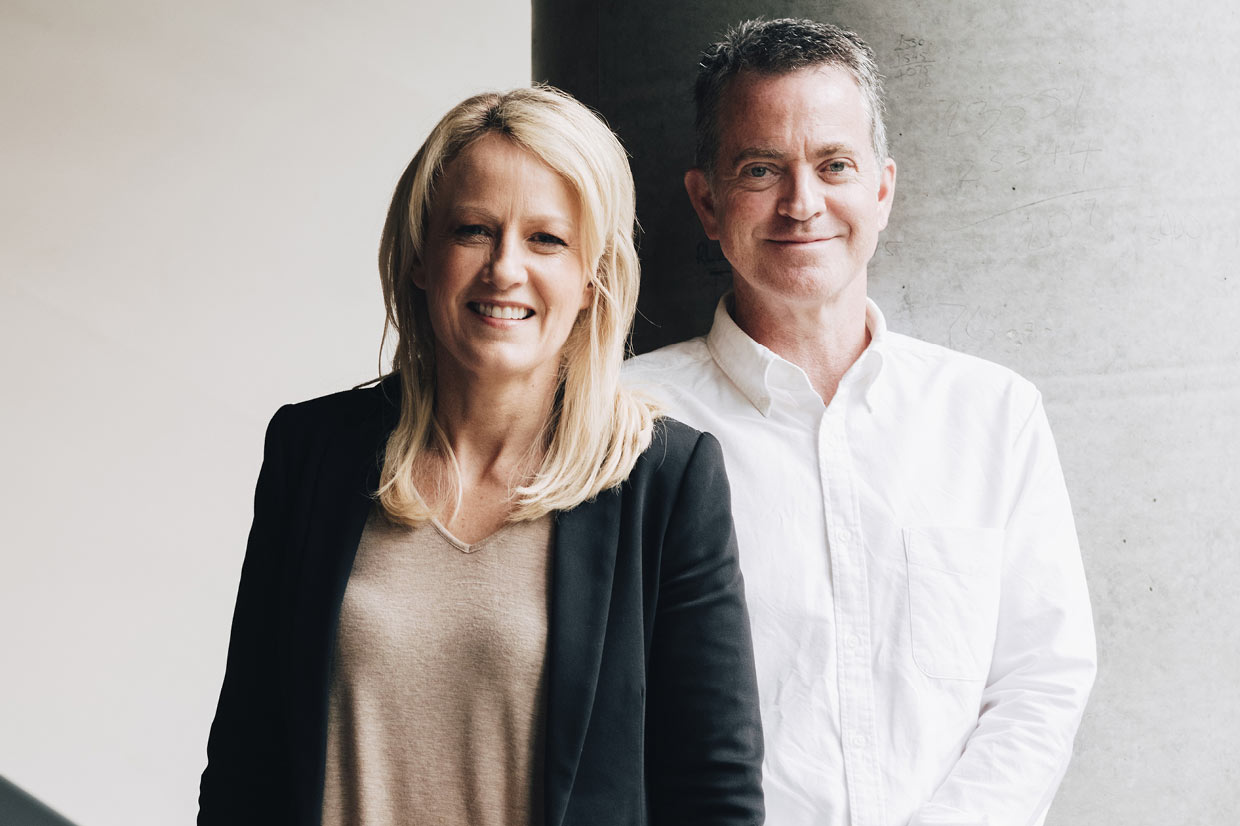 WHOLE KIDS DISRUPT THE FOOD INDUSTRY WITH A REVOLUTIONARY NEW CONCEPT
"We take on monsters. Monsters are those who misadvertise the use of food additives. And behind that we get this rallying of customers saying 'Keep going. This is what we want for our children,'" says James.
WHERE IT ALL BEGAN
Monica Meldrum had just returned to Australia having led a team of Australians on an aid program in Indonesia. For three months she had been immersed in a village, living with a family of 10 children with no toilet, no bathroom and just a slab for flooring. Her task was to come up with a programme that would improve the lives of the community while keeping with the culture. The drains in the village were about a metre wide and a metre deep and the kids would play in them, some as young as two years old, and when the rains came children would be washed downstream. Of all the things Monica and her team could do, they realised they needed to create a safe place for the kids to play and for the community to gather. So they set about sourcing tyres from clapped out cars and wood from the local plantation and built the most amazing playground.
"That whole experience made me question everything. The thing about it was that the kids had nothing yet they were just so happy. There was so much joy, they were in touch with nature," shares Monica.
Back in Australia, Monica became conscious of the fact that there was a lot of press around the incidence of obesity, diabetes and children's health. This was a different experience to what she had seen in Indonesia. She started looking into the issues and could see that big food companies were over processing foods and employing child psychologists to figure out ways to mislead parents and hook kids. There was an obvious link between processed food and health.
A plan was formulating in her head. She spoke with an organic food grower and with a dietitian at the Royal Children's Hospital. And after hashing things out with her partner James, they both felt strongly that they could create a business that not only impacted kids health in a positive way but would generate proceeds to fund health and environmental projects to create a better world for kids.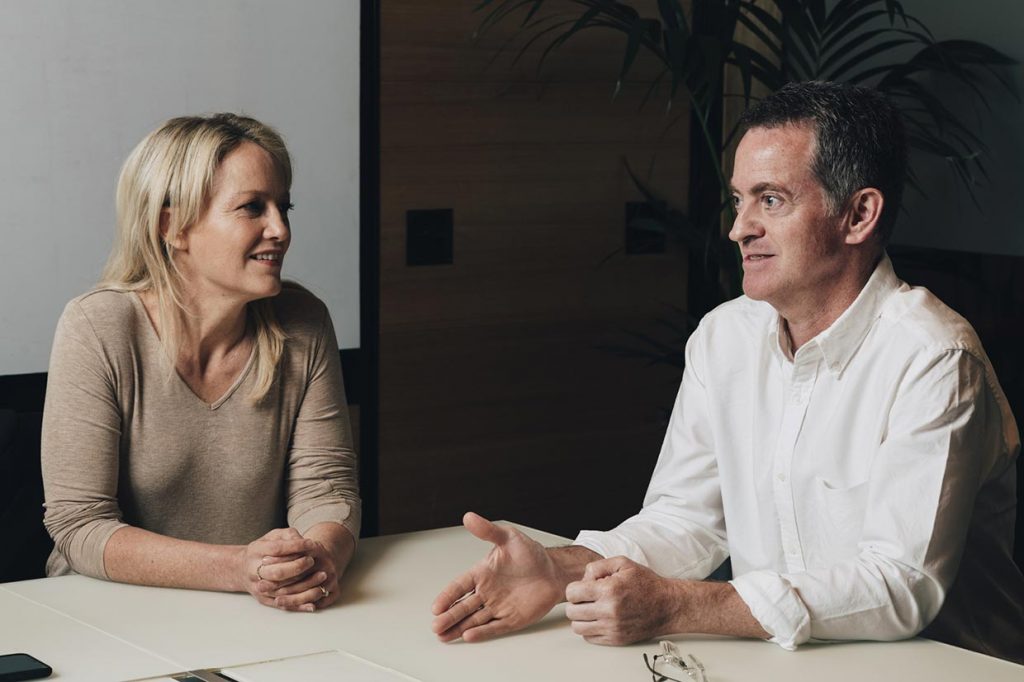 WHOLE KIDS GETS OFF THE GROUND
When Monica came to James with her ideas, James had been feeling disillusioned with the way that big business operated. He had been working in corporate for over 15 years, but when he did his MBA he studied in America and was struck by what he was actually learning about business. It was totally contrary to everything he knew. He came across companies like Patagonia and Ben & Jerry's where they were putting customers first and not shareholders. He was excited by what he was seeing.
"I think we have always had this sense of adventure and we want to push the boundaries and make a difference. When we started Whole Kids everyone said we were crazy but we thought that if we don't do this then we will never know what could have been," says Monica.
So in 2003 Monica and James spent a great deal of time on product development, talking to nutritionists, dietitians and parents.
James explains, "We thought, this is mad. Why isn't anyone addressing kid's health issues? There was so much talk about obesity and diabetes yet on the other side the food industry was perpetuating the problem. And no one could see the link."
Monica and James literally jumped right into launching the brand. An opportunity opened up to take a stand at the Australian Organic Tradeshow in Sydney. They didn't have any products finalised, all they had were mockups of products stuck to their stand.
"We were the first ones to launch anything like this. People were coming up and we were like "don't touch the mockups," laughs Monica.
But off the back of that show, 60-80 stores wanted the products and had placed orders.
"We still haven't cashed the cheque from the first order. It was for $70 from a South Melbourne market," shares James.
All of a sudden orders had to be fulfilled and it had to happen quickly.
"We just worked through it. We worked with our growers, our processors and started getting things rolling. We hadn't come from the food industry and we were naive. Because of this we asked a lot of questions that hadn't been asked before. 'Well why can't you pack it in this little box?' or 'why can't you put an organic juice in that?' We thought if it is going to be on the shelves of the supermarkets then what kind of packaging does it need to be? We were thinking five years in advance. Funnily enough, the hardest box we had to put together was a box of sultanas. There were so many steps involved," explains Monica.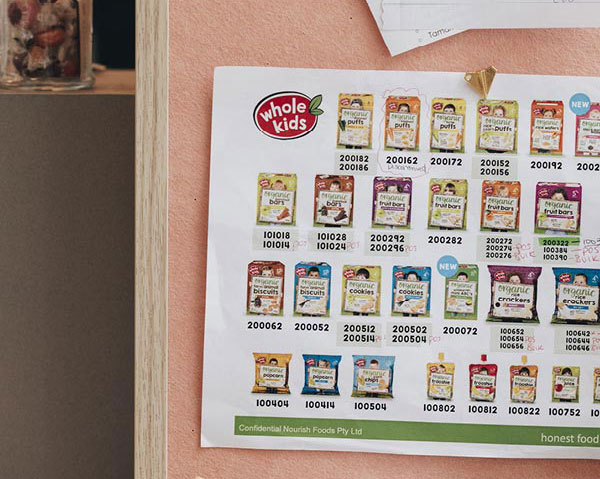 THE SULTANA STORY
When Monica and James launched their sultana products they were one of the first kids snacks completely additive free. This was at a time when sulphites were being linked to negative effects on kids with asthma. They were working with growers up in Mildura to create a clean product without nitrates or sulphur dioxide or any kind of preservatives, which took a bit of time to figure out.
"As we were working closely with growers we started to get a lot of support from stores and a great deal of PR. We had a taste of the power of the food industry very early on. An article was printed where I was quoted as sighting a link between sulphur dioxide and asthmatic reactions in children and the morning it was printed we got a call from the CEO of one of Australia's largest fruit growers. He was threatening legal action and wanted to take it to the ACCC and close our business down," exclaims James.
At first James and Monica were petrified, but when they had some space to manage their fear they realised that if this CEO could see down the phone line to their little rented house with boxes all around them he probably wouldn't have made the call. There was a perception that they were bigger than they were, so that was a good thing. And if large corporations were feeling threatened by their tiny voice, that was also a good thing. They decided not to back down and create a business that lived by transparency and honesty. They were out to make change in an industry that so desperately needed it.
"How did you make this go away?" I ask.
"It was a quite confronting threat, as here was this CEO talking about the ACCC and trade practices XYZ and I thought, well I should probably have a look at that! I just said to him 'obviously you are threatened by what I said in the article yet it is factually based, so why are you so aggressive about this and so antagonistic?' He didn't have much to respond to that," explains James. I basically said "we are going to continue on with our business, and if you have a problem with that then you need to deal with it."
I realise behind the polite, mild mannered James Meldrum, there is a tough guy!
The whole experience actually ignited Monica and James to investigate further. They called back the journalist that wrote the story in the Sydney Morning Herald and said 'We've just had a call from this CEO and he threatened us, and he was particularly aggressive about the use of sulphur dioxide." The journalist responded to say if they could find something about how this company uses sulphur dioxide in Australian fruits then he would create a second article.
Monica laughs, "So we got investigating and it wasn't very hard, it was on their website."
The journalist wrote a clarification piece communicating the fact that Whole Kids do not use sulphur dioxide. It backfired on this CEO, and helped further position Whole Kids as game changers in an archaic unhealthy system.
"We take on monsters. Monsters are those who misadvertise the use of food additives. And behind that we get this rallying of customers saying 'Keep going. This is what we want for our children,'" says James.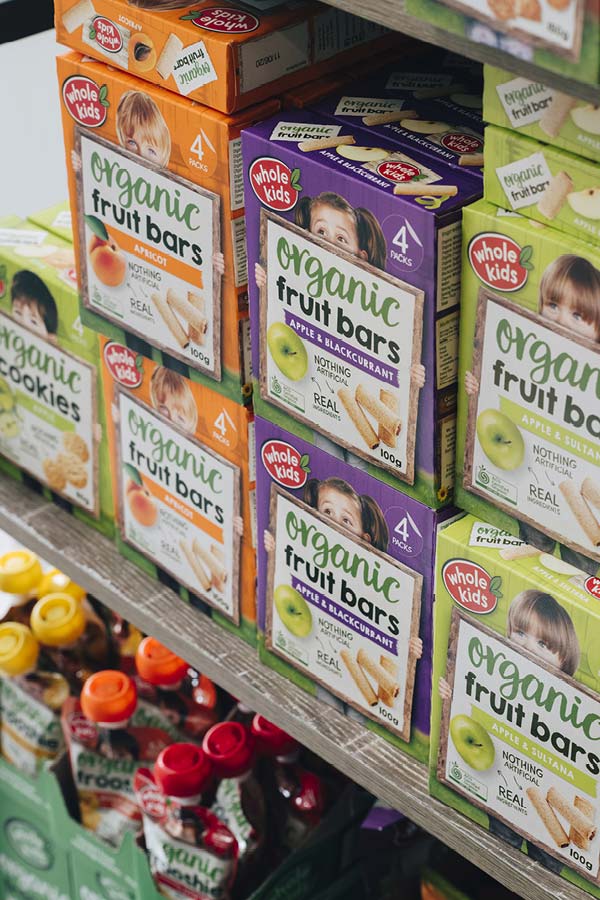 THE HUSBAND AND WIFE TEAM
Partners in life and partners in business. It is quite a commitment. I am fascinated to understand how Monica and James make this work.
"We have been married for 20 years, so that's a good sign, and we have been in business for 15. We are very complementary in terms of our skills. What I would naturally gravitate to, perhaps Monica doesn't want to do and vica versa. Monica is fantastic at product development, resourcing, the operational side of things, whereas I like the strategy, the marketing and the financial and legal side of things. I am analytical whereas Monica has no interest in that side of the business." shares James.
For nearly two years it was just Monica and James running everything. They had to divide up the tasks. Monica believes their experience in corporate helped cement their real work ethic and their understanding that you report to the business. Plus they had a mutual respect for what each other was doing. But it was testing at times. They recall their first employee saying "you guys just sort yourself out".
"We would talk about work all the time. I remember our daughter said to us one day 'why are you talking about work again?' And I recall another time when we went out to dinner and we said to each other we were not going to talk about work, and we just sat there looking at each other with nothing to say. We thought this is really bad, we need to make some changes.
Monica and James needed to structure things in a highly professional way to create those barriers between home life and work life. Even when they were a really small team they would have management meetings and would sit and work through things so they could completely switch off when they got home.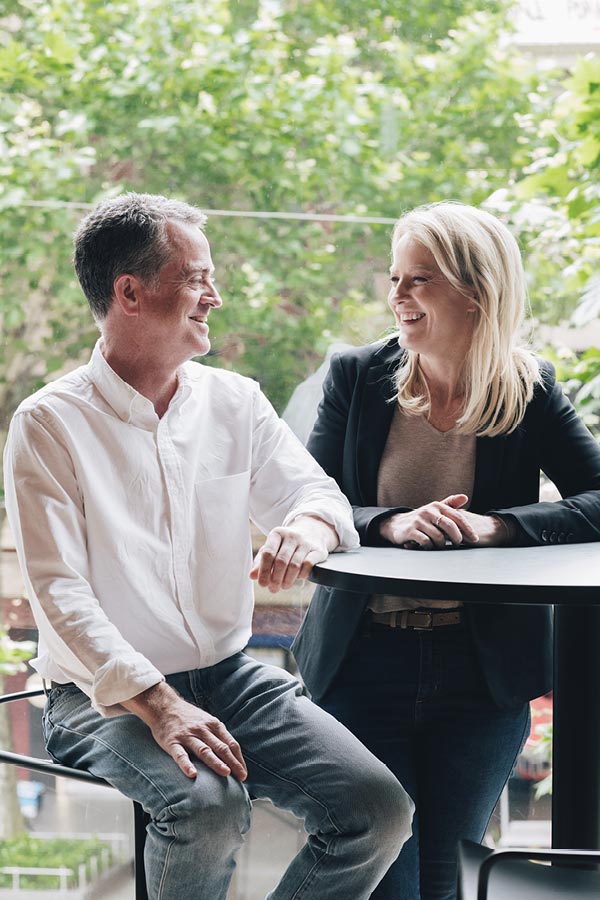 FLYING HIGH
A game changing moment for Whole Kids was when Monica received a call from Qantas requesting a meeting. The head of catering was having complaints from customers whose kids were climbing the walls midway through flights from all the sugar levels in the food. They wanted Whole Kids to pitch for the business. The only problem was that they were up against one of the biggest confectionery companies in the world – Cadbury, Schweppes. Monica got on a plane ready to pitch for her life.
"I went to Officeworks and quickly colour photocopied 16 sets of the presentation, boxed the samples up and surely enough there were 16 executives in the room. I walked in and they said you've got 45 minutes!" shares Monica.
Monica was really naive walking into that meeting. She talked about Indonesia, she talked about the vision for the business. She thought it was going really well but then the head of catering said 'you realise you are up against one of the biggest brands in the world and they treat this purely as a marketing exercise. They deliver a product at cost, what are you willing to offer?'
"I remember I was kind of tap dancing but I read up on their philosophy and talked a lot about the opportunity for parents and kids travelling and what it would mean for them to find a healthy option onboard. I also said that we could never compete on price, but in taking us onboard they would be supporting a small business, and they would be true to their philosophy that was all about championing the spirit of Australia. I don't know where I pulled that one from!" says Monica.
Monica left the meeting, called James and said there was no way they were winning the business.
Two weeks later Monica received a call from the head of catering expressing how impressed they were with the Whole Kids business. Not only were they offering to put the Whole Kids products onboard on all domestic and international first class, business and economy flights, but they were also going to give Monica and James a TV slot with Deborah Hutton, a business radio interview with Peter Switzer and a feature in Q Mag. Qantas wanted to support them all the way.
That year, Monica was named within the top 100 women of influence, and she invited Peter Calusi, head of catering at Qantas to join her for the celebratory dinner as a thank you for all his support. His response was, "I'm going to graciously decline, but I would like to suggest you bring my daughters as I think they would be so inspired by you and by this evening."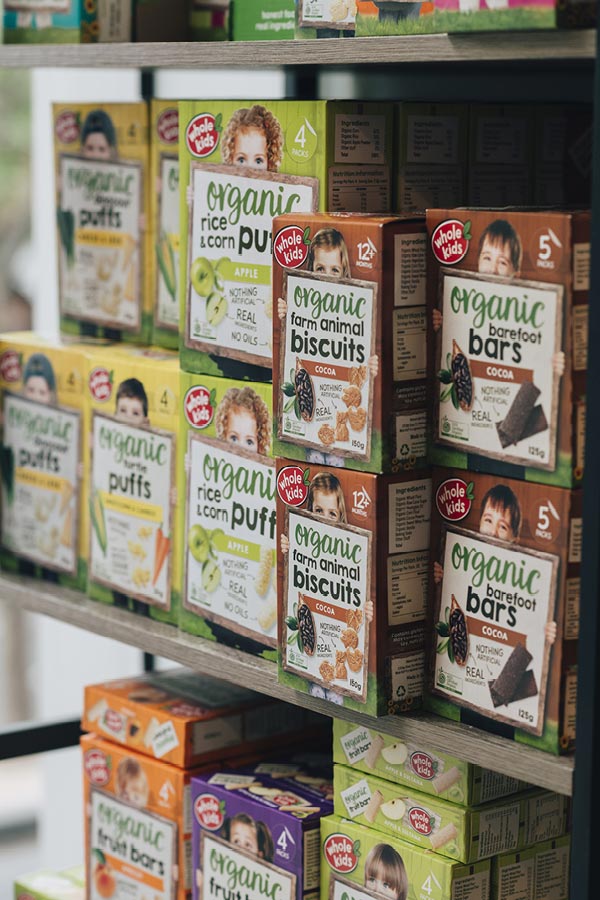 THE PLAN FOR THE FUTURE
Monica and James realised very early on that as a business they believe their role is to create change through educating children. If they can help broaden children's perspectives then they can become agents for change and that translates to positive effects on people's lives in the future. They built a social and environmental purpose into the core ethos of the company. They were the second or third business in Australia to become certified as a B Corps business – a business that is designed to balance profit and purpose.
"We believe that we can no longer disconnect ourselves from our families and our life and our purpose and profit. It's all intertwined and it needs to be for the common good of people and the planet," shares Monica.
Monica and James collectively decide what is the next social or environmental project they want to support. They commit wholeheartedly to each project, complete them and then look for the next. Recently they were ambassadors for the Kids Off Nauru campaign which was an incredible example of businesses come together. Their next big focus is climate change.
"We have something big that launches very soon where we have children and students driving the change, and sending the message out. Millions have taken to the streets demanding action on climate change and one of the things that struck us is that there were kids like ours who were marching in it, then you've got the parents alongside and the voice of the parents needs to be heard as well. We are doing something to support the voice of the parents in Australia to support the kids doing the climate strike, but also to let our political leaders on all levels of government know it's not just the kids in school, it's actually families actively behind these issues and with families comes votes.
Our dream is to continue doing what we are doing… providing healthier food for kids but also making sure we are actively creating a better world for the future," smiles Monica.


MONICA AND JAMES' PIECE OF ADVICE ON BUILDING A BRAND


In one sense, our brand doesn't exist. It lives in the minds of our customers. Their perception of what our brand stands for is shaped by what they see and read about us, and their experience with our products, our stockists, our team members, and everything Whole Kids does. Brand authenticity can only be achieved when all those interactions are consistently, honestly and transparently delivered to support our brand values. People can quickly sniff out pretenders. And while you do need to be a profitable brand, think about why your brand needs to be present in this world: what kind of meaningful difference (small or large) will your business make to create a better world today compared to yesterday? For Whole Kids, our purpose is our DNA and it influences everything our brand does.


MONICA AND JAMES' BOOKLIST TO INSPIRE