Lifestyle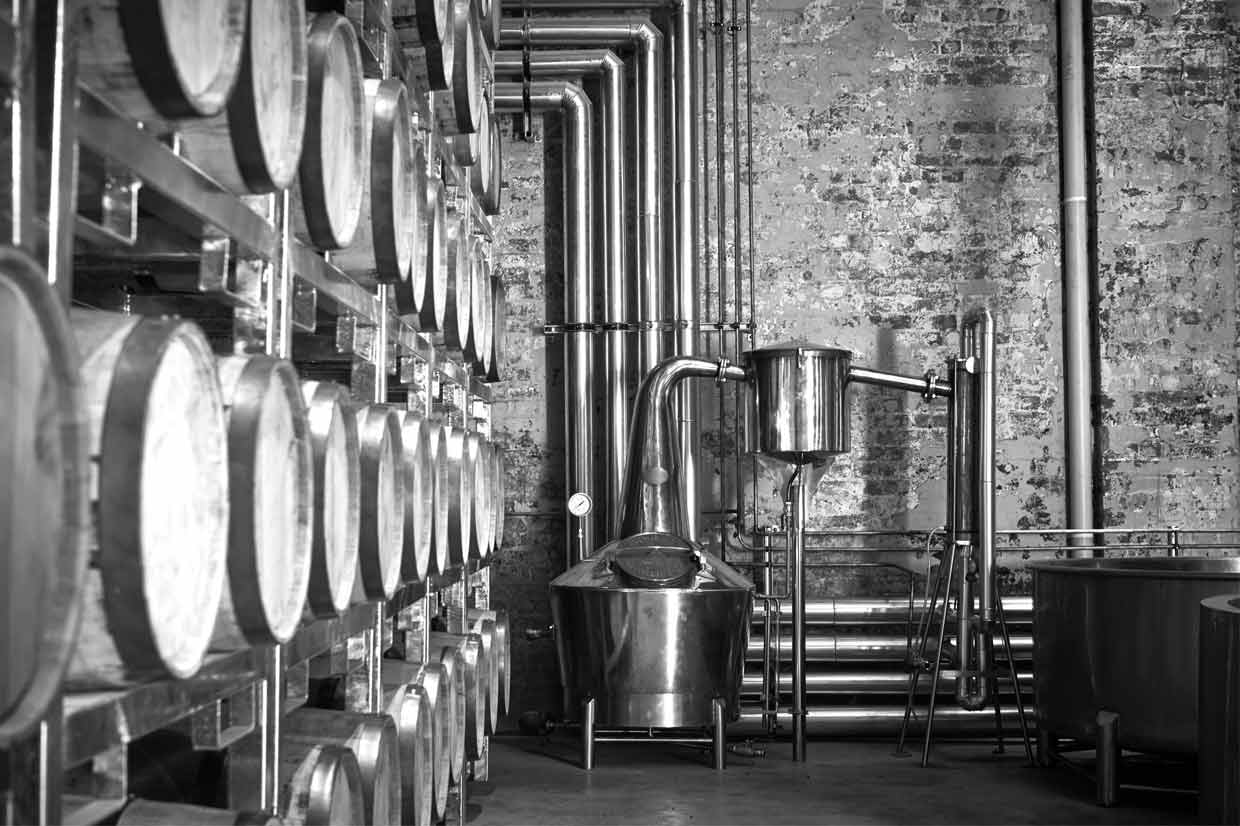 THE NEW AGE OF DISTILLING
In days gone by, distilling was an art synonymous with rural landscapes, bearded countrymen and that cosy spot next to the fire to enjoy an aged whiskey. While your grandad might still own the best spirit cabinet for a Christmas tipple, this month we heard from the next generation of distillers, firmly making their mark amongst the big dogs.
We were intrigued to learn what drew them to the industry, how family plays into their business, and how they're mixing things up both in business and in the bottle – as well as how to shake up the perfect cocktail.


ARCHIE ROSE DISTILLING CO
This isn't the first time Brands Of Kin has done an Archie Rose shoutout. Last year we had a chance to chat with Will Edwards, founder, who at the age of just 24 launched head first into the industry.
Will grew up in a creative family, which rubbed off as an innate desire to make. From sourdough bread to beer, salami to cheese, he "really liked the idea of creating something tangible." And that's what he did; opening Archie Rose Distilling Co in 2014.
Will's secret to success? His transparency around the process itself. Will explains, "Traditionally distilleries have been quite closed, how they do things and processes are all very secretive. We on the other hand share how we produce and why we produce things the way we do. And we even share our mistakes. We release our trials to the public. People get to see beyond the surface". Clearly this was one formula for success. Fast forward to today and Archie Rose is Australia's most award winning distillery. Based in Rosebery, Sydney, they run tours, host events and have an awesome cocktail bar – one we highly recommend to impress a date!
@archierosesyd

@archierosesyd

@archierosesyd
REED & CO DISTILLERY
Another Australian business is Reed & Co Distillery. Run by ex-chefs Hamish Nugent and Rachel Reed, this pair know a thing or two about flavour and believe this is the key to their success. In 2017 they started the distillery as a "chef experimentation". Seeking inspiration from the beautiful North Eastern Victoria landscape, the pair explain, "we had an interest in using the distillation process to create natural oil flavours for our food, but you always need a great drink to accompany good food (or just a good day)… which in turn led us to gin." And we're so pleased it did!
Set in the Alpine range three hours from Melbourne CBD you'll find their unassuming converted mechanics factory, now home to the distillery and cocktail bar. And not to forget their two copper pots for distilling, affectionately named Molly and Mabel.
@reedandcodistillery

@reedandcodistillery
NELSON'S GREEN BRIER DISTILLERY
Now for something a little different…
Nelson's Green Brier Distillery has a tried and tested recipe guaranteed to please; one built on 180 years of history.
1885 marked the height of the Nelson's Green Brier's Distillery boom. Charles Nelson, founder, was selling over 2 million bottles of whiskey from his warehouse in Nashville, Tennessee. Sadly, in 1909, statewide prohibition forced the distillery to close its doors, where it remained dormant for over 100 years.
Enter Charlie and Andy – the great-great-great-grandsons of Charles Nelson – who were introduced to the original sight of the distillery by their father. They confess "it was love at first sight." Continuing, they "looked back at one another, knowing what the other was thinking: "This is our destiny."
So, the boys (aged just in their 20s) decided to start researching, seeking capital, testing Charles' original recipes, and putting bottles of their small-batch bourbon on shelves. Bringing their family legacy to the 21st century and creating some damn fine whiskey in the process!
@ngbdistillery

@ngbdistillery

@ngbdistillery
CREATIVITY FIRST
Whether these entrepreneurs came from a corporate background, hospitality or philosophy, one theme runs throughout: their overwhelming creativity. They've taken their strength in making and transferred it to an industry that's booming all over the world. For some, that took the path of local inspiration in the landscape and for others, a rich history they just had to revive.
A toast to the distillers out there making our Friday G&T oh so delicious!
Learn more about Archie Rose, Reed & Co and Nelson's Green Brier Distillery